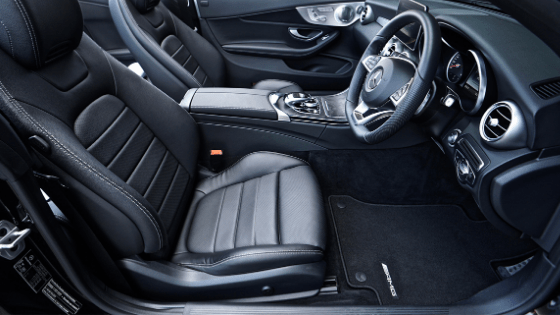 Car or any automobile is one of the best places after home where we spend our lot of time, especially while going for a long drive or even the time while you going for usual shopping.
In all cases, you love to enjoy the trip but some unwanted noise from the Car can hinder your perfect trip, but that can be solved using the best sound deadening material for the car.
You have definitely experienced the vibration or engine sounds while driving because of lack of proper insulation or sound deadening in the car or whatever you are driving and sometimes you are not even able to hear each other.
Sound deadening material for a car is mainly used to eliminate or reduce noise vibrations generated due to running powerful engines, wind, car tires, or any external source. The most popular choice in sound deadening material is Dynamat that offers around 9 -16 dB reduction for the plain and bumpy roads respectively. 
Well, probably you have never heard about soundproofing a car as even I never thought but when I experienced the issues of the same and started researching on the same found lot many factors that can really minimize that problems in the car.
After implementing the same in the car all the vibrations and unwanted noise from the various sources have been completely eliminated but do you know, how am I able to do it?
To learn all of them, probably you should first learn about what is sound deadening and how to remove it using the best sound-deadening materials and that is why I collected all products and technical information all together to get you a clear idea.
Note: I am an affiliate of various programs especially Amazon, so on your purchase through the given link i might get a part of the commission but it won't charge you anything extra.
---
What is Sound Deadening Material and how it works?
Usually, people refer to soundproofing and deadening as the same by considering a thing to prevent the vibrations which cause due to rattling vibrations of different accessories in the car.
However, the reality is soundproofing is a way to block the soundwaves coming from another side of the area however issues like resonance generated due to the vibration in the material are fixed by the sound-deadening materials.
In summary, I must say sound deadening is a component of soundproofing, wherein soundproofing all together you can soundproof space and improve the sound quality and here is a list of soundproofing materials, if you plan for the home.
If you are really keen to learn more about what is soundproofing then probably you should learn this in a separate detail guide as here we will discuss more on sound-deadening materials for cars only.
The use of sound-deadening materials is not only to prevent the rattling in the materials but also used to block or absorb the unwanted noise.
Let me explain the differences between the deadening or dampening material.
For example, if you have used any ruling scale and hold it tight from one corner and from another corner stretch it in an arc shape and leave it, probably you experience the vibration in the scale.
That vibration is due to resonance and oscillations generated in the metallic particle. But what if you set a foam or cover to the other end which you are stretching and now leave it, this time you will experience less rattling or vibration.
Hence the material you used to minimize the rattling is known as sound deadening material. While you do the purchase of any sound deadening material then make sure to check the below points.
What type of Sound Material To Choose
While you plan to dampen the sound it is quite important that you are aware of the types of materials you have to use to reduce the sound vibrations or block the sound waves or at last absorb the sound waves.
Sound insulation
Such materials are the primary need for blocking the soundwaves. While driving causes the unnecessary noise generated due to the contact of wheels with the ground which needs to block and can be possible by having an insulation material.
Insulation is a more sort of blocker or way to prevent the noise from passing through one side to the other side or in the case of the car from the floor to the top.
Sound Absorber
It helps to improve the sound quality which ensures to minimize the reflection of the soundwaves as due to reflection of the soundwaves cause amplifying the noise and create an unnecessary disturbance.
So make sure to check the ability of the material to absorb the sound which ensures additional advantage.
Mass or Density of Material
If you are aware of the general science of sound engineering then probably you know this very best that material that has high mass and high density have more ability to deadening the soundwaves except for mass loaded vinyl.
The thicker the material is can cause more insulation and less vibration and close to the null transmission of the soundwaves throughout the surface.
Size/Shape and Look
While you dealing with the car the very complicated part is to fix the issues at the small corner or gaps which really need a material that is easy to mold or cut with very small efforts.
Hence make sure to buy a material that offers you easy to install using a roller or any general accessories.
Bad odor
This is my suggestion that not to trap in any cheap sound deadening material as this cause during the summer or when the climate will bit hot it starts unbearable smelling.
And the ultimate option would be to change the same and replace it with a new one.
I hope you got an idea about the sound deadening material and need for the same in the car and type of material you will probably get in the market and what selection criteria you should have while selecting sound-deadening materials.
---
How much sound deadening do I need?
How can I miss the most asked question on how much sound deadening do I need for my car and honestly speaking it varies on the size of the car.
But I searched myself to brought you some relevant data and on Amazon, I found some pictorial data shared by one of the automotive sound deadning providers company Noico.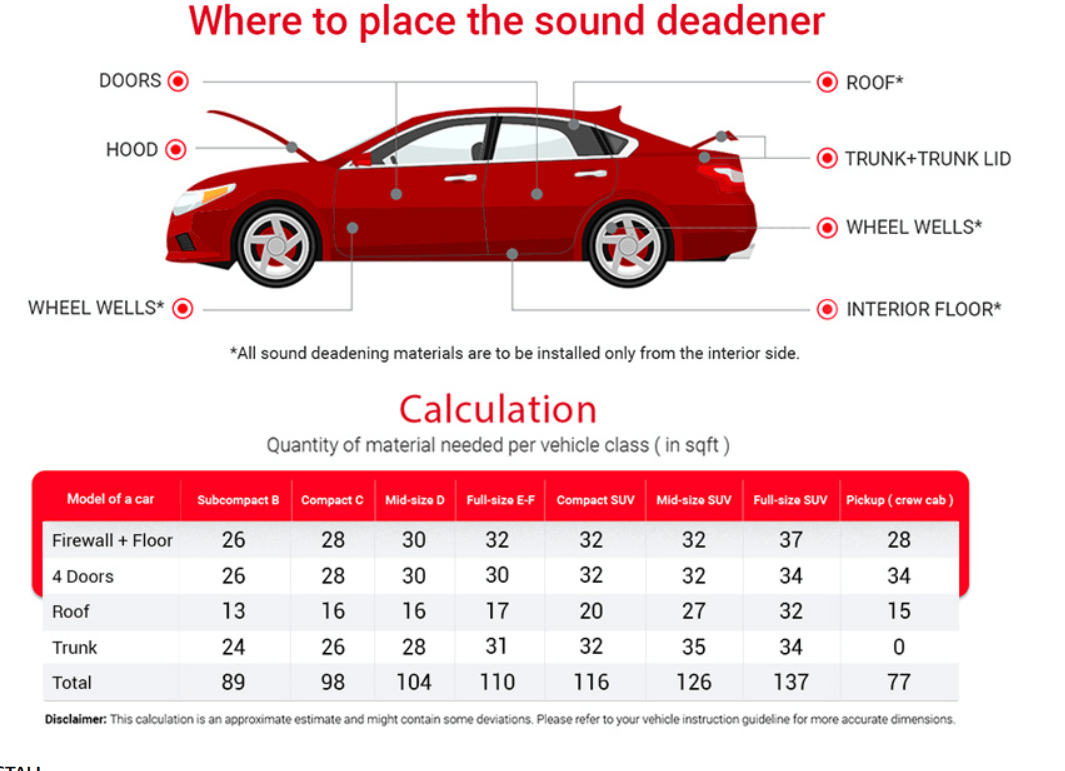 I am sure these details will be helpful in calculating the expected quantity of the materials but this will be just an estimated quantity of the materials.
So let me give you the best automotive sound deadening materials list for cars or vans or any vehicles you are using.
---
5 Best Automotive Sound Deadening Materials?
Probably you are waiting for this list which I collected based on the features they are offering and need you to have to minimize the noise or vibration in the car, well all products suggested are taken based on the features they have listed and claim company is doing related to products.
Most of the below-listed products are highly rated and best-offering products based on the customer reviews and the quality for the price they are offering and I have used and experienced a few of them on a timely basis.
Dynamat Xtreme Self Adhesive Sound Deadener
Probably if you have ever used sound deadener then definitely you have gone through the reviews of Dynamat sound deadening material for automobiles.
It is among the most popular company offering sound-deadening materials for cars to eliminate vibration and reduce unwanted noise.
Dynamat has two types of sound deadener one is Original and the other is Xtreme.
Where Xtreme is lighter than the original and four times more effective. It is coated with aluminum for high-temperature areas such as firewalls and floor.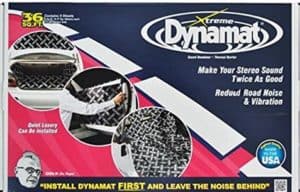 It can be used at the various part of the car such as doors, floors, trunk and its kit contain 18* 32-inch size of total 9 pieces.
While I have gone through the different people's reviews on the same product then I found that pre and post-installation the sound level dropped by 9-16 decibels in different conditions.
The only negative feedback I found about Dynamat is it is highly expensive as compared to the other cheaper sound-deadening materials available but the quality always matters.
What you have are expecting you will experience the same with Dynamat.
Key Features:
It can be used at the rear deck, doors, floors, and the boot.
It is a bulky package with a total of 9 pieces of 18″*32″.
Dynamat Xtreme is 1.12 mm thick and Weights 0.45lb/sq ft.
All the sheets are black anodized finish with silver logos.
The product is moisture-free as it is made of butyl rubber and aluminum.
But if you drive a luxury car like SUV and searching for the best solution for the same then I never recommend dealing with the cheap prices sound deadener it won't fit for the quality you are expecting.
The results of using Dynamat are really awesome and probably earlier you were not able to do conversation in your RV or vehicle or car but with corrective use of Dynamat now you will.
Well, Dynmat is not only my but by far the most suggested and recommended sound deadening material, and for more, you can check the same on Amazon.
---
NOICO Car Sound Deadening Mat
Noico is one of the most popular brands probably you have seen while doing soundproof material research and they also provide the automobile sound Deadener solution by a sound deadening mat.
If you are not able to afford Dynamat then better to go with NOICO which is less expensive and among the top list of sound-deadening materials.
If considering the size of the NOICO mat, it is 80 mil,36 sqft car sound deadening material, and the cost of the automobile butyl and sound deadening mat will be around $1.77 per sqft. where you will save around 20% as compared to another mat.
As I said the thicker the material it will be the more effective in insulation so Noico 80 ml is far better than other available 50 mil sound-deadening materials.
The material will be available in different sheet sizes which will make your job easier to install and use the roller you can set it perfectly plain and will be able to cover every corner for 100% insulation.
While considering the size of the material specifications then it is of around 80 mils in thickness and collection of a total of 9 sheets where each sheet has size around 29.5*19.5 inch and includes a roller for easy installation.
Key Features:
The material is 1.5 times thicker and offers high insulation.
In a bundle, it will have a 9 sheet of 29.5″*19.5″ size including a roller.
It work's more effective for low-frequency resonance eliminations.
The best fit to eliminate the road, engine noise, and metal vibrations.
They claim the correct installation will guarantee 50% successful insulation and it has great adhesion which ensures the material vibrations eliminations and reduces noise and rattling of the vehicle and will make quite comfortable your long drive experiences. To check on current pricing please visit amazon.
---
Uxcell Car Sound-deadening Mat
Probably you have read our guide on acoustic foam which is used to absorb the soundwaves but those were thinner in size and a bit flimsy to handle and only perfect in Room soundproofing.
But if we talk about the automobile foams they are thicker in size and very efficient enough in heat insulation and in this list Uxcell automotive sound pad underlay foam is one of them.
It is like a rubber mat that has an excellent quality of sound deadening and automative dampening. It has no bad odor and very low weight with oil and petrol resistant and it does not absorb water which makes it waterproof.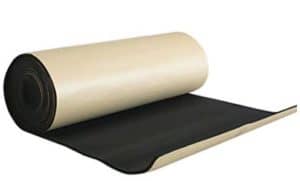 It is perfect for automobiles, classrooms, factories, and many more places. While considering the size of the mat is 315 mil/8mm in thickness and can cover around 16.36 sqft area of the car.
It is the very best solution in case you want to maintain the heat inside the car as it keeps the interior well insulated and solves the problem of excessive heating due to the engine and enhanced exhaust system.
It also helps to keep the heat while winter outside and cold while in summer outside.
Key Features:
It is having an insulating property like a rubber.
It is waterproof, moistureproof, and self-adhesive.
The best fit to use on floor, door, ceiling even cockpit floor.
The color of the deadening material sheet will be black.
The actual size would be approx 60″*40″.
It is available in varieties of materials such as foil foam mat or foil butyl mat with different thickness in the range of 398 mils to 80 mils and the size in between 16.36 sqft to 40 sqft. To check on current pricing please visit amazon.
---
SOOMJ Heat Shield Car Sound Deadener
Probably many of us have already experienced heating or flammable issues in the car or vehicle due to overheating issues. So why not you try a material which solves your job for both purposes where you are able to deaden the sound as well as provide better heat insulation.
In this list, the very best product is the heat shield sound deadener material offered by SOOMJ which is of thickness 10mm with high quality in density and lightweight foam. The company claims its ability to resist up to 200-degree Celcius temperature.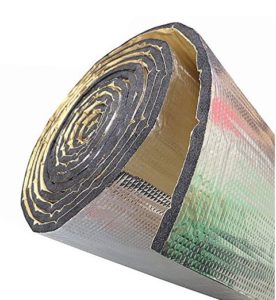 No matter where you use in the car it is quite effective to get your job done as it is recommended to use in the engine compartment where high heating issues, flooring,under-seat and wheel arch, or whatever space you found it necessary.
Its ability to sound deadening and great load resistance property makes it very best to use as a sound deadener and heat insulation material in the car.
While considering the size of the material, it is 394 mil with 78*39 inch in dimension and having the ability to cover around 13 sqft total area. They also specified the raw material which is made of insulating alumina fiber and sound insulation cotton.
Key Features:
High-quality tri-layer heat shield car sound deadener.
Best self-adhesive 394 mils high-quality foam rubber with aluminum sheet.
Best fit for Exterior bulkhead, firewall, engine compartment, wheel arc. floor, etc.
Non flammable and flame retardant.
It is waterproof, weatherproof, oil-resistant, dustproof sound, and heat insulation, etc.
It is a durable, high-quality tri-layer and temperature resistant easy to cut and strong adhesive material widely used in various areas of automotive vehicles. The installation will be easy using the roller tool which gives you actual covering throughout every single corner. To check on current pricing please visit amazon.
---
FatMat Self Adhesive Sound Deadener
It is among the most popular sound deadening material widely used in reducing the noise of vehicles while traveling and if you are struggling with the installation process then FatMat self-adhesive sound deadening material could be the very best choice for you.
It improves the sound quality and reduces the noise and also enhances bass and exhaust noise coming from the engine. The ability to use the FatMat sound deadener can cause you will be able to reduce the sound by 3dB.
It is  80 mils thick and available in various sizes starting from 25 sq ft to 200 Sq Ft. It is easy to cut with a heat resistant aluminum coating.
It has an aluminum surface with adhesive in nature cause easy to install and perfect to set at all small places. It works well in the car trunk, floor, ceiling, etc as it is specifically designed to be used in the car only.
Key Features:
It is adhesive in nature.
It's one side is a black sticky side and the other is aluminum foil.
The roll is 3″ thick due to multiple layers of sheets.
In the bundle, you will have two sheets of 18*40 inch self-adhesive long sheet and of 50 mils, It is available in varieties of sizes starting from 10 sqft to 200 sqft based on requirement you can purchase it. To check on current pricing please visit amazon.
---
My Best Sound Deadening Material for Car
I am sure you find the best out of the selected top 5 sound deadener, well I have chosen these five because I felt this can cover all your required choices and will fix the same issues that I was facing.
If looking at how to install them perfectly or more learning on what should be the right way to install I thought this video can you on that.
Out of the top 5 Sound deadener material, Dynamat is a bit expensive but the most effective solution so better to check the current price, and if you can spend some money then better to check the same.
Other Sound deadening materials are also a cost-effective and best alternative to dampen or deadening the sound in your car or vehicle, I have also used the same in my RV and such materials really gonna works.
If possible cover the whole floor and every part which is the reason for the generation of vibration or resonating so you will get better results out of it.
Well, here is the end of the guide, if you found this really helpful or willing to share the same idea then better to comment below will definitely help our upcoming reader to get better ideas on it.