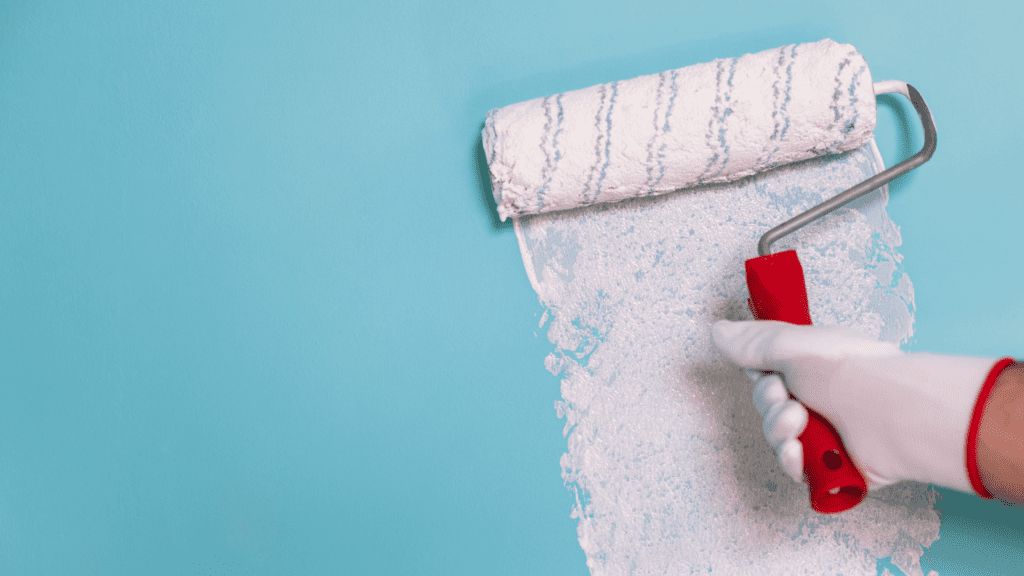 After building the new garage or if your garage looks too dull and outdated. Then it's time to make it better by using effective paint on it.
But the chance of doing anything wrong will increase if you don't have any knowledge of how to paint garage walls or anything else.
According to the report of Investopedia, more than 52% of the U.S. population are in the middle class who don't want to pay more for a thing that they can do by themselves.
So if you also come in a middle class who don't want to pay more. Then understanding the proper steps for painting the garage walls is important.
Because if you make any mistake while doing this then this will cost you more and the garage walls also look so messy.
Don't worry the steps are not so hard to follow because in this article I have provided very simple and easy-to-use steps. That anyone can follow even if they don't know anything about painting a wall.
Also, I have covered the best paint and important instructions before applying the paint on the garage walls.
So when you read it you will get a clear idea of how to and what to do next.
This article is going to be very interesting so don't miss any step or point otherwise you can't make your garage walls beautiful and effective.
So let's start with the first step of choosing the best paint if you haven't yet.
---
Best Paint For Garage Walls
Before understanding all the steps, choosing the best paint is the most important thing.
Because this can make your garage walls better or worse. That's why you need to be very careful about it.
Sherwin Williams Pro Classic Acrylic Satin or Semi-gloss
Sherwin Williams Promar 200 Zero VOC Eggshell
Glidden Interior Paint Semi-Gloss
HGTV HOME by Sherwin – Satin Ultra
So these paints are the best paint for garage walls in my opinion and research. So if you haven't decided which paint looks better on your garage walls.
Then you can try out some of them.
Note: Paint should be selected according to the surface type because there are several types of paints are available in the market. But if you don't know how to check it. Then you should read below. I have explained about it.
---
Instruction Before Applying The Paint On Garage Walls
As I have said earlier if you don't know anything about how to apply paint on the walls perfectly.
Then before going to start anything it is better to understand it. That's why you need to read the complete instructions.
It is better to paint the garage walls in the spring season when the temperature is moderate. Because most paint can't dry properly in too hot and colder temperatures.
If you want to apply multiple coats on your garage walls then make sure the current coat should properly dry before adding another coat.
Usually, the latex-based paint is relatively better than the oil and water-based paint for your garage walls. Because latex-based paint dries much faster and doesn't have any odor.
Many people like to use white paint on the garage walls but it shows scuff, dirt, dust, and cracks if you have one. That's why going with the Grey, Tan, and Beige is a great choice. Or if you want then you can select the matching color for your garage.
If you read this instruction carefully and understand what you should do and what not.
Then it's time to understand all the steps which will lead you to the next-level garage wall.
---
How To Paint Garage Walls: Step By Step Process
Working in an outdated and messy garage negatively affects focus and efficiency. Also, most people just don't want to work in such a negative environment.
That's why you need to read these steps to paint your garage walls properly.
1. Make A Plan
Before applying the paint to your garage walls you should make a proper plan. That includes all the crucial things such as the area of the walls, required tools, paint color that you love, finish that you want to be on your garage wall, and more.
This will also help you to get better garage paint ideas that you can turn into reality.
Most people like me want to customize all my personal things. Because this will help you make yourself feel better.
Suppose if you simply color your garage walls and do nothing that you can do. If you are a painter then you can make a painting after the base paint.
Or if you want a specific design on the walls then you can do it. That's why you need to make a plan for your garage wall paint.
Because when you do it you have a road map that you need to follow.
---
2. Get Ready For It
Have you made a checklist that is required for the garage walls painting? Have you collected all the necessary tools altogether?
Once you complete your action plan to paint your garage walls. Then you need all the necessary items, tools that are required, paint in the right quantity, the right equipment, and more.
This is difficult when you are painting your wall. You need to recollect them again and again. This will also miss out on anything and the procedure of painting will break.
If you don't want this to happen then it is better to make a checklist in advance that includes all necessary tools, items, and equipment in the right quantity.
So when you are going to start your painting procedure make sure to check the list. Make sure to wear protective glasses, gloves, and other things.
Because some paints have toxic effects that may damage your soft skin.
---
3. Cover The Other Things
If you paint anything in the past then you must know. That after applying the paint on the walls, floor, and ceiling this is very difficult to remove.
But when you are painting anything it is normal that other surfaces also get painted. Then after completing the work you need to remove it.
That will take lots of energy that may be exhausted.
That's why if you don't want to waste your energy on something that can be reduced. Then you should take down everything hanging on the garage wall and move everything away from the garage wall.
Also, you need to cover the floor, all the hardware, outlets, and anything that may get painted while working on your garage wall.
When you do this you can complete your work much faster because you don't need to do anything after drying the paint.
I know some of the small works are also left but this will not take much time.
---
4. Clean The Wall
As you know opening and closing the garage door, again and again, become the cause of having dirt and dust inside the garage.
Also, the garage is the best place to store some chemicals and other things that are harmful. But you need to use it for your project and other things.
So these chemicals also damage the wall and make it worse.
That's why before applying the paint on the garage wall you need to clean it carefully. So that the paint properly sticks with the surface.
Don't worry this is not so hard to do, you can use a Shop-Vac or broom to remove the dry crust of the wall.
But for deep cleaning, you need to use a large sponge with a mixture of water and a few drops of dishwashing liquid.
Only use it if the garage wall is washable otherwise it will increase your work. So if the wall is not washable then you can use a moist sponge to clean the garage wall.
---
5. Preparation For The Garage Walls
Preparing for painting the garage wall becomes different according to the type of wall material.
Because there are several types of wall materials available in the market. Usually, they don't know that they need to follow different steps for their walls.
That's why they made a mistake by using the following different steps that are not compatible with their walls. So if you want to get rid of this problem then read below.
Drywall: In the drywall, you need to fill the chips, dents, cracks, and holes. Also, you need to use sandpaper and try to smooth the surface as much as possible.
Wood: Having a wooden garage wall is difficult because this requires multiple rounds of cleaning. So paint can stick with the surface properly.
Brick: Usually, brick garage walls need to be clean with a wire brush and borax. Because its surface is harder and is not great to have paint on it.
Concrete: This is the most common garage wall that people have. But this requires filling the gaps, cracks properly and clean the surface well.
Prepare your garage wall according to the type of its material. So that you can get the best results.
---
6. Primer Up The Walls
When it comes to how to paint garage walls properly, primer is a crucial part of it. Because this will ensure better adhesion of the paint on the surface.
So that you don't need to paint your garage walls again and again. Also, this will increase the paint's durability and protect it from dirt, dust, and other things.
Usually, the garage is the better place to store things. That's why it is essential to primer up the walls.
All you need is to pour enough primer into the tray and then apply it on the garage walls evenly and entirely.
So that every small crack and gap will cover whether you have or not the drywall.
A better primer will reduce the risk of having damaged the wall. But make sure to start from the top and then slowly come to the bottom.
This will get rid of the drops onto the wet surface and make it worse.
---
7. Start Applying The Paint
When you successfully apply the primer on your garage wall and it dries up properly. Then it's time to apply the paint on it so that you can complete your work.
This is not hard to paint the wall but this is as simple as you use the undercoat aka primer. First, you need to empty all the paint in a container.
Then mix them with a piece of wooden stick or electric mixer machine. You need to do this carefully so that you can get a better finish.
Then you need to dip the hand brush or roller if you want. Make sure to dip at least 2″ inches into the paint so that it can hold a better amount of paint.
Then let the excess paint drip from the brush or roller.
Starting from the top of the wall is a great idea as in primer. Smoothly come down and paint the entire garage wall. Make sure to use the paint evenly on the surface.
---
8. Must Be Proper Ventilation
Does your garage have proper ventilation? Some paints like the exterior have the highest amount of chemicals.
Those are harmful to your health if you stay inside the garage for a long time until it dries up.
But interior paints don't have too many chemicals and are toxic but have some. That's why you need proper ventilation.
If you don't have then make sure to open the garage door so that all the chemicals and toxins can blow away from the garage.
But having the proper ventilation also helps you in the summer and winter season when you are working in your garage.
---
9. Be Patient
Do you want to apply multiple coats of paint on your garage door? If yes, then this is a great idea but keep in your mind that this will take more than 1 day.
Because usually, paint requires a minimum of 2 to 3 hours for drying. But in my opinion, this is not enough.
If you want a better finish you should leave the paint for more than 5 to 6 hours.
Because the better the paint dries, the better it will help you to get a finish for the second coat.
So be patient and if you don't have a ventilation system in the garage. Then open the garage door or install the big fan inside the garage so that the paint can properly and fastly dry.
---
Wrap Up On How To Paint Garage Walls
Whether you have drywall, concrete, brick, wood, and another type of wall. Applying the painting to it requires different steps to follow.
Because every material is different from others that's why I have explained it above. So if you want to paint your garage wall because it is outdated.
Then following these steps will lead to a better paint finish. That will work better than others and will last more.
But make sure to use the primer as your main undercoat. Because this will provide better attachment to the surface and with the paint.
So that you will not see any crust on your garage wall ceiling.
But choosing the best paint for the garage wall also plays a very important role in it. Because this is the front layer of your garage wall.
That's why the better it is, the better the result is. That's why I have added some best garage wall paint above you to choose from.
---
FAQ: Step By Step Process On How To Paint Garage Walls
Painting the garage walls is difficult to work. That's why many people, just like you, are facing lots of problems. That's why I have added some of them and try my best to give appropriate answers.
Q1. How much does it cost to paint the garage walls?
Ans: Painting a garage wall cost depends on several things such as the type of garage material wall, quality, quantity, equipment, and so on. But on average applying the standard latex paint on the drywall will cost you around $700 to $1200.
Q2. Is the garage wall worth painting?
Ans: If you like driving and working on projects that should require a separate place. In this situation a garage is the best place for it but if its walls are dull and outdated. Then it will negatively affect your willpower and your efficiency may drop down. That's why the garage wall is worth painting.
Q3. Can I paint the unfinished garage walls?
Ans: Yes you can paint the unfinished garage wall because it is not necessary that it should be painted or not. If you have newly built your garage and it is not painted yet then you should apply the best primer and then paint it.