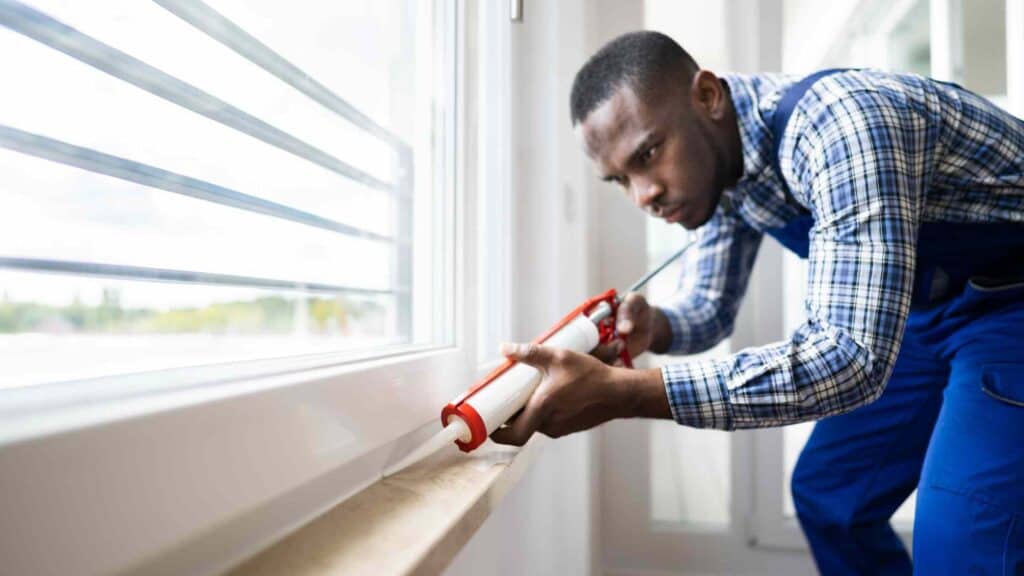 There are many products and materials available in the market that can help you to soundproof a space. That is why some people don't know why they need to use acoustic sealant in their structure assemblies for their soundproofing project.
However, an acoustic sealant can definitely improve the sound experience within a room. And the best acoustic sealant generally adheres to most types of construction material and stays flexible for a long time.
In this article, we have shared what acoustic sealant is and the list of the 4 best acoustic sealant that you can use to get the best results.
---
What Is Acoustic Sealant And Why We Use This?
Soundproofing is all about blocking the noise coming from any wanted source and it can be possible using the soundproofing and sound-absorbing materials.
If planning to soundproof house or room then it can not be perfect or practical as you are expecting, if you miss the holes or gaps at the joint.
Usually while fixing the door or window within the frame, you may have missed blocking the gap which allows air to pass through from one place to another, and if air can pass through the noise or sound too.
This not only happens with doors or windows but with every place where you are putting soundproofing materials such as.
This list is very long and you may have experienced the same issue in your house and to fix those holes and gaps the very best material which is used by soundproofing experts is acoustic sealant.
An acoustic sealant is a flexible rubber-type material, that can be easily fit into any empty space, even in a very small gap using the caulk gun and a few other DIY techniques.
An acoustic sealant is primarily used as a sound inhibitor but it has many advantages in soundproofing projects, as materials are efficient enough to block sound transmission and adherable enough to stick to any place with a very strong bond.
But do you know how acoustic sealant is different than regular caulk?
---
What is the difference between Acoustic caulk and sealant?
An acoustic sealant is very special in soundproofing because of the advantages it has over regular caulk, apart from all other major differences acoustic sealant is flexible and efficient enough to fill any gaps or cracks.
However, regular caulk is hardened in quality and will always have the problem of cracking or shrinking over time, which means not durable enough to work as a strong sealant.
Due to shrink or crack, there may be a chance of having less blocking for noise and ultimately you lose all the hard efforts you have made in your soundproofing projects.
Acoustic caulk has the ability to maintain flexibility permanent which increases its adhesive nature and can create a strong barrier that makes the seams protected against soundproof leakage.
If I summarize all
An acoustic sealant is durable enough to protect gaps or holes for a longer duration.
An acoustic sealant is flexible and easy to fit at any place and not hard enough like regular caulk to crack or break very early.
The acoustic sealant also works as a vapor barrier.
If you summarize all together to fill all the joints and cracks, which guarantees long-time durability then your primary choice would be acoustic sealant, not regular caulk.
---
What Is The Acoustic Sealant Used For?
We already discussed a lot on the uses of acoustic sealant and my advice is to find all the gaps or cracks at the joints of drywall or ceiling or floor using an acoustic gun and can start filling all the minor to major gaps.
Acoustic Caulking is the best way to reduce the noise due to its sound blocking ability and is ideally made of silicon materials.
Once you are finished with setting up soundproofing materials, it should be a primary focus to go through all the joints and fill the gaps before you start finishing on top of that.
And if finished with acoustic sealant applied, the next step is to cover them with tape, spackle, and few other acoustic products.
Let me highlight the collection of the best acoustic sealant.
---
List Of Best Acoustic Sealant Which Can Reduce Or Block Noise?
Simply buying an acoustic caulk and applying on gaps is not that simple if you are new, as you have to first check the quality of the product before placing any purchase order.
Below are my suggestions to check before you buy any best acoustic sealant products.
Solvent materials of Acoustic sealant
Few sealants are not efficient enough to adhesive with wooden materials and cause a problem with soundproofing and in some cases, it may damage your furniture.
So it is advisable to go through the user review on their experiences and if possible try to find out the materials used for that acoustic sealant.
The waterproof ability of the acoustic sealant
Not all kinds of sealants are efficient enough to long last in the water and mainly if it is the case where you are looking for the best exterior acoustic sealant.
Such waterproof sealant can have little odor but you can clear them very easily and best possible choice if looking to use in an exterior or underwater area.
Price and quality
No one can deny that the pricing of any acoustic sealant will totally depend on the quality of the acoustic caulk, hence the ideal choice would be to purchase 2 less expensive best acoustic sealant as compared to one expensive.
That will help you to cover more areas and the best affordable solution to fix your problem.
If you are with me then let me highlight all the list of best acoustic sealants.
---
1. Acoustic Sealant by Auralex: Best Waterproof Sealant
Auralex is among the most popular brand in the acoustic industry and their acoustic sealant is waterproof and highly elastic among all the popular acoustic sealants.
It is primarily used around the perimeters and electric sockets gap, which improves the wall sound transmission class (STC).
It is available in large 29 oz caulk, which means it requires larger than average caulking gun to paint on to the gaps.
As per the product description, it is a perfect match if your plan is to use it for wall,primary or basement ceiling or flooring soundproofing and it claims that this is 5 times more flexible than ordinary acoustic sealant.
Feature highlights:
Number of tubes -1
Quantity in each tube -29 oz
Caulk Color – White
It can cover up to 89 ft perimeter with a 3/8 inch bead applied in a single 29 oz acoustic sealant caulk. If willing to check more on customer reviews and user opinion then do check by navigating to the below-provided link.
Pros
It can be used for wall, ceiling, and floor applications.
This acoustic sealant is highly elastic.
The sealant can remain flexible for up to 5 times longer than other brands.
Cons
This product is slightly more expensive than you would expect.
Last updated on 2023-03-27/Affiliate Links/ Images from Amazon
---
2. Noiseproofing Acoustic sealant by Green Glue
Probably you are familiar with green glue which one of the very famous companies in the acoustic industry and they offer a set of 6 tubes with 29 oz each in white color.
They also offer clean up wipes and a manual guide for step by step installation.
Its main objective is to seal all the gaps or cracks and efficient enough to soundproof the holes or gaps of the area from further penetration of the noise.
Feature highlights:
Number of tubes -6
Quantity in each tube -29 oz
Caulk Color – White
The tube is of large size, hence it is recommended to use a large size the caulking gun which is of 28-32 oz categories. If referring the average perimeter a single tube can cover then it is approx 45 feet in total.
If you are planning to use this as a damping material in between the drywall or any other place then you may be wrong as its primary use is to block the gaps at the perimeter. If willing to explore more won't miss to check out from the below link.
Pros
It can remain flexible for a long time.
The acoustic sealant is paintable.
It also includes cleanup wipes and an installation guide.
Cons
The packaging of this material is not very good.
Last updated on 2023-03-27/Affiliate Links/ Images from Amazon
---
3. Acoustic sound sealant by OSI: Best sealant for Wall
OSI acoustic sealant is a perfect choice if you are planning to fix the walls, as it is an inflammable and latex-based permanent solution to reduce the transmission of noise from the cracks.
It is available in a set of 12 tubes with 28 oz each.
This is a permanent solution to block the sound transmission from the holes around the wall and seals and it remains adhesive and flexible to wood, metal, concrete, gypsum board, and many others.
The best part is, it is easy to use and can be cleanable using water.
Feature highlights:
Number of tubes -12
Quantity in each tube -28 oz
Caulk Color – White
You can check the customer review to detail more on the user experiences and the features they are offering as suggested, and it would be the perfect solution if your plan is to use it around the wall.
Pros
This acoustic sealant is paintable and permanently flexible.
It is really easy to use and also you can clean it up easily with soap and water.
It adheres firmly to wood, concrete, gypsum board, and most other building materials.
Cons
The packaging of this material is not very good.
Last updated on 2023-03-28/Affiliate Links/ Images from Amazon
---
4.
Acoustic Sealant by Franklin

red Devil

It is well known as a construction adhesive sealant and flooring adhesives, it is a 5 Fl. oz professional acoustic sound sealant that has the ability to fill gaps or cracks to improve the sound quality by improving the STC of the materials.

It is helpful to repair the gaps or cracks of the drywall and plaster which is environmentally safe and can be easy to clean using water.

In addition, it also fulfills the class A fire rating and it is available in white color.

Feature highlights:
Number of tubes -1
Quantity in each tube -5 Fl. Oz.
Caulk Color – White
This sealant is mold and mildew resistant and could be the best choice if you are looking for acoustic sealant under 10$.To explore more do check out their official selling page by navigating from the below suggested link.
Pros
This sealant is mold and mildew resistant.
The product is environmentally safe.
It will upgrade the sound quality of your room.
Cons
It is pretty much expensive.
Sale
Last updated on 2023-03-28/Affiliate Links/ Images from Amazon
---
Wrap Up On Best Acoustic Sealant
As you can see here, there are many different options available when it comes to finding a soundproofing solution for your home. And if you use the right product, then you would be able to enjoy outstanding soundproofing results immediately.
However, sometimes acoustic sealant can be really expensive, but there are also cheaper options available that you can consider as well. And for large projects which will need a lot of caulk, it can be more cost-effective for you to go with the less-expensive product.
We hope that our detailed buying guide has helped you to find out the best acoustic sealant according to your needs. If you have already tested any of these above materials, then please let us know in the comments below.
---
FAQ: Best Acoustic Sealant
As a lot of people don't know what acoustic caulk or sealant is and how it works, they have several doubts in their minds. Here we have tried to clear some of their doubts by answering some common questions in the FAQ section.
Q1. Does Acoustic Sealant Work?
Ans: Acoustic caulk generally adheres strongly wherever you apply it and does not move or change its shape after it is applied. It might not prevent all sound from getting through, however, it is a really cost-effective method to reduce sound.
Q2. Is Spray Foam Good For Acoustics?
Ans: Spray foam is widely popular as one of the best types of insulation that you can install to reduce noise. The main reason why spray foam is considered as one of the best in noise reduction is that it not only blocks out unwanted noise but it also keeps in good noise.
Q3. How Long Does Acoustic Sealant Take To Dry?
Ans: Once you have applied the sealant, you should allow it 48 hours to dry before covering it with standard finishing materials, such as tape.