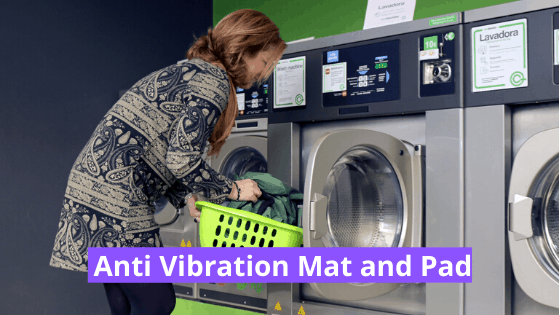 Every one of us has experienced the annoying sound of the washing machine while it is in full speed mode which not only causes louder noise but will also start vibrating the floor and all the nearby structure material but this problem of vibrations can be fixed using Anti-vibration Pads or mat.
If you have read our detailed guide on what is impact noise and how it got generated then without a doubt the best example is the washing machine, which is the main source of vibrating all the connected objects including floor and create unnecessary noise.
You may have used many soundproof materials to stop walking your washing machine but you always faced an issue with vibration noise due to lack of soundproofing around the washing machine.
If I will ask you to cover your washing machine with anti vibrating materials like soundproof blankets then it would be the odd and not recommended choice for you so what should you do?
If you have done soundproofing of your house or room but still struggling to fix the washing machine noise then here in this guide we will gear up how using the best anti vibrations pads and Mat we can reduce the washing machine vibrations.
What is AntiVibration Pads and Mat and How it Works?
Whenever if any object strike with other cause the generation of vibrations and that is what you have experienced when somebody is walking on the floor or pulling chairs and this vibration causes the generation of impact noise which we also call structure-borne noise.
Doing the soundproofing of the floor you may minimize the impact noise but if you have heavy machines like washing machine then your task to overcome vibrations will be a bit challenging.
Sometimes the washing machine starts walking on the floor or you may have to tie it with something to prevent it from walking one room to another. Just kidding!!
While washing the clothes, when it goes to the top of the machine they fall back and that process keeps repeating for at least 60 minutes and when it started spinning very fast, you will start feeling the things around that area also vibrating and generating the noise.
These vibrations are in the form of mechanical waves, which link with other objects and create more vibrations. Where the isolation of those vibrations from the washing machine to others around things can be possible using the anti-vibration mats or pads.
There are two types of materials available to use as anti vibrations
Active anti-vibration Materials 
Passive anti-vibration materials
Active Anti vibrations materials are trying to generate electronic force cancellation to reduce the vibrations using the electric power, sensors and control systems.
However, passive anti vibrations materials will not require any electric power, these are something fix and set mechanism and in this list, the very famous are anti-vibration mat and anti vibration pads.
This guide will focus on passive anti-vibration materials like mats and pads only.
These materials are shockproof and made of any of the below-listed materials:
Rubber
Elastomers
Cork
Dense Foam
Laminated materials
If you are curious enough to know how anti-vibration pads or mats work, then go through the below-explained technology in the simple world.
Ideally, these passive anti-vibration materials are used below the heavy machinery either at the four corners or cover the whole area below the washing machine. Which means it creates isolation between the actual floor and machine.
This is the property of elastic or rubber materials to absorb the mechanical waves and dissipate them in the form of energy and that is how the generated vibrations will get nullify its energy due to dissipation by the anti-vibration mat or pads you have used below the washing machine.
Almost every anti vibration materials have some property of damping but the specially designed anti-vibration mats and pads have more than conventional materials.
Like we have already detailed in a separate guide, if you are willing to stop noise coming from the neighbor's house then you should focus on sound transmission class of any materials, in a similar way to minimize the vibrations or noise from the washing machine the focus should be the ability of damping of the material.
These seem that you are very clear on how and why you should have an anti-vibration mat or pad below the washing machine. Let discuss the best anti-vibration mat or pad.
Best Anti Vibration Pads or Mat – (Best Review Guide)
Before buying any anti vibrations materials make sure to check the below list of parameters that can assure you the quality of materials is suited to your prices.
Types of Material
The very best material which fits your choice should be made of rubber as it has the ability of shockproof and high density. The damping ability of rubber due to the dense quality of the material is higher as compare to others.
Where this can be available in different shapes and sizes to put at the corners where you can do fixing with the bottom of the stands or maybe in sizes of flat tiles which can be directly pushed under the washing machine corners.
Quality of Material
This is the prime concern while buying any, as this will decide how much material is effective to work as anti vibrations materials. In terms of quality always focus on the ability of damping and density of the material.
Item must be heavy, thick and large enough to cover the area under the washing machine and also try to cover the space more than the required area of the washing machine.
If willing to buy anti-vibration pads then do check the friction coefficient in case anywhere described, which defines its ability of anti-skid and anti-slide.
Prices
The prices vary in between 10-70$ based on the material quality, size and ability to work in a commercial or residential environment. My advice is to never compromise with the quality which may cost you more but will be more effective to meet your objective.
Almost every anti vibrations pads you purchase will have minimum pieces of 4 to cover all the corners and mat may be a single piece item to cover the whole bottom area of the washing machine, so the prices will vary based on your choice.
If you are good with anti-vibration mat and pads basic learning and how it could be the selection criteria then let me drop a few of the best anti vibration pads and mat for which I did research and found something relevant to worth buying.
Rev Anti Vibration Mat – Thick Rubber for Anti Noise 
This anti-vibration mat would be the best if you are looking to cover all the bottom area under the washing machine as it is made of rubber composition which is easy to install and minimize the maintenance cost.
The Anti-vibration mat is anti walking which holds a washing machine at its position and does not walk as the typical washing machine does. They are not limited to use for the washing machine but these multipurpose mats can be used for dryer, washer or any heavy equipment.
They are heavy and dense enough to protect your floor from damage and the best fit for almost all sizes of the washing machine.
Feature Highlights:
Size : 28″*28″,5/8″ (15 mm)
Material – Soft Rubber Composition
Pieces: 2 Pieces/case
Weight: 14.5 lbs each
Special – Anti Walking, Anti Noise, Anti mover
Rev Anti-vibration mat comes with 5 years of warranty and they are non-porous, which makes them easy to mold and install. They are thick enough to create proper isolation between the floor and the washing machine.
These materials are strong enough to withstand heavy materials and will be available in 2 pieces pack which also has positive reviews from thousands of customers, so in case you are interested in check out then do check out on Amazon as directed above. 
Casa Pura Anti Vibration Mat – Granular Rubber Mat, Anti Slip, Durable
This anti-vibration mat is also made of 100% recycles rubber particles, which cause it increases its damping ability and maximize the ability to attenuate the vibration energy.
This is mainly designed to focus the vibration noise generated during the spinning, hence this is very well protective and easy to install mat just below the washing machine and many other heavy types of equipment.
This is also a multi-purpose mat that can be used other than washing machine-like in Gym flooring due to the soft granular rubber composition and its ability to weather, oil and fluid resistant making it the best choice for use anywhere.
It is durable enough to use in between -22 to +212 degrees Fahrenheit temperature environment which ensures more fire safety in case the washing machine or any heavy equipment is generating heat.
Feature Highlights:
Size : 24″*24″,3/8″ (Different Sizes)
Material: Rubber Granular Composition
Pieces: 1 piece per pack
Weight – 6 lbs
Special – Water resistant, Anti Slip, Drainage Holes
This anti-vibration mat is available in different other sizes such as 24″*40″ including 24″*24″ inch and its durability under high temperature makes this perfect choice if you are looking for a less expensive solution.
You can cut the size of the mat based on the size requirement and its width of 0.4 inch makes this ideal condition to separate washing machine from the flooring, if willing to check customer review and seller description go checkout through the above link.
Mat is used to cover the complete area below the washing machine which is the most effective solution to stop walking your washing machine and damping the vibrations.
But the thickness of the mat matters a lot as that decides the isolation gap but in case you have a thin mat or that is not effective enough to stop vibrations then either you can use only anti-vibration pads or both altogether.
ENJ Product Anti Vibration Pads – Washer Anti Walk and Isolator
This is a premium quality heavy duty anti-vibration pad which has a very good vibration absorbing ability. These types of pads are mainly focused to stop walking or skidding washing machine with their high coefficient of friction.
They are circular in shape and made of rubber blend which is among the highest coefficient of friction in the rubber family. These pads are highly durable and quite easy to fix with the stands at the corners of the washing machine.
It is available in 4 pieces to cover all the four corners and create isolation of 1.25 inches from the ground which is efficient enough to prevent damaging of the floor.
Feature Highlights:
Size : 3″ in diameter and 1.25″ in height
Material: Blend Rubber with the highest coefficient of friction
Pieces: 4 pieces per pack
Weight – 8 ounce
Special – Anti walk, Anti-skid,
They also offer a warranty of 90 days from the date of purchase and they have good enough diameter to fit the stand of the washing machine perfectly. But if you are planning to purchase make sure to check the diameter of the washing machine stand.
As if your washing machine stand size is more than 1.75″ then probably you would have to check the XL version of the antivibration mat so do check their size description guide before placing any buy order.
If willing to buy the same then do not miss to check out the guided Amazon link for bestseller and customer honest opinion about the product review.
Stable Rubber Pads – Designed for Laundry Washer and Dryer
If you are running a laundry then maybe you have old and new washing machines and for them to find the perfect size anti-vibration pad would be very difficult but this is the universal solution for all age of washing machines.
This is multipurpose designed anti-vibration pads that have a good grip to hold the stand of any dryer or washing machine to any flooring and keep that more stable.
This is made of commercial-grade high-quality anti-vibration pad which is made of a proprietary blend of hard durometer rubber which is long-lasting and high performing pads for any type of a washing machine or heavy equipment.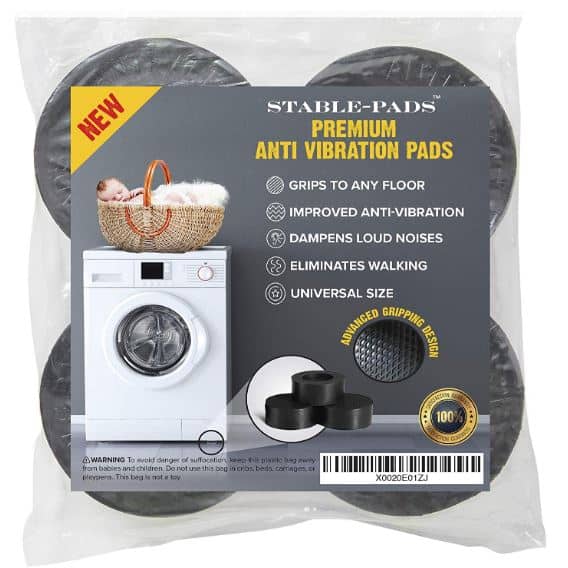 Feature Highlights:
Size : 3″ in diameter and 1.75″ space to fit the leg and 1.25″ in height.
Material: High Strength Durometer Rubber
Pieces: 4 pieces per pack
Weight – 1.65 lbs
Special – Universal size fit,anti-skid, anty walk.
This could among your popular choice if you are struggling with an anti-vibration mat for your old or new model as it is cheaper in price and comes with a 100% money-back guarantee (Read T&C).
The height of the pads is good enough to isolate it from the ground and its ability to anti-slip or skid makes this best choice to use as anti-vibration pads.
If willing to check the best seller review and customer feedback, make sure to check out the Amazon link.
Kulannder 10 Pack Anti Vibration Mat cum Pad
We have seen, how the mat covers the whole bottom area under the washing machine to stop vibrations and pad try to give isolation from the four corners only.
The combination of both is provided by the 10 pack anti-vibration mat by Kulannder where you will get the 10 pieces of 3.9″*3.9″*0.8″ size of flat shock absorbing washing machine pads.
Which does not require to cover the complete area under the washing machine but cover specifically the corner of the washing machine like pads do but these are flat in shape and more easy solution to reduce the vibrations.
These are made of a high degree of EVA material which is highly durable and lasts for a longer duration and their ability of elasticity, shock absorption, anti-collision, reduces noise very well and makes them perfect choice.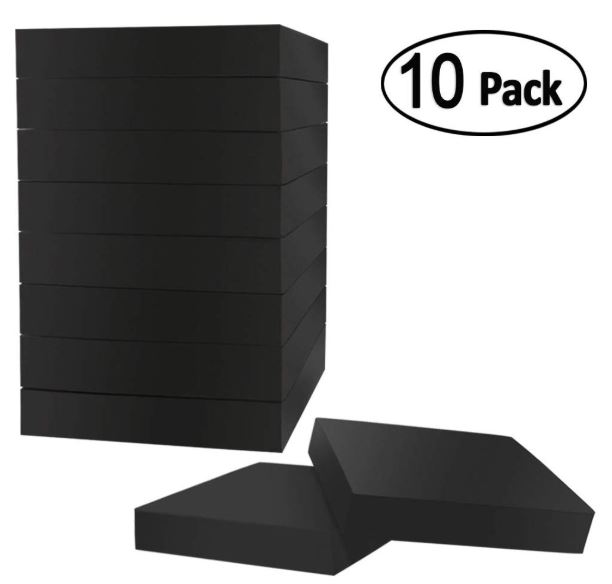 Feature Highlights:
Size : 3.9″*3.9″*0.8″
Material: High-Grade EVA Materials
Pieces: 10 pieces per pack
Weight – 5.6 ounces
Special – Anti walk, Non-skid, Shock Absorbing
There will be very little bit plastic smell when you first time opens it up but put it outside and let it dry it will be fine and all bad odor will go. This is the great combo to stop more dancing to your machine.
It is easy to install and not adhesive from any of the sides and like your cushion you can simply slide this under the four corners of the washing machine or maybe more in case you feel the need.
It can also be used for multiple purposes such as below the stands of sofas, jogging machine, dryer, chairs or any heavy equipment which require shock proofing and anti vibrations.
Conclusion on Best Anti Vibration Pads and Mats
If you will try to find out the perfect solution which can really help you to reduce the 100% noise vibrations then I would say it is impossible to achieve it.
But using the above-provided solutions you can guarantee to eliminate the 70-80% of noise vibrations and I advise you to opt for the anti vibrations mat which covers the complete area below the washing machine and improve the damping ability.
If you are still facing the issue with the use of mat then I suggest combining both which can dramatically improve the best of the expected results.
If you have bought or experiences any of the above solutions then do share your view in comment box to help our coming readers.