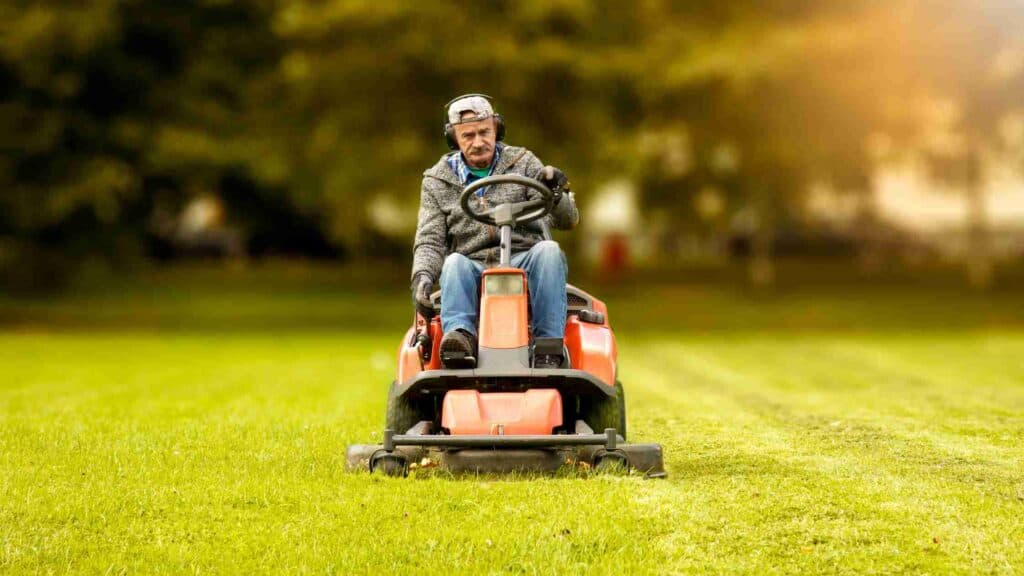 ---
Commercial zero-turn mowers are essential pieces of heavy-duty equipment for lawn-care professionals as they can cut grass all day, every day, and provide a high-quality finish. Zero-turn mowers also have much greater flexibility than traditional lawn tractors.
According to the report of Fortune Business Insights, the global zero-turn mowers market is projected to grow from $3.17 billion in 2021 to $4.64 billion in 2028 at a CAGR of 5.6% in the forecast period of 2021-2028. Also, these powerful machines usually leave conventional tractor-style mowers behind in almost every way.
So, zero-turn mowers are a great investment for commercial landscapers, as they are simply the best for mowing customers' lawns quickly and neatly. And if you don't have one, you can read this full-detailed guide to find the 7 best commercial zero turn mower available in the market. 
Because these machines are built with thicker steel in the deck and frame, stronger engines, and higher-quality components such as spindles, pulleys, and hydraulics. Also, we have discussed some crucial factors you need to consider while buying commercial zero-turn mowers in this article.
So, make sure to read our buying guide before purchasing. Also, here you will find how commercial zero-turn mowers are different from traditional mowers and in which ways zero-turn mowers are more useful than traditional ones.
So, let's get started. 
---
Buying Guide For Best Commercial Zero Turn Mower 
There are many factors you need to consider before buying the best commercial zero-turn mower for your needs. Among them, brand reputation and customer comments are two of the most important factors. However, the best way to select a mower is by comparing the measurable differences. 
Engine Brand And Power: The engine power of the mower drives both the wheel hydraulics and the blades. Larger and heavier commercial mowers with top speeds of up to 14 mph usually require heavy-duty 28 to 38-hp engines. And Kawasaki FX is the most popular and most trusted commercial engine. 
Weight: The weight of a mower is a very important factor to consider while buying a mower. Most commercial zero-turn mowers generally weigh between 750 and 2,000 pounds. Heavier mowers can get more traction while working on slopes, but they will generally use more fuel and offer less speed than lighter-weight mowers. 
Cutting Deck Size: The most commonly used commercial zero-turn mower deck sizes usually range from 48 to 72 inches wide. However, a larger deck can cut flat and open spaces faster and a smaller deck is best for narrow passages and uneven terrain. 
Fuel Capacity: These machines are generally built with fuel tanks that are large enough to run a half day or even a full day without stopping to fill up. Also, commercial mower fuel efficiency depends on engine size and machine weight. 
Safety And Comfort:  Commercial zero-turn mowers are usually built with many safety features to keep the operator and bystanders safe. And you should make sure you get a mower with a suspension seat as the comfort of a mower is definitely an important factor. 
---
7 Best Commercial Zero Turn Mower: Chose The Best One!
We have created this list of the best commercial zero-turn mowers by keeping all the important factors in our mind. If you are looking for a new machine, here you are likely to find one according to your needs. So, here are our 7 best picks for commercial zero-turn mowers.
1. Scag Turf Tiger II
In the commercial zero-turn mower industry, Scag has been a leader for decades. And their Turf Tiger II model just builds on that legacy.
You can eliminate unnecessary downtime with its easy maintenance features, such as toolless belt covers and conveniently placed air and oil filters. 
The Turf Tiger II usually gives the best performance in varied or hilly terrain, because of its heavyweight construction, excellent power, and lower center of gravity.
And for smooth and powerful performance, its drive system is made up of 16 cc Hydro-Gear pumps and Parker wheel motors. 
It comes with a top speed of 12 mph and a 12-gallon fuel tank which will help you to minimize refueling stops.
If you want pro-grade speed, excellent power, and overall performance, mainly in hilly terrain, Turf Tiger II can be a perfect choice for you.
Pros
It has easy-access maintenance features. 
It is well built for hilly terrain. 
This machine will give you an excellent finish
Cons
It comes at a premium price. 
---
2. Bad Boy ZT Elite
The Bad Boy ZT Elite is mainly a residential-grade mower, however, this zero-turn mower has the power and heavy-duty construction to tackle commercial projects also. And it comes in an affordable price range.
This machine is easy to use and includes many comfort features such as an adjustable 18-inch high-back seat and a patented independent front suspension system.
It features a solid 7-gauge steel deck and a 26 hp, 747 cc Kohler engine. Also, it weighs in at just 841 pounds.
So, it can be an excellent option for those people who are just starting a landscaping business or who have an extra-large property to maintain. Because the Bad Boy ZT Elite has what it takes to do your job while saving you money. 
Pros
It has upgraded hydraulics.
This mower is suitable for flat terrain. 
You will get commercial-grade components at a residential mower price.
Cons
In some cases, it is not as fast as other commercial mowers. 
---
3. Exmark Lazer Z X-Series
Exmark Lazer Z is one of the most commonly used zero-turn mowers for all kinds of commercial landscape jobs.
The mower has a 25.5 hp, 852 cc Kawasaki V-twin engine and a 12-gallon gas tank which helps to keep it running all day long.
Some of the most exclusive features of the Lazer Z X-Series include no-maintenance sealed spindles that never need to be greased and adjustable and hydraulically dampened levers for smooth operation.
It also features a deluxe vibration-controlling seat with three-way motion isolation for superior comfort.
However, these mowers generally come in premium price ranges. So, if you want to buy these machines, you should be prepared for that.
But, this zero-turn mower can be the best choice for you if you want a reliable all-day, everyday mower. 
Pros
These mowers are highly functional and efficient.
It comes with an easy maintenance feature. 
You will get a smooth and comfortable ride with it. 
Cons
It is definitely not the fastest commercial zero-turn mower on the market. 
---
4. Hustler Super Z
When you have lots of ground to cover, the Hustler Super Z can do the job for you. It has a top mowing speed of 14 mph.
Hustler Super Z is capable of cutting 6 to 7 acres of grass per hour on mainly flat and open ground.
It has an 11.7-gallon gas tank that keeps it working all day long. And its suspension seat and 24-inch drive wheels generally provide a well-cushioned ride at top speed. Also, it is available in four deck sizes. 
So, the Super Z is a great mower with a variety of size options and also one of the fastest mowers available in the market.
And, if you want a zero-turn mower for wide-open spaces and linear mowing, this can be a great option for you. 
Pros
It can achieve a top speed of up to 14 mph. 
It features 21 cc PY pumps and Parker wheel motors.
This usually mows up to 7 acres per hour. 
Cons
Hills, turns, and obstacles can reduce its mowing speed. 
---
5. Ferris ISX 3300
If you consider overall power and performance, the Ferris ISX 3300 Series is one of the best zero-turn mowers available in the market.
These mowers are equipped with either a 61- or 72-inch deck and can achieve speeds up to 12 mph.
The exclusive comfort features of ISX 3300 mowers include its large 26-inch drive tires that cushion the ride over uneven ground and also a premium suspension seat with three-way adjustability. 
The 11-gallon fuel tank of these mowers will keep them running all day. So, if you want a smoother ride, a better cut, and also improved long-term durability, then Ferris ISX 3300 can be the perfect choice for you. 
Pros
It has a premium adjustable suspension seat. 
These mowers feature the ForeFront Suspension System. 
It also has 26-inch drive tires. 
Cons
It comes with a lighter 10-gauge steel deck. 
---
6. Gravely Pro-Turn 600
The Gravely Pro-Turn 600 is a relatively new mower to the Gravely lineup which features a strong frame, smart controls, and a smooth ride. It also has a strong engine and a unique comfortable seating system. 
The exterior of these mowers is made from 7-gauge stainless steel for maximum strength and is also protected by a limited lifetime warranty.
However, the biggest difference with this mower is a suspension platform instead of the classic air ride seat.
Also, it has an exclusive constant belt tension system that ensures that proper belt tension is always maintained and guarantees a constant blade tip speed to achieve excellent cutting quality.
Pros
It has a Kawasaki FX engine. 
It features a 12.7-gallon fuel tank. 
These mowers come with a POD platform suspension system. 
Cons
Sometimes, the ride can be slightly awkward.
---
7. Snapper Pro S200xt
This powerful mower generally comes in 61" and 72" cutting widths. It is also available with a handful of engine models.
Like many other mowers, it also comes with a foot-operated deck lift which makes it easy to adjust the cut height as per our requirements. 
And it features an accessible floor pan that can open quickly for a simple clean-up or servicing.
Also, its smooth controls and integrated dual transmission will give you a smooth ride with unmatched durability.
You can also use the professional lawn stripper kit to leave patterns across the landscape. If you want a strong and durable mower at an affordable price range, then it can be an excellent choice for you. 
Pros
It features a Vanguard Big Block or Kawasaki FX Engine. 
It also has a suspension seat system.
This machine comes in a great price range.
Cons
It only has a 10-gallon fuel tank. 
---
How Commercial Zero Turn Mowers Are Different From Traditional Mowers
Traditional mowers usually require up to 30 inches to turn around, whereas zero-turn mowers will easily pivot a full 180 degrees.
It means that the mowing crew will need to spend less time positioning their mowers and more time actually mowing. 
Also, zero-turn mowers have fast speeds of up to 13 mph, and they can cut closely around obstacles with great precision. These mowers usually do all this through a change in how you control them. 
While its controlling procedure can take some time to get used to, the end result is that you will have far greater control over the movement of your mower than you would ever have with a traditional riding mower.
---
Wrap Up On 7 Best Commercial Zero Turn Mower
So, simply there is no good reason not to upgrade to one of these best commercial zero-turn mowers. The only downside of these mowers is maybe their price ranges.
However, when you consider all the advantages they come with, it is well worth the investment in your lawn care business. 
Homeowners and start-ups looking for power and performance at an affordable budget should definitely consider the Bad Boy ZT Elite.
It may be a bit slower and less comfortable than its top competitors, but it is strong and dependable and also provides a great cut. 
However, if you want to find the best zero-turn mower for your needs, then you need to consider the features you want, such as the size of the tires and the operator's comfort.
And you should make a decision only after properly testing each of these. Finally, if you have any questions related to this topic, let us know in the comments below. 
---
FAQ: 7 Best Commercial Zero Turn Mower
If you want to buy a commercial zero-turn mower but still have many questions and doubts in your mind, you are definitely not alone. Here we have given brief answers to some of the most frequently asked questions.
Q1. What Lawn Mowers Do Professionals Use?
Ans: Zero-turn lawn mowers are mainly built to cut exceptionally close to any obstacle and eliminate the need to trim edges. Professionals generally use these mowers as they are perfect for cutting large and flat areas of grass with obstacles such as trees or ponds.
Q2. Do Commercial Mowers Cut Better?
Ans: The engine of commercial mowers will generally have a much higher blade tip speed and torque rating. A higher blade tip speed will spin the mower blades faster. In commercial mowers,  this speed is usually 2 to 3 times faster than a residential blade.
Q3. How Long Will A Commercial Zero-turn Mower Last?
Ans: The average life expectancy of commercial-grade engines of these mowers is generally 3,500 hours with oil change intervals of 50 hours. However, at 2,800 hours, you will start to notice a lack of power.