If you are really keen to enjoy healthy night sleeping then you need fresh air which can really make your sleep more pleasant and sleeping by opening a window could not be the best solution so thanks to technology for introducing quiet fan for sleeping.
If you are in winter, I imagine you won't need a fan but as summer comes closer, you will definitely need this and if you sleeping under a traditional blade loud noisy fan then you may struggle to sleep well due to irritating sound.
Sometimes people do love to sleep by opening windows which may be good if you are living in a place which is far away from the noisy area but hard to do so in a city center or apartment close to the noisy area.
This is highly advisable to sleep well and you should not place any reason to disturb the healthy sleep and especially not because of the traditional fans if you have options available for quite a fan.
Probably you have also tried the earplugs or sleeping earmuffs but if you find this as your best solution then better to check the alternatives of earplugs.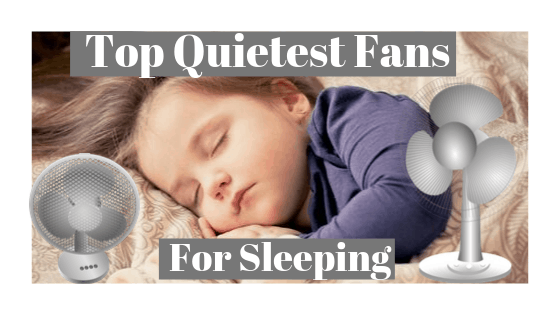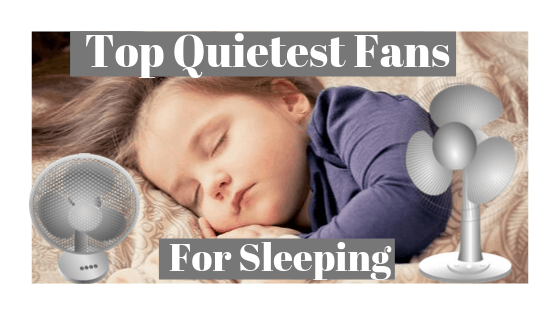 To overcome all your issues with the silent fans here I have listed the best collection of trending fans available in the market based on my own experiences and research and this will really help you on best findings. 
Before listing all list of best quiet fans for sleeping let go through some important factors you need to check prior to buy any fans.
Types of Quiet Fans and the important feature?
It is key point to notice that if you want a pleasant sleep then better to sleep in a cooler and quiet area and the very basic need for that is to have a fan which blows the silent air and make your sleep very pleasant.
Types of Fans
I imagine you probably aware of types of fans, if not get brief idea from below lists.
Oscillation Fans
This feature is default included in almost every fan which hanging on the wall or standing on floor or table where the fan is controlled to oscillating around it's initial position from left to right and vice versa.
The main purpose of such fans is to cover all area of the room instead of blowing air to the one side only.
Tower Fan
A tower fan is well suits in the cozy area where you do not have that much space to fit the fan, most of the tower fans are easy to control using a remote control and can cover the complete area by using the oscillating feature of the inbuilt blades.
Tower fans need very limited space to settle on the ground but can not be fit in an area which has limited height.
Regular Electric Fan
Probably this is the fan many of us have already used, it is having the feature of oscillating in case required and can be set on top of any table to cover the whole room area.
The airflow output is very strong enough to cover the room area especially in the bedroom and will be portable enough to shift from one place to other.
Ceiling Fans
From the name itself you got an idea such fans are mounted on the ceiling and the best solution to cover the complete room area and it helps to keep the room warm in winter and cold in summer.
Usually, it is made of the blades and having very low speed as compared to all other fans.
Table Fans
Table fans are the small-sized version of the regular fans which are easy to fit on top of the table while you are working, which has a small base to set the fan on the table, it has very less airflow output which will be sufficient enough for on desk job.
Features of Quiet Fan
While purchasing any fans better to check the below points as this will decide
We also love to highlight the reason for checking the specific feature.
Noise Level
Noise level is the sound generated by the fan at it high or low speed so better to measure the sound level under the dB scale and never miss to check this at first position as this will decide how much your fan will be quiet.
The lower the rating in the dB scale will rate that fan as quieter and vice versa and most probably the same rating you will find on the packing of the fan.
Size and Portability
Size of the fan matters a lot as the fan with limited air blow with bigger in size cause it covers the large area with minimum advantages.
Sometimes you also need to shift the location of the fans from one side to other for many reasons so make sure fan should be easy to portable and should fit your required area.
Maximum Air Flow
Many fans have a different setting to run the fans on different speed scales where the airflow will be based on the settings you place but ideally, it has has been calculated on cubic feet per minute scale (CFM).
Where CFM describes the volume of the air a fan can blow in a minute.so better to chose the high CFM and low dB fans as your ideal choice of quiet fan.
Now you got a list of fans and their required features, so let highlight collection of top 10 quiet fans for sleeping.
Top 7 Quiet Fans for Sleeping
While I faced this noisy issue first time and searched for the quiet fan for sleeping then I come to know with a few lists of quiet fans which are the really effective and best choice in case you are struggling to fix the same kind of problems.
Below listed fans are based on my own experiences and the feature listed with each fan also considering the affordable price range.
The Quietest Tower Fan by Honeywell HYF290B
This fan is a very cost-effective solution in case you are looking for the most affordable solution with a high range of quality which is in slim modern shape with the advanced Quietset Technology.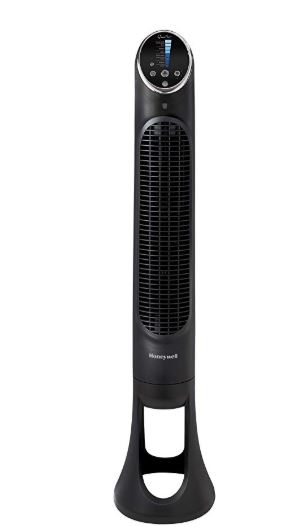 With this Quietset technology, you can control the sound and cooling options, that is why it perfect fir for throughout the year use and oscillating feature feels you comfortable to cover your whole room area with minimum space required.
It has below listed features.
Oscillating: Yes
Auto Shutdown: 1-8 hours.
Speed Setting: 8
Size: 36*13*10 Inch
Remote Control: Yes
Honeywell oscillating tower fan is an energy-saving solution for your home, office or bedroom which also maintain the cooling in the room and increase the comfort.
It also offers to generate the White noise which cancels out all other noises but how? Better to learn what is White Noise. including this, it also offer to dim the Lightning in case required during the night.
It has auto shut off timer for the range of 1,2,4,8 hours with remote control can allow you to control the fan from the very far distance.
I have found this fan with having the most positive reviews from all the buyers and that is why listed in top quiet fans. This is not the only collection of fan Honeywell offer it has varieties of another collection for tower fans so better to check based on the need.
Vornado 630 Mid Size Room Fan
It is among the topmost choice in case you want to operate the fan from the floor or from the desk as it is smaller in size and easy to portable from one place to another.
It has a unique signature grill and deeply pitched propeller and able to deliver the air up to 70ft. Where the speed selection can be done manually by setting from the side button available on the fan.
Below are the features of the fan.
Distance Coverage: 70ft.
Size: 12W*8.6D*13.6″H
Warranty: 5 year
Speed setting: 3 
CFM: 363
They claim the noise feature at lowest speed would be around 43dB and high speed will be around 52dB where the fan will be in small size best fit for bedroom kitchen or offices.
The Fan built to support only US voltage requirement which is certified and tested and that is why it offering a 5-year warranty for the US buyers.
It is among the most energy-saving fan which has no remote control feature but you can control it by using the manual switch and its strong base provide stability while operating from floor or desk.
Dyson Air Multiplier AM06 Table Fan
This is among the most stylish and modern fan technology and this is why bit expensive as compared to other fans, where Dyson fans use Air Multiplier technology to generate the uninterrupted airs without having the fast-spinning blads like in conventional fan.
Isn't it interesting a fan without balds? and that is why it is safe to place anywhere and no problem with children or pets.
It offers below the range of features.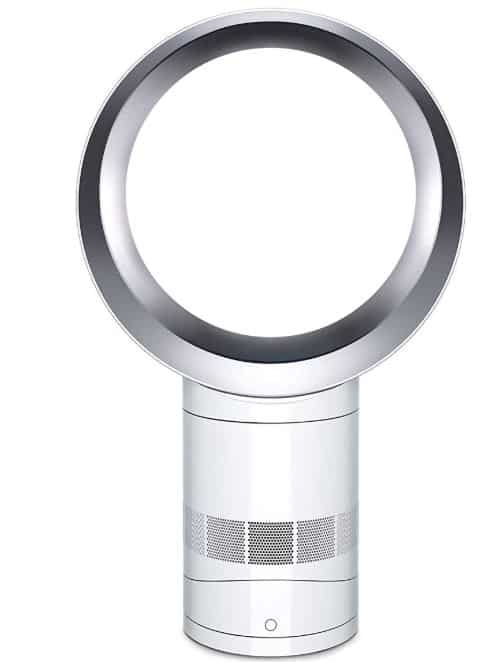 Sleep timer: Between 15minute -9 hours.
Air settings: 10
Remote Control. : Yes
Airflow is 75% quieter.
Oscillating: Yes
Size : 5.8*12*19.7 inch
Warranty: 2Year
Well from the look itself you can see it is easy to clean and very comfortable enough to move from one place to another without having fast-spinning blades.
You can set the sleeping timer to auto turned off from 15 minutes to 9 hour and remote control will give an additional advantage to control it from distance and this is why it is among the popular choice.
It offers 2 years of parts and labor warranty in the case have any issue with the fans, its curved shape also give a stylish look while setting up in the home.
You can put this on the desk or on the ground as it has no fear to get injured your pet or children running on the ground. 
Rowenta VU2531 Oscillating Table Fan
If you are looking for a traditional fast-spinning blad table fan then this would be your ideal choice which has a powerful airflow of up to 1695cu Ft/min with cool air.
It has a total of 5 blades designed in such a way to provide ultra-quiet performance where its noise level is in the range of 38-55dB and it controlled manually.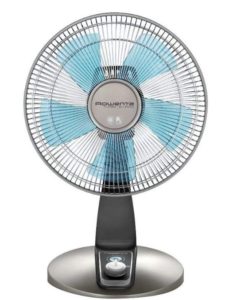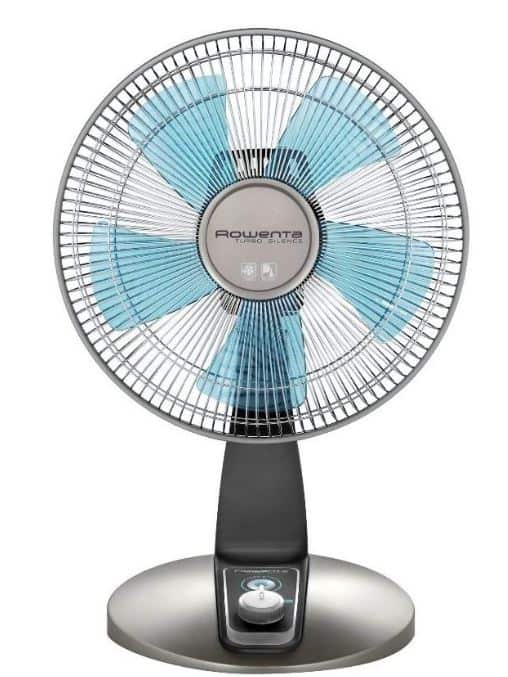 It has below listed features.
Total setting: 4
Oscillating: Yes
Number of Blades:  5
Size: 14*10*18 inches
Noise: 8-55dB
Remote Control: No
Well out of total 4 settings three are the common low to high setting however the 4th one is turbo setting to get airflow up to  1695 Cubic Feet/min.
It is a 12-inch desk fan with the oscillating feature where the head pivot is allowed to move 90-degree angle in left, right, up and down which cover almost every area you needed.
So if you are looking for table fan which is easy to assemble, easy to clean and affordable to get you quite fan features then better to go for Rowenta VU2531.
Rowenta VU5670 Turbo silence Stand Fan
Rowenta not only offer table fans, but it also has a collection of many others in this list here we go for stand fan in case you are looking for an ultra-quiet feature which is ideal for home or office.
It offers an extremely higher airflow of 2436cu Ft/Min with 5 effective blades. This fan can be controlled using a remote control with around 8 hours of the timer and energy-saving mode.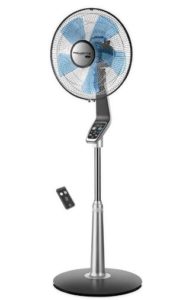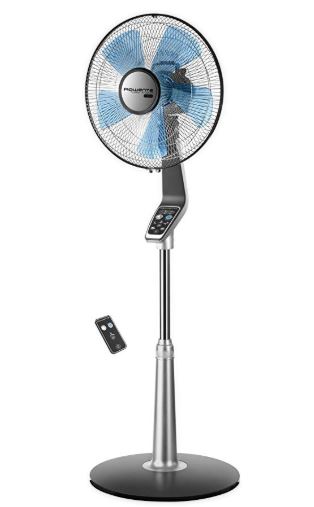 It offers below listed features.
Noise: 35dB -68dB
Stand Size -24*7.2*20 in
Oscillating: Yes
Remote Control: Yes
Speed setting: 5
It is a 16″ pedestal fan which is easy to set the height in the range of 42″*54″ with a compact remote control which makes your job easier to control from the distance.
The noise range will vary based on the setting you place but ideal for whisper-quiet silence and you can use it at home, office or in the bedroom so better to check the same in case you are in search of stand quiet fan.
It offers auto shut-off features for around 8 hours of a power-saving mode where it will automatically decrease airflow as it reaches to energy-saving or efficient settings.
Holmes Blizzard Power Table Fan
It is a 12-inch small table fan which has a unique rotating grill to disperse the air throughout the room area. It is best fit in the area where you are struggling for space to keep the fan due to the small size.
It is configured with all the advances mandatory features using the remote control where its rotating grill increase the airflow by 40%, below mentioned are the features you will get with the fan.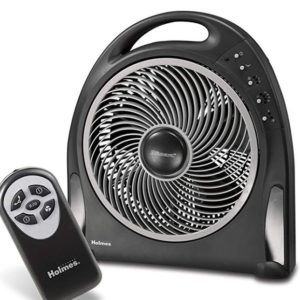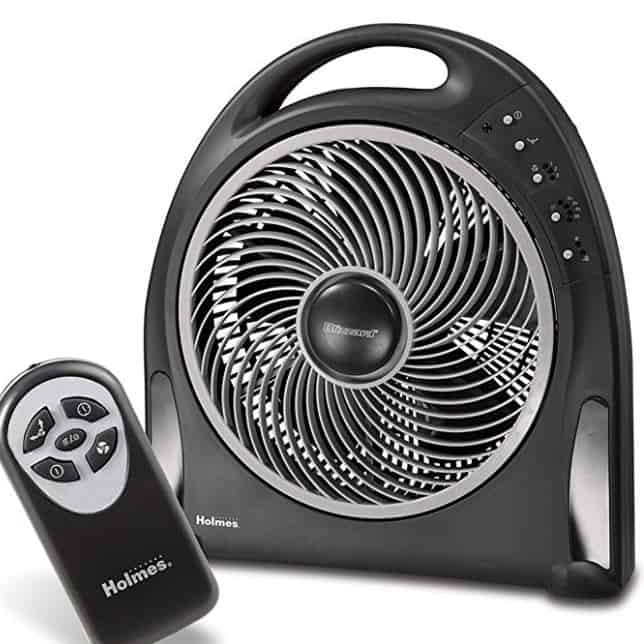 List of Features
Speed Setting :3
Remote COntrol: Yes
Timer Mode: Yes
Size: 7.1*18.1*19.6 inch
Oscillating: Yes
Warranty : 3 Year
If you talking about the oscillating feature then it will not probably by the physical left to right movement but designed in a way to deliver the airflow using the revolving air guide which ensures the wide coverage of airflow.
It also offers automatic shut off timer mode for power saving and also has a cord storage. The best part is fans comes with 3 years of warranty.
Well just to clear your thought if you think about the actual size then it is more than 12″ as it already mentions but the diameter of the blade housing is of 12 inches, so plan accordingly while planning to buy.
Honeywell HT-908 Air Circulator Fan
As I said earlier Honeywell offers various different types of fan, in this list, Honeywell HT-908 turbofan is best for the table or floor which has a 90-degree pivoting head.
The fan has the ability to deliver the powerful airflow up to 32 feet due to turbo force generated by an aerodynamic turbo design to maximize the air movement and cover the maximum area.
It is one of the most energy-saving fans as compared to other tower or turbo or oscillating fans available and here are the features offered.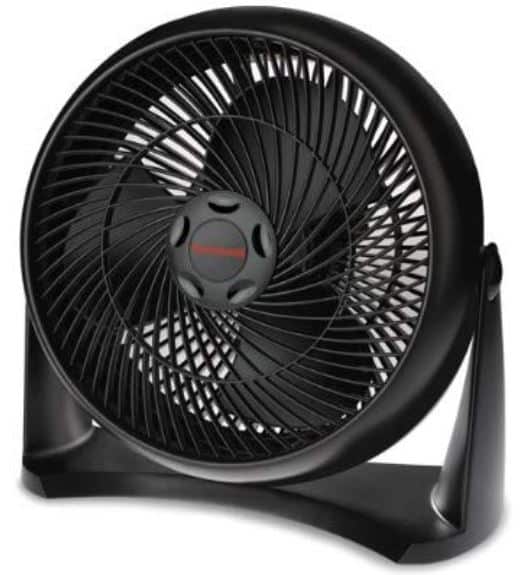 Listed feature
Speed setting: 3
Size: 14.4*8.1*15.2 inch
Remote Control: No
Oscillating: No
It does not oscillate automatically but in case required you can move it manually but the fan is rated as among the quietest fan with 30% sound lesser as compared to other fans.
Well,  the head area which covering the blade is around 12 inches, however, the overall size is mentioned above so make sure while placing a purchase order.
It does not offer remote control so controlling will be manually only and advisable to use as a floor fan as it is best effective to deliver the cool air by reducing energy consumption.
My View on Best Quiet Fan for sleeping
It is always crucial to find the best which can really deliver your need but the above listed top 7 quiet fan has probably the best choice you are looking for.
Few of the listed fans are having oscillating features however others do not oscillate automatically but you can move around manually and most of them are having remote control and speed setting and auto shut off features to control the fan.
Almost every fan is quieter as compared to traditional fans and designed to focus energy savings while going through the reviews for each of the fans is perfect and they are in the affordable price range.
Well if you bought any of these then do share your experience in the comment box to get an idea to our ongoing readers what works best and whatnot for you.