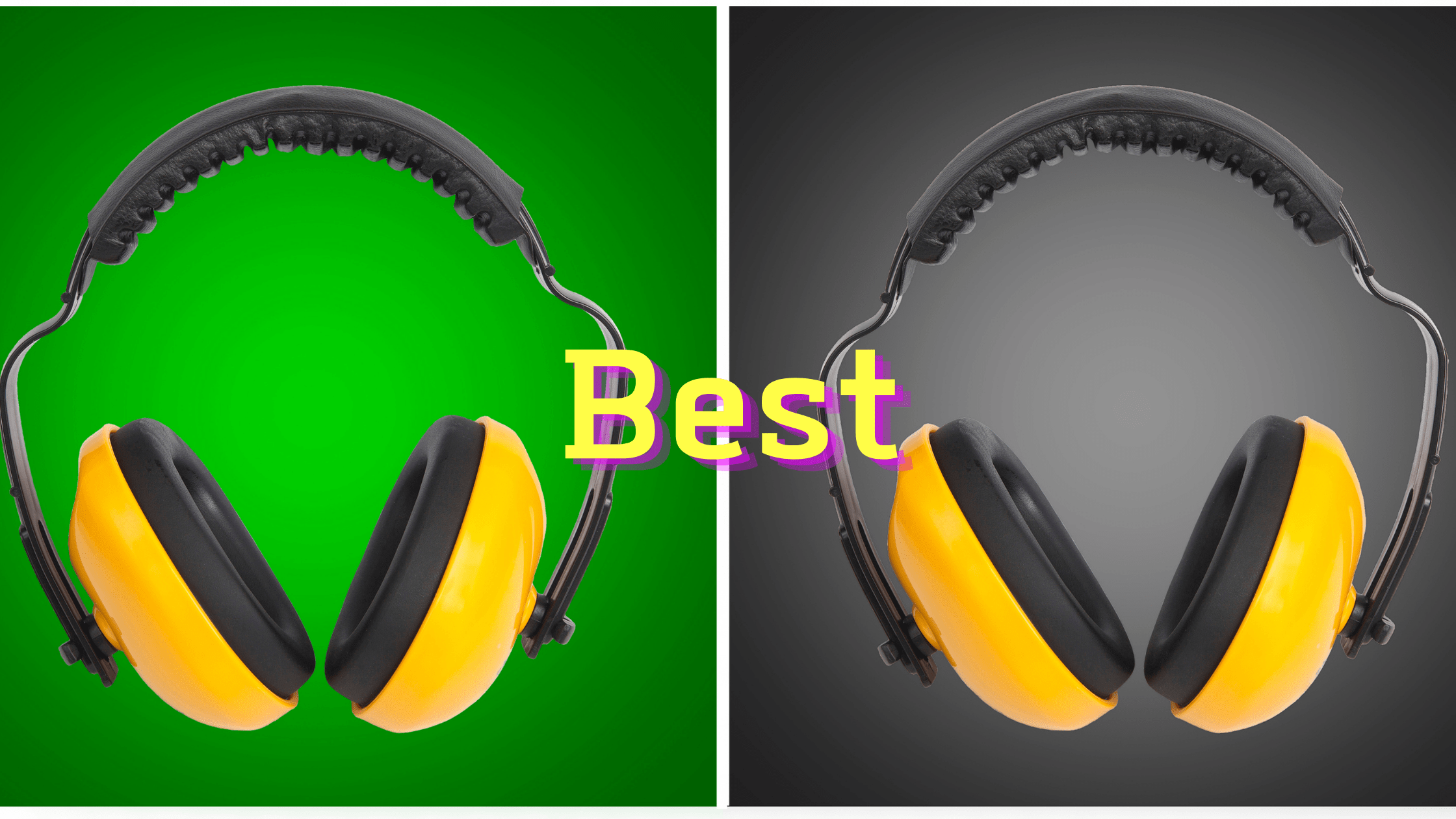 ---
I love reading books a lot compared to listening to music but the biggest problem which distracts my focus and loses my concentration is the noise and then I searched for the best noise canceling ear muffs for studying and reading or sleeping.
And luckily, I found the one which I love the most and if you are in search of the best earmuffs not only for reading, studying but for sleeping and a few other cases then below are my best findings you would like the most.
We all are familiar with the noise-canceling headphones and how active and passive noise-canceling headphone works but the earmuffs are only passive noise-canceling objects.
So let me first give you an idea of what is Earmuffs and how it works and what should be your criteria for the best earmuffs selection.
---
What are Earmuffs and why we need them?
Earmuffs are the materials or objects made to cover the ear from the louder noise protection, they consist of thermoplastic or metal materials that fit on top of the head and its end is having a cushion or cup to cover the ear.
Their primary job is to defend the ear from the louder unnecessary noise but it has different other uses such as protecting the ear from the cold environment.
Hence you will find two types of Earmuffs in the market:
Thermal Earmuffs: Such types of earmuffs are specially used in the cold environment to make your ear warms, these are made of soft materials like fur or any pad.
Acoustic Earmuffs: These earmuffs are designed to block the external noise to pass through it and prevent them to reach the ear canal and that is why also known as ear defenders.
Such earmuffs are made of sound-deadening materials.
Well, we will only discuss the passive earmuffs as it offers materials that are sound deadening and made of foam coated in hard plastic. This material due to its thickness is efficient enough to block the sound.
Do you know a human ear is trained enough to hear up to 85dB in a loud environment and if the loudness is more than 85 dB then you will need ear protection like noise-canceling earmuffs to prevent hearing loss?
But while studying or reading even a very small noise can keep annoying or distracting from the reading and hence below are the best suggestions or best noise-canceling earmuffs for studying or reading.
---
Best Noise-canceling Ear Muffs for Studying or Reading
When you will plan to buy earmuffs better to check the below points to make sure everything is what an ideal earmuff should be and could stop the noise.
The price of the earmuffs should match the materials they are offering.
Earmuffs should be durable enough to long last.
Earmuffs Noise reduction rating (NRR) should be high enough to block the noise.
Earmuffs should be comfortable enough to cover the ear properly and there should be no space left to pass air through.
NRR stands for the noise reduction rating which gives an idea of the ability of the material to reduce or block the noise for best hearing protection.
Let's get you to the collection of the best noise-cancelling ear muffs for studying, reading, or sleeping and their advantages and disadvantages.
---
Lightweight and Maximum Hearing Protection Earmuffs by

Pro For Sho
It has gained the number 1 position in our review list due to its quality materials and numerous positive reviews from the worldwide audience.
From my experience, these earmuffs are good, reasonably priced hearing protection solutions and the best part is it is lightweight and fits well for your baby if he or she is feeling stress in the louder noise area.
This could be the perfect solution if you want to use them in the library while reading books or in-office if annoyed with the noise coming from the colleague.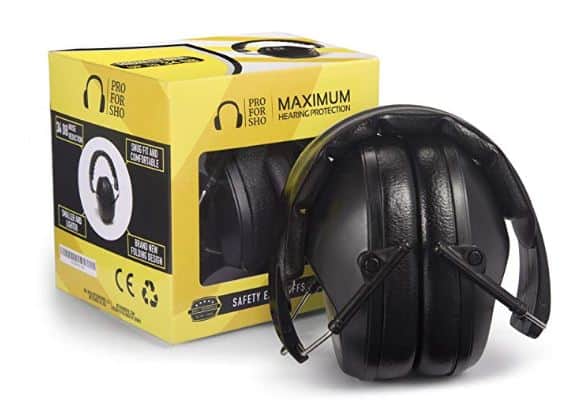 Advantages
They are solid and lightweight designed to overcome the issues of conventional earmuffs.
They are effective enough for hearing protection of up to 34 dB.
You can use them for multipurpose like shooting, studying, reading, hunting, etc.
Available in various sizes from the young child to the elder in more than 10 color variations.
Well effective to use in residential and commercial places.
Made of plastic materials hence it is lightweight but works as a good ear defender.
It is easy to fold and stretchable as per your requirement.
Disadvantages
It could be the only perfect solution if you are willing to use them in an area that has loudness rage up to 34 dB.
It won't block the complete outer noise, you will be hearing quite a bit of noise but I feel it is needed and you can not isolate yourself from the outer world.
If willing to learn more about customer reviews and explore the latest price then head over to Amazon.
No products found.
---
---
Hearing Protection Safety earmuffs by ClearArmour
If you want to try multipurpose earmuffs which are not only best for shooting hearing losses but to overcome the baby screaming or focusing while studying.
Then ClearArmour 141001 ear Muffs would be the best solution due to its exclusive sound technology.
Their ear cups are comfortable and of premium quality lightweight super-soft 1/4 inch thick foam materials that are durable enough for the long term.
These ear cuffs look great for both professional and industrial users but it also one of the best-fit solutions to use while studying or reading books.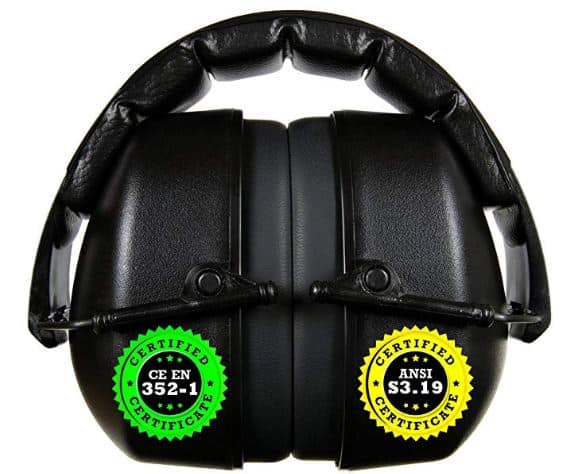 Advantages
Their ear cuffs are soft and comfortable enough to wear for a long duration.
They offer a tight seal around the ears to block the maximum outer noise.
They could be multipurpose earmuffs to use at a construction site or shooting area.
It protects the hearing loss of up to 31dB.
It has 3 layers of noise-dampening foam which is exclusive among all.
Disadvantages
The padding will be not comfortable enough to mold well if you are wearing a hat or glass.
From the shooting point of use, it could not be the best useful resource but studying and reading it is good.
Few users reported that it is tight from the headcover side.
Well, do remember you need the best noise-canceling earmuffs for studying or reading, and there your primary criteria are they should cover the head properly and be lightweight.
It could be one of your primary choices so better to check the latest price and seller reviews from the below link.
Last updated on 2023-10-03/Affiliate Links/ Images from Amazon
---
H10A Peltor Optime Superior Comfort hearing protection Earmuffs by 3M
It is most recommended for extremely loud conditions and is one of the most comfortable earmuffs which patented their twin cup design. It uses double-shell technology to block the noise.
You can use this in an extremely noisy environment where the noise limit is up to 105 dB.
It is a bit bulky but its cushion filled with soft, liquid & foam gives comfortable fitting around the ear.
Due to its two cups connected with each other through a foam inner layer, it has the ability to reduce the noise of low and high frequency.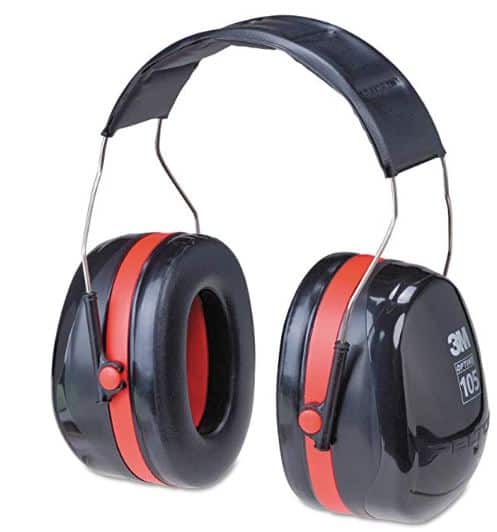 Advantages
Very effective to use in extremely high noise conditions.
Its cushions are comfortable enough to wear, so you can use them while reading books on the bed.
Earmuffs are best to use during reading or studying if you are near a loud construction site.
Ability to eliminate the noise up to 105dB
Disadvantages
It is a bit heavy to wear which makes it uncomfortable to use for a long time.
It is tight for big head people, so better to check the size before purchase else it won't fit over your head.
It is not like other cheap ear protectors but is worth enough to overcome noise in extremely high load conditions.
These earmuffs could be the best choice if you are willing to use this while you are sleeping or on the bed but extremely powerful to overcome high-level noise.
If willing to explore more about the user reviews and best-selling prices check out Amazon.
Sale
Last updated on 2023-10-03/Affiliate Links/ Images from Amazon
---
Professional safety earmuffs by Decibel Defense
This earmuff is safe and comfortable for all generations such as elders, kids, or old age people.
It has an ultra-comfortable headband with a smooth, padded design that gives exclusive comfort while you wear this for a very long time.
Well, they offer a double D guarantee what does it mean is they offer you the most comfortable hearing protection else they will give you a money-back guarantee.
This earmuff is ANSI S3.19 & CE EN 352-1 certified by an industry-leading 37 NRR and they are also certified by OSHA of NRR 34 dB.
Advantages
They offer 37 NRR industry-leading hearing protection.
They are lightweight in weight, so comfortable enough to wear while reading or studying.
Due to the tight seal around the ear, you might get a bit sweating after long-wearing.
They have a moneyback guarantee and a team in place to help out any of your problems.
DisAdvnatgaes
If willing to explore more then better to explore the customer reviews and the latest prices on Amazon.
Last updated on 2023-10-03/Affiliate Links/ Images from Amazon
---
Noise Reduction Ear defenders safety earmuffs by MPOw
It is well designed with 2 layers of noise dampening materials to block the maximum noise and it offers a high NNR of 34 dB for noise-canceling ability.
Earmuff is adjustable and designed with stainless steel at the end of the headband which makes it the perfect fit for all sizes.
It is ideal for a multipurpose job, such as you can block the noise while studying, reading, working, or living near construction sites. It is foldable enough to pack and carry very easily.
Advantages
Earmuff offers a high-rated NNR of 34dB.
It is certified to US and European standards.
It reduces noise instead of complete isolation, so you can sense the other necessary alarm.
360-degree rotatable earcups and soft cushion.
Two layers of noise-dampening foam.
High sealing solid cups and the unique double-shell are used to improve the NRR.
Best fit in your budget for the affordable price and best quality material.
Disadvantages
It is able to reduce the noise up to 80% and the rest will be still hearable but no earmuff offers 100% noise reduction.
Sometimes you may have sweat around the ears.
Make sure to use these only on those cases when you really feel to use them else it will addict you to wear them all the time whenever even you have standard louder noise.
Well, I have found this among the most popular and best-selling earmuffs to overcome or block the noise while shooting, studying, and reading books.
You can check the customer reviews and the latest price on amazon and can grab the best deal to buy the noise-canceling earmuffs for studying.
No products found.
---
Wrap up Noise-canceling Earmuffs for studying
Well, you have gone through all of them and the best part which needs to consider selecting one of the best earmuffs for the reading is the lightweight and NRR.
In my opinion and based on the number of customer reviews I have found the top three would be the most popular choices for your reading experience.
Earmuff by 3M would be good if you are in extremely loud condition, Clear Armor would be perfect if you are planning to use it for multipurpose and Pro for sho due to its lightweight material.
You can grab the best based on customer reviews and seller ratings but I hope I provided the best out of all the available collections and you can focus while reading.
Last updated on 2023-10-03/Affiliate Links/ Images from Amazon