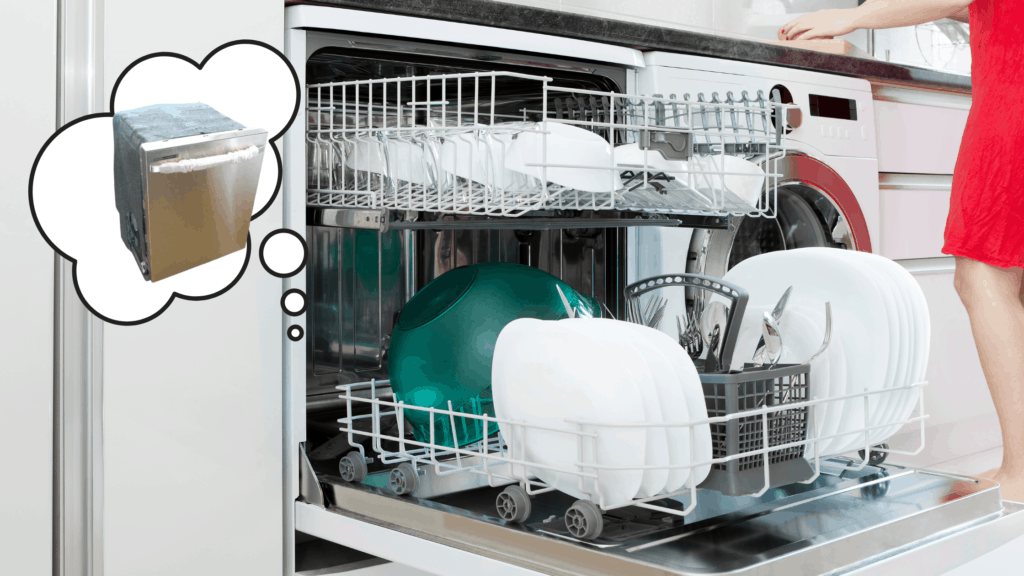 ---
Hearing the noise from the dishwasher is a very normal thing. Because water is just hitting the surface here and there inside the compartment.
So that all the utensils can clean up easily and properly. But sometimes the noise goes to its peak and that can be annoying for the person who is making the food in the kitchen and doing other stuff.
According to the report on Compact Appliance by Jeff Flower, a dishwasher usually produces noise around 75 to 80db but if it is defective and has any issue.
Then this noise may increase by 50 percent and more. It's hellacious!!
Do you know if you hear this noise for a long time then you may face serious health issues like stress, hearing loss, blood pressure, and more? Especially if you have children and an old person then you should fix it as soon as possible.
I know using the dishwasher insulation blanket will help you but which one and how you can find it.
That's why you need to read this article. Because in it I have provided the 3 best dishwasher insulation blankets with a complete kit.
Also, I have covered the buyer guide, benefits after using it, the installation guide, and more.
So read the complete article carefully otherwise you can't find the best insulation blanket for your dishwasher.
But first, let's start with the buyer guide that will let you know how you can select the best one with your own research.
---
Buyer Guide Of Dishwasher Insulation Blanket
While soundproofing the dishwasher needs a better insulation kit. So that it can work better and provide you great results.
That's why you should ensure your selection is best or not.
1. Perfectly Fit Size
What about the size of the dishwasher you are currently using? Do you know there are so many sizes of dishwashers available in the market? That should be used according to the size of the space that you left for it in your kitchen.
But sometimes we don't examine it and order the insulation blanket and other things.
Suppose if you have a smaller or mid-size dishwasher and you order a bigger insulation blanket. Then the excess amount is going to waste.
Or if you have bigger and you order a small blanket then you need to order again.
That's why it is better to have the exact size of your dishwasher so that you can find the best insulation blanket.
But the standard design of any dishwasher is about 24 inches wide, 24 inches deep, and 35 inches high. But not all of the dishwashers are the same.
So before shopping for your dishwasher insulation blanket, note down the measurements.
---
2. Material Quality
The more you spend the better you get. The same also applies while selecting the best dishwasher blanket.
Because there are several types of insulation materials available that are used in the blanket. Some of them provide better results but some may not.
That's why understanding something about the insulation material will make your decision better.
Usually, some common materials are used in the insulation blanket like fiberglass, felt. and foam.
So if your selected insulation blanket is also made from one of these materials. Then that's great you are on the right way.
But suppose if your dishwasher is producing more than the highest level noise.
Then I think these materials also will not work well. You need another best and latest insulation material like ceramic fiber.
That can bear temperature up to 1500 °C. Also, this provides better soundproofing against noise and vibrations.
---
3. Thickness
Are you living near any traffic area but still not getting any outside noise in your house? Do you know why this is happening? There is also working the thickness of your wall.
Because the thicker the material is the better it provides insulation and soundproofing.
Thick materials like fiberglass and ceramic fiber build a dense layer around the space.
That traps all of the things like heat and noise inside or outside it. That's why if you are seriously concerned about making your dishwasher soundproof or better insulation.
Then you should also select at least 1 inch. Because below this the noise and other things can easily transfer.
Especially heat that is the biggest enemy of your dishwasher.
Because higher heat may damage the outside layer of your dishwasher. Then you need to invest again and again if you are also facing the exact problem.
Then replace your thin dishwasher insulation blanket with thicker.
So these are some of the important criteria while selecting the best insulation blanket for your dishwasher. But if you don't have much time and energy to spend on it.
Then you can check out our list and find the best for you.
---
3 Best Dishwasher Insulation Blanket: Which One Is Best?
Fixing the noise and heat problem in your dishwasher is easy but if you have the best insulation blanket. But this is difficult.
That's why I have added the 3 best so you don't need to put effort into it.
1. 1300C Ceramic Fiber Dishwasher Insulation Kit By CM-Ceramics
Having the standard size of the dishwasher is great because you can easily find anything for it just like the insulation blanket.
Because it has a size of  24″ x 12″ x 1″ that is great for standard design. Also, if the noise is pretty much higher than the hearing level.
Then you will get the ceramic material so that noise will trap in it.
I know this is very difficult for you if you haven't done anything like this in the past. But if the material is durable and strong then you don't have to put in lots of effort.
The same you will find in this insulation blanket in the double layer that will handle all the compression.
But sometimes the dishwasher gets overheated that may harm you and also the other parts.
But you don't need to worry about this because this blanket can withstand a temperature up to 1300°C.
I think your dishwasher temperature never breaks this level.
Pros
It has an R-Value of about 2.2 per inch.
You will also get the sharp knife in this single bundle.
It also comes with the product data-sheet.
Cons
You may face some problems while removing the package.
Last updated on 2023-10-03/Affiliate Links/ Images from Amazon
---
2. 1260C Fiber Dishwasher Sound Insulation Blanket By HM&FC
Installing the insulation blanket on the dishwasher is difficult if the material is not much durable and effective.
Especially if the insulation blanket can easily fold and cut then using it on the dishwasher becomes very easy.
If you want this kind of insulation blanket then you should go with this HM&FC blanket for your dishwasher.
However, this is not as much as insulated against heat because it can bear up to 1260°C only.
But it is still better for your dishwasher because it will never break this level.
Also, if you are worried about the moisture getting worse inside the dishwasher and it is leaking from somewhere else.
Then when you install it on your dishwasher it will easily block the moisture inside it. Because it has a moisture-resistant layer that will work around it.
But you need to be careful while cutting and I recommend you to wear protective gloves, a mask, and goggles.
Pros
You will also get a high-quality sharp knife.
It is better for the small size of the dishwasher.
It is much more durable than any other insulation material.
Cons
Its material is not quite good.
Last updated on 2023-10-03/Affiliate Links/ Images from Amazon
---
3. 1315C Baffle Fire Dishwasher Insulation Blanket By AA Plus
Are you facing the highest temperature problem in your dishwasher? If yes, then you need to be very careful about it.
Because it may be dangerous for you and other things inside the kitchen as well.
Because the highest temperature may damage the dishwasher's outer layer that may catch fire if it is made with wood.
Some insulation blankets have the highest temperature handling quality and this is the one that you need the most. If you are facing the exact problem.
This insulation blanket can withstand a temperature of about 1315°C that is the highest on this list. Also, this is a much thicker and bigger insulation sheet.
So if you have a slightly bigger dishwasher than the standard size.
Then I recommend you to go with this insulation blanket. It is also made with a non-toxic material. So that you and the other family members stay safe.
Be careful because some of the blankets are not made with non-toxic materials.
Pros
It can be used in any appliance to fight against heat and noise.
It has a double layer that works better.
You can easily use it on your dishwasher.
Cons
It is much more expensive than other insulation blankets.
Last updated on 2023-10-03/Affiliate Links/ Images from Amazon
So these are some of the best dishwasher insulation blankets. That will help you to fix the noise and heat problems in your dishwasher and fight against them.
But suppose you purchased one of them but what benefits you will get. If not then read below.
---
Benefits Of Using Dishwasher Insulation Blanket
Using the dishwasher insulation blanket helps you in many ways so that you can easily use it. But some people think that this will only dampen the noise.
But this is not right below. I have explained the other benefits of it.
Trap Heat & Condensation: If you don't have enough insulation blankets in your kitchen that defer the temperature coming from the heating applications.
Then this may damage the other complete compartment and if it can't withstand the high temperature. Then it gets on fire. But the dishwasher insulation blanket will not be going to happen. Because it is made of ceramic fiber that can bear the highest heat level.
Reduce Vibration: As you know the solid surface becomes the cause of facing vibrations. This will increase if the water hits the surface here and there. But the fluffy surface of the insulation blanket works as the pad that handles it and is not going to happen again.
Sound Deadening: The insulation blanket for your dishwasher blocks the noise as usual. Because it also has soundproofing properties as it has insulation. That can absorb more than the highest level that is appropriate for the dishwasher.
Now this time to understand how you can install the ceramic insulation blanket on the dishwasher easily. Literally, if you don't know anything about it you can also do that.
---
How To Install The Insulation Blanket On Dishwasher
If you love to make your kitchen clean and beautiful. Then using the dishwasher is the requirement for you.
But sometimes it starts producing noise that becomes annoying for you and another person in the house.
That's why you should understand how you can install the insulation blanket. That I have explained below.
1. Disconnect The Dishwasher From Everything
Working in a dishwasher that is still connected with the power and water line can be a risky job.
So in the first step, you need to unplug the dishwasher from the power. That you will easily find the place where you have connected it from the socket.
Now this time to move to the water connection.
So first close the water valve tightly so that water can't pass through from it.
Then you need to dis attach all the water lines that are connected to the dishwasher. Because when you come out they all may be damaged.
---
2. Unmount The Dishwasher From The Cabinet
In this step, you need some for anyone in your house because you need to loosen some screws.
You need to find all the places where the dishwasher is connected to the cabinet through screws. Then start to unscrew them carefully.
That will take some time and effort but this is part of this process. When you successfully unscrew all of them then unmount the dishwasher from the cabinet.
So that can complete the next step.
---
3. Replace The Old Insulation Blanket From The New One
So with no extra time, you need to remove your old insulation blanket from the dishwasher.
That is not much effective to block the noise and heat as well. Then reinstall the new and effective insulation blanket.
Then mount the dishwasher under the cabinet, tighten all the screws, and then reconnect all the water lines and plug in the socket.
---
Wrap Up On Best Dishwasher Insulation Blanket
As you know, hearing too much noise for a long time is quite dangerous for your health. You may lose your hearing ability permanently.
That's why if you want to wrap the dishwasher from the insulation blanket will help you to block the noise and heat as well.
Because both become solid problems if your dishwasher is older.
I know investing a high amount in the dishwasher is not a great idea. If you don't money to invest right now.
That's why using the temporary solution is also works better. However, this using the insulation blanket is more than a temporary solution.
Because its insulation layer works for a longer time than expected.
That's why I have provided 3 dishwasher insulation blankets so that you can make a wise decision.
Then after the installation procedure starts then the steps listed above will help you to do things better. 
---
FAQ: Best Dishwasher Insulation Blanket
Selecting the best dishwasher insulation blanket is quite difficult. That's why many people just like facing so many problems.
I have added some of them and tried to give appropriate answers to them.
How much does it cost to install the dishwasher insulation blanket?
The installation process does not cost you more if you do that by yourself.
However, this is very simple to do but depends on how much knowledge you have about this.
But if you call any professional to do this work then this may cost you around $250 to $400.
When should I insulate my dishwasher?
When you hear too much noise and heat coming from your dishwasher.
Then this is the right time to use the best quality thick insulation blanket on it.
Otherwise, you may be stuck in a very serious problem.
Should I insulate my dishwasher or purchase a new dishwasher?
If you don't have money to invest right now in the new dishwasher.
Then insulating the dishwasher is a great idea. However, this is a very common thing that your dishwasher produces noise and heat.
So if you purchase the new one then it will also create these problems. That's why you should go with insulating the dishwasher.