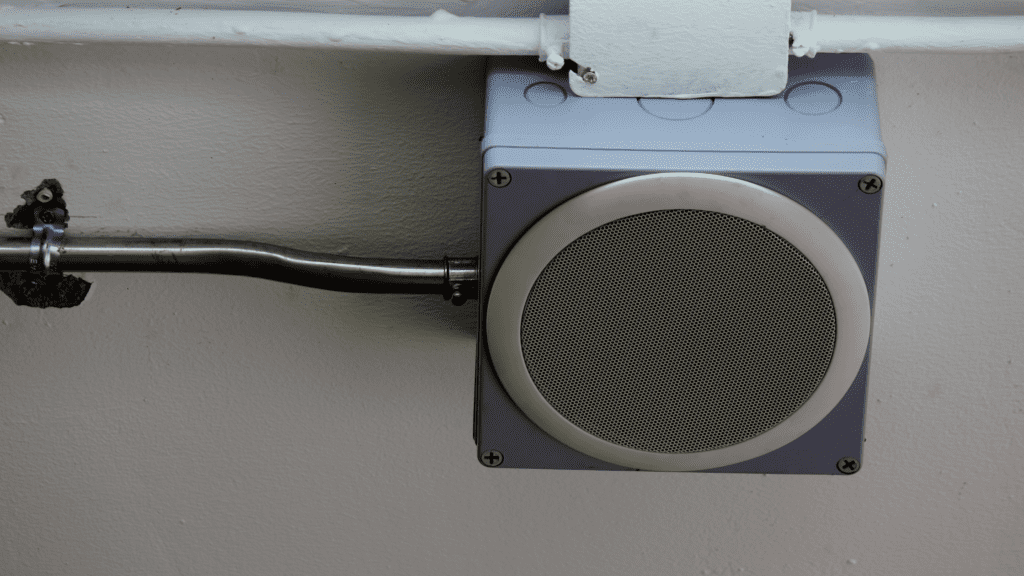 ---
When it comes to converting the whole house into a modern home theaters ceiling speakers and amplifiers come at the top. Because they have lots of advantages. But the question is how you can install them in your house?
According to the report of Homewyse, the cost of installing speakers with the help of professionals ranges somewhat around $150-$300. Huge!!.
Spending that much money for just installing ceiling speakers is not worth it. So if you want to save this money. Then you need to learn how to install ceiling speakers properly.
However, there are many types of ceiling speakers out there. But the installation is somehow the same for all. That's why you should read this article.
Because in this article I have explained how to install in-ceiling speakers (In-Ceiling Speakers & Ceiling Speakers are the same). Also, I have covered some instructions and preventions while installing it.
So let's start reading.
---
Designs Of Ceiling Speaker And Amplifier 
Ceiling speakers are almost similar to normal HiFi speakers in most ways, except for a few minor differences. These speakers are also quite similar to those used in a car's audio.
1. Integrated Ceiling Speakers
In-ceiling loudspeakers with an integrated amplifier are known as active ceiling speakers. This implies that they don't need to be powered by an external stereo amplifier or an AV receiver.
As a result, you won't have to run speaker wire from your ceiling speakers to amplification equipment.
---
2. Hanging Speakers 
Unlike active ceiling speakers, passive ceiling speakers don't have an amplifier.
Speaker wires must be connected to them and this speaker wire must be connected to some sort of external amplification. Such as an AV receiver or powered stereo amplifier.
---
Single Stereo Speaker VS Monophonic
It's important to remember that there are both active and passive speakers available for mono and stereo ceiling speakers.
As a result, either the type of speakers we are going to discuss. They have an integrated amplifier or they don't.
For rooms larger than 4m by 4m, use mono ceiling speakers. Including left and right speakers for each channel.
Just like normal speakers do, these speakers are cute. Because they improve stereo separation and provide greater accuracy.
A single stereo speaker may be an option if your space is less than 4m by 4m. Two tweeters are included in one stereo speaker; Thus, you get stereo separation.
However, a single stereo speaker lacks stereo separation. But the separate left and right mono ceiling speakers make it a better option for sound separation.
---
Which Ceiling Materials Are Available?
Wood, drywall masonry, concrete, and stainless plaster are all materials used to make ceilings.
Even though every ceiling is unique, the most common material for low-cost tops is drywall. Because it is the industry standard.
Make sure you know what type of roofing and roofing material you are working with before proceeding.
Try cutting holes and wasted areas in your home with your ceiling speakers and amplifiers.
---
Instructions On How To Install Ceiling Speakers
The instructions for installing ceiling speakers will guide you. So that you can get enjoyment in your house.
1. Decide A Location 
Due to the nature of in-ceiling audio speakers, once they're solidly placed, they can't be moved.
Be sure to choose the best location for the ceiling speakers before starting the installation process.
When installing ceiling speakers in some areas, speaker position and wiring are important. And a little preparation ahead will help you tackle these challenges ahead of time.
---
2. Consider Your Home's Electrical Wiring
Remember to keep in mind that in-ceiling speakers are not wireless when you're planning your home's entertainment system.
The cables will travel from the audio system amplifier through the walls and ceiling and out to the speaker units. 
When you are laying your wireline. So be sure to pay special attention to the locations of electrical wiring, plumbing, and HVAC ducting!
Before drilling or cutting into a wall or ceiling, always take the time to double-check your work.
Paralleling your speaker wire with your electrical wiring should be avoided at all costs if at all feasible. To prevent creating electrical hum in the speaker lines, cross electrical wire at 90-degree angles where necessary.
Last but not least, the thicker the speaker cabling, the better it will perform. Stranded cabling with a minimum gauge of 14 AWG is often recommended.
---
Preventing Speakers From Being Installed In A Moist Environment
Bathtubs and back porches, among other damp conditions, are not ideal locations for most in-ceiling audio speakers to be installed.
Before putting your in-ceiling speakers in such areas. Make sure to check the paperwork to they are permitted to be installed there or they cannot be installed there.
Other than that, the speaker grills and other components will begin to rust and degrade over time due to environmental factors.
Investing in in-ceiling speakers that have all-weather grills will be your best chance in this situation.
These locations are ideal for Vibe's Spectrum in-ceiling audio speakers, which, for example, perform well.
---
Five Factors For Choosing Ceiling Speakers
Here I am telling you five factors for choosing a ceiling speaker. which are as follows-
1. Choose The Most Appropriate Kind of In-Ceiling Speaker 
Traditional in-ceiling speakers, such as those made by Bose. Consists of a speaker with a flush-fitting grille and ports for power and speaker cable connections. 
The installation of these often requires professional assistance with holes being bored in the ceiling and wires.
Being run through it to wall plates, providing links to regular Hi-Fi amplifiers.
---
2. Before You Decorate Integrate The System
If you want to have genuinely inconspicuous hi-fi in your house, you'll need to include it in a remodeling project.
Nobody wants to be tracing wires into newly dry plaster. That is in contrast to the most pleasing soundbars. That can be installed at any time without difficulty. 
This group of bespoke installation professionals is also knowledgeable about home theatres. The most recent security systems, all of which can be managed from a single device.
---
3. Insist On The Proper Installation Of In-Ceiling Speakers
Most in-ceiling speakers are easily installed if you have a toolbox at your disposal. This is familiar with wiring electrical equipment.
However, keep in mind that, in addition to wiring and cutting holes in the ceiling. you may need to trace cables into the walls, add spurs to existing lighting circuits, and position. 
Speakers in the most optimal places for the best sound quality and make sure. That there is enough space between the ceiling and the top floor.
---
4. Select The Appropriate Number Of Speaker
Ceiling speakers, like the Sonos Sonance, are often sold in pairs, allowing you to experience full stereo sound.
Generally, one pair of ceiling speakers should be used for rooms larger than 3m2 and two pairs of ceiling speakers for areas larger than 5m2.
Doing so will give a more balanced sound. The sound produced by specific speakers, such as the Zuma, fills a whole room. Therefore one speaker may be sufficient in a small area.
It has also become easy to set up a multi-room music system. That you can use to play music in different rooms.
Also, wake up to your favorite radio station, or convert the whole home into a nightclub. All without the need for a conventional speaker system in the first place.
---
5. Placing The Speakers In The Fitting Rooms 
The in-built speakers are available from the most prominent manufacturers which are moisture and moisture resistant. That you can include in any kitchen design or bathroom.
However, look for speakers that have at least IP44 certification. This means they'll be immune to splashes and have an IP68 rating. That means they'll be completely waterproof.
---
Installing Audio Speakers In The Ceiling: 5 Steps
Here I am telling you 5 Steps to Install Audio Speaker in Ceiling. Those are given below.
1. System Kits
Ceiling-mounted speaker systems are often sold as a kit that includes complete installation instructions and all of the required hardware.
Here below are some of the procedures. They are intended to serve as an essential guide to explain the process of installing any form of ceiling speaker system.
Just bear in mind that the hardware you get may vary depending on the device you choose.
Inventories of Tools and Materials
A bag for tools
A measuring tape is a piece of tape used to measure something.
Stump Locator
Drill with a variety of bits
Sheetrock saw (also known as a drywall saw)
Tape with a fishtail
a roll of electrical tape
Cable for the speaker
Wire clips are a kind of fastener.
Hammer
Wire strippers.
Screwdriver
---
2. Choosing A Geographical Location
In most cases, ceiling speakers are sold in pairs of left and right speakers. They should be placed in a symmetrical configuration near a wall rather than in the center of the room.
When facing stereo, you can have a pair of front speakers. that is 3 feet from the wall closest to the stereo, and when you face the stereo.
So each of them is 3 feet away from the left and right borders. The rear left, and right speakers would be mounted similarly to the front left and right speakers off the back wall.
Light fixtures and other things that have already been installed in the ceiling will, of course, be avoided at all costs.
It's critical to find a spot where there are no ceiling joists to avoid any problems. It is possible to establish the precise position of each joist with the help of the stud finder.
But you can also knock on the ceiling and listen for the hollow sound that indicates that there is room between the joists.
---
3. Creating Holes In The Ground
For the most part, ceiling speakers are circular and come with a template that may be used to cut the hole in the appropriate shape and size.
In addition, you will need to cut a smaller rectangular hole for the box at the floor level, where you will connect to the audio system to complete the installation. 
This has the appearance of a standard electrical outlet and provides a clean transition for the speaker wire to pass through the wall without causing damage.
---
4. Removing The Speaker Hole
Make a little X in the middle of each speaker placement to indicate their location.
Align the center hole of the template with the X on the cutting board and trace the outline of the cutout with a pencil to complete the process.
To create an X on the ceiling, drill a 1/2-inch hole in it.
The tip of the sheetrock saw should be inserted into the hole and the circular outline should be cut in a gentle arc shape.
Continue cutting around the whole perimeter of the circular method until the circular piece of sheetrock can be removed.
The operation should be repeated to create a rectangular hole in the wall near the stereo receiver for the speaker wire jack.
---
5. Keeping The Lines Crossed
The next step is to connect cables from the position of the wall jack to the locations of each of the speakers.
This will take some time. Depending on the configuration of the speaker system and how the walls, ceiling, and floor of the attic were built.
This may need drilling through a few studs and ceiling joists to complete the installation.
Although it is hard to cover every conceivable circumstance, the following are the fundamental stages and most important ideas to remember:
Measure the distance between the hole for the speaker wire jack and the ceiling, as well as the distance between each speaker's placement.
Add a few feet to each measurement to allow for some wiggle room during the installation, and then cut the speaker wire to the appropriate length for each length. 
Each wire at both ends should be labeled as follows: front/right, rear/left, etc., using a piece of duct tape and a permanent marker.
A 1/2-inch or smaller drill bit should be used to make holes in any studs or joists that the wires will need to pass through to be installed.
To ensure that the structural integrity of the wooden component is not compromised, the holes should always be located in the middle of the rigid member.
Using a fish tape, drag each wire through from the jack site to each speaker's locations until they are all connected.
Push the tape through from one of the speaker sites to one of the wall jack locations, starting at one of the speaker locations.
Electrical tape should be used to secure the appropriate speaker wire to the end of the fish tape, and then the wire should be pulled through from the other end.
This procedure should be repeated for each different speaker placement.
Using hammer-in wire clips, attach the wires to the studs and joists where practicable, being sure to maintain the wire tight between each pin.
---
Wrap Up On How To Install Ceiling Speakers With No Attic
If your ceiling is built of drywall, this easy guide will help you how to install ceiling speakers.
However, we found that different materials can result in different types of roofs. Some of them can cause problems if you want to install ceiling speakers.
Consider contacting a professional or attaching them to your wall instead of your ceiling. Where you have a non-standard ceiling or a ceiling made of a material other than drywall.
---
FAQ: How To Install Ceiling Speakers For Music Sound
These are some of the frequently asked questions. That you should know before fixing these squeaky sound problems.  
Q1. Which speaker cable should I use with my ceiling speaker?
Ans: For most installations, we recommend a 16 gauge 2 core speaker cable. Which is industry standard and adequate.
Q2. Do ceiling speakers require mains power?
Ans: No, ceiling speakers are generally passive speakers. Which means they do not have built-in amplifiers. Instead, speakers running from an external amplifier get their power through cables.
Q3. Where should I put the ceiling speakers?
Ans: For the best stereo separation effect, each is at the same distance from the wall. It is best to place ceiling speakers along the length of the room at a distance of at least 2 meters from each other.