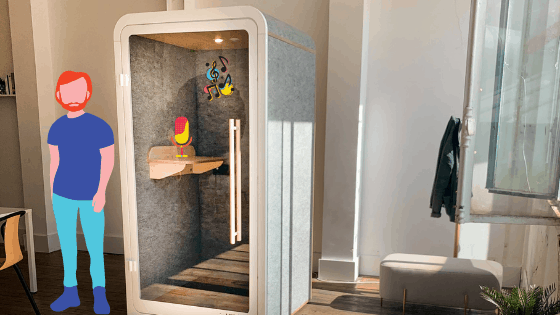 ---
Having a soundproof booth is really a great idea especially in the beginning stage of a musician. Because beginners don't have a large budget to invest in a recording studio.
Don't worry you are not the only one who is going to start their music career in a booth.
Over 70% of beginner musicians start with the same procedure. Even Troyal Garth Brook has also started their inspirational music journey from a small soundproof booth.
Without a soundproof booth, you can't imagine how difficult it is to record a masterpiece. Because you have to face so many unwanted sound waves that disturb you and your voice as well.
Do you know how to build a soundproof booth properly?
So that any external sound waves can't come into the booth. Don't worry, in this article, I'm going to share all the steps and 10 DIY ideas to make a soundproof booth.
Additionally, I will share some platforms where you can express your music talent and your awesome voice as well. So don't skip any point otherwise you will lose your chance.
But first, you need to understand what a soundproof booth really is?
---
What is a Good Soundproof Booth?
In terms of a good soundproof booth, there are 3 major things. That you should consider when building a good soundproof booth for your recording.
First, your booth needs to be strong to bear all the soundproof materials on its walls. Second, It must have capabilities to block and reduce the significant amount of unwanted noise.
Last, It can diffuse as many reverb inside the soundproof booth. This is very natural to produce reverbs but when you record anything then this creates trouble.
If you combined these 3  things then you definitely feel the change in the recording quality.
Let's understand the different kinds of soundproof booths.
---
Different Types of Soundproof Vocal Booth
Types of soundproof booths depend on your situation. I mean if you want this for permanent, or something that can easily transport to a new location.
These 2 factors play a very important role when planning your recording booth.
But I think the sound quality is also very important. Because this is the main thing that's why you are building a soundproof booth. These are the 3 major soundproof booths that you can plan according to your need and space as well.
1. Permanent Soundproof Booth For Home
This is the most reliable and usable soundproof booth. Many musicians use this because it provides the highest quality of recordings.
The important thing is this soundproof booth follows all the 3 major guidelines. Once it builts then It will stay in place, this helps to provide soundproofing to your booth walls.
As you know soundproof booths have two layers one outside and the second inside. The first one is to protect you from your noisy neighbors' unwanted and irritating noise.
The second one has sound depending that helps you to block the reverberation inside the booth. This is the best soundproof booth.
But the downside is this will cover a large area in your house. So if you are living in an apartment then you will face space issues.
That's why If you are not able to use a permanent soundproof booth then you might love the next one.
---
2. Semi-Portable Soundproof Singing Booth
If you don't have a large area in your apartment and house. Then you might love this semi-portable soundproof booth. You can easily assemble and disassemble it by yourself.
If you are going to a new place then just disassemble it and reassemble at a new location. If you are living in an apartment then this soundproof booth is the right one for you. 
This booth needs 2 major parts first is a frame and the second one is a sound-absorbing blanket. As you know acoustic blanket is very effective to reduce the noise inside and outside as well.
But keep in mind this is not as effective and reliable as a permanent soundproof booth. 
You may face some noise disturbance when recording. However, this blanket will reduce some of the inside noise but this is not enough.
Also, the semi-portable soundproof singing booth is much more expensive than a permanent booth.
---
3. Portable Soundproof Vocal Booth For Travelling
If you are a travel person then you don't like to carry a heavy and odd booth in your car. No one likes including me, so the portable soundproof booth will help you to record awesome music.
This is very small and lightweight that easily fits in any type of vehicle.
Usually, this will help you to reduce the noise and improve the recording quality. But keep in mind that this does not provide the same sound quality as permanent and semi-portable.
The cost of this type of soundproof booth is around 65 to $97. 
You can buy a portable soundproof booth from Amazon. You can select one that fits your needs and your budget. Let's check 10 DIY ideas to build a soundproof booth at home.
---
10 Ideas How To Make Soundproof Vocal Booth At Home
As you know, a permanent soundproof booth is one of the best solutions to record a high-quality song. You can use it at your home and record it anytime. Let's discuss 10 different ideas to make a soundproof vocal booth at home.
1. Build A Isolate Soundproof Booth At Corner
Building an isolated soundproof booth is really a great idea because this way you can save some money, how? Because you don't need to install two walls in your booth.
The existing walls of your room work as your booth walls. You can design your booth according to your need. I suggest you use Thicky Plywood to make your booth soundproof and strong.
First, you need to make a plan and design this according to your need. Keep in mind that don't use more than 20% of the area of your room. Otherwise, this will make your room congested.
---
2. Make Your Soundproof Booth Cheap
If you have a very small budget to invest in your soundproof booth. Then also I have an Idea to build your soundproof vocal booth in just 2 to 5$ per square feet.
You just need 2 major components first is Plywood and the second one is L-brackets When you are ready to assemble the booth then attach this plywood with each other by L-brackets.
This will hold the whole structure together. You can also use acoustic panels on the ceiling and walls. But don't put a heavyweight on the walls otherwise, this may fall down. This is how you can build a soundproof booth.
---
3. Use Isolation Shield For Portable Soundproof Booth
If you have a soundproof room for your vocal recording and just want acoustic treatment. Then you can use an Isolation shield with your microphone.
I suggest you use Monoprice's high-density isolation shield. This will work as a bass trap and help you to diffuse the noise and this will cost you around 65 to $89.
Why do I suggest this isolation shield? Because a pyramid structure acoustic shield works very well to absorb every low and high frequency.
---
4. Seal All The Gaps And Cracks For Isolate Environment
Do you know a small hole can create a disturbance while your recording? Yes, soundwaves can travel through any type of gaps and cracks.
That's why after building the booth you need to fill all the gaps and cracks inside your booth for great isolation. I suggest you use silicon based sealant in your booth, Why?
Because it is much more effective than a regular sealant. Silicon is a natural adhesive that helps you to make your booth soundproof.
---
5. Add Drywall On Your Soundproof Booth
Now, you have built your booth, this is the time to make it more soundproof by adding drywall. This is an important step without it you can't imaging better recording quality.
After deciding it then you need to attach the drywall with the outer and inner surface of your booth. Make sure don't left any space between them.
If you want then you can also use screws to attach them well. I know it requires some help from others but it is worth it. This is the most recommended material that you have to use.
---
6. Build A Pro Soundproof Booth For Recording
For building a pro soundproof studio you need to invest at least $1000. I know this is much expensive but if you can then go with this.
Making a pro booth you need a large room because you have to make your booth with solid concrete. This will cut the most amount of noise.
After it makes your booth isolated by adding acoustic panels on the walls, ceiling, and even floor. This will help you to avoid the reflection of noise. Watch this video and you will understand my words.
---
7. Use Door Draft Stopper To Prevent Sound Leakage
After fixing all the things now is time to fix your door. Why? Because sound waves can travel through your door gaps. When shopping for a door you need to determine one thing that would be solid.
A solid door needs more money to invest but if you don't have investment right now. So you can use a normal hollow door. But make sure to use a door draft stopper that will help you make your cabin soundproof.
The first step is to install a solid door, the second step is to use a door draft stopper. After it makes sure to check pins and knobs are well screwed or not.
---
8. Add Soundproof Material In The Booth
You can use many types of soundproof materials in the booth. This will absorb the excess amount of noise. You can choose anyone right below.
If you don't have money to invest in acoustic panels then you can

replace them with soundproof wools.
Mass loaded vinyl (MLV)

is also a great thing that will create a soundproof barrier inside your booth.

Also, you can use an

acoustic carpet

that will reduce the structure-borne noise and this comes in a

sound-absorbing category

.
These are some of the soundproofing or sound-absorbing materials. That you can use to improve your recording quality.
---
9. Soundproof Your Vocal Booth With Acoustic Panels
As you know acoustic panels are also made from soundproof materials. Because most people use them in their recording studio or home as well. That's why It is very crucial to install these panels on the walls of your booth.
These panels come in many sizes and shapes and you can choose according to your booth structure. Just measure your booth with inch tape and then plan how many panels are needed.
I suggest you choose a pyramid acoustic foam because this will work well and absorb high to low frequency. After purchasing now you need to place them in a manner way.
---
10. Use Soundproof Paint To Your Vocal Booth
Soundproof paint is different from regular paint because this is a heavy water-based paint. Also, many sound-absorbing filters such as ceramic microspheres are used to make it.
Are you aware of latex? This is the most common material that is used to make every insulated product. Ceramic microspheres are also the same as latex.
Keep in mind that soundproof paint will increase the layer of the walls by 0.2 cm. Because it is much thicker than regular paint.
---
11. Bonus Idea: How You Can Construct A Portable Vocal Booth
If you are a voice-over artist then you can use a smaller booth that can be carried to any place. I think this must be a very great idea instead of heaving a permanent booth.
This booth constructs in a core panel and you can build it by yourself at home. You just need 4 layers of acoustic panels and then attach them with each other by glue.
If you can't make this then you can purchase it from Amazon. There are hundreds of varieties available to choose from.
---
How To Build Soundproof Vocal Booth: Step By Step Process
Now, this is the time to learn about how you can build your soundproof booth. That will help you to record the cleanest sound. This is a very simple process that you will be going to learn and try.
Step 1: Make A Plan
Everything needs a perfect plan before executing it. Without a proper blueprint, you can't make your soundproof vocal booth.
These are some of the points that you should keep in your mind while designing and planning your booth.
Determine how large of a soundproof booth do you want?

Measure the area to be used to make it.

Ensure the size and placement of your entryway.

Consider the thickness of plywood according to your budget and need.

Gather all the important parts and soundproofing materials.
Thus you have done your planning. I think the 4×4 size of the vocal booth works well. Now jump on to the next step which you will lead to making your booth.
Step 2: Build The Walls, Ceiling, and Floor
After planing now first you need to build the walls, the second ceiling, and the last floors. Because walls are the main structure that will allow you to attach the other parts with it.
So after attaching plywood in the shape of walls and ceiling. Then you need to install the soundproof carpet on the floor. If you want then you can also use plywood on the floor.
After it, you need to install drywall from the outside and fiberglass from the inside of the walls. You can select the plywood according to your need.
But I suggest you choose thick plywood that will ensure the protection of your booth.
Step 3: Paint Your Booth
Painting is also a very crucial part. As I earlier explain that you need to use soundproof paint instead of regular paint. Soundproof paint has some particles that will help you to reduce the noise.
You need to paint your whole booth and let it dry properly. After it, you will feel the change. Also, this will help you to decorate your booth.
Instead of using a roller, you can use pressure spray paint because I will allow you to make the paint lightweight. Also, you can spread the paint evenly.
Step 4: Install All The Acoustic Materials
After completing the painting work now you need to install all the acoustic materials that you have collected for this. Such as acoustic panels, MLV, soundproof wool, fiberglass, door draft stopper, and so on.
I have already explained it. You can read the above. Before all of the things just use the acoustic sealant and fill them into every gap and cracks.
So the sound waves cannot travel through the walls. Note, these materials are very important because only building a booth is not enough for better recording quality.
Step 5: Set Up The Pop Filter
This is the last step of making your recording quality the best. The pop filter plays a very important role while recording. Because this design reduces all the low frequency of sound waves.
Mainly this works as a mask shield and improves your recording quality. This is easily available on Amazon.com you can check it and select it according to your budget and style.
Now, all the important steps are finished if still, you are facing any problem in the making of a soundproof booth. Then just comment down below I will definitely try to solve your problem.
---
3 Platforms Where You Can Share Your Music
After creating an awesome song. The question is now where you can publish your song so that many people will see it and appreciate your work. So here are the 3 places where you can share.
1. YouTube
YouTube is the most trusted place where you can get more exposure to your art. Many beginners or even expert artists also share their best work on YouTube.
2. Udemy
If you know how to sing and how to record a masterpiece. Then you can create a step-by-step course for others who wants to know about how to make a beautiful song.
3. Spotify
Now, this is trending. you can convert your song into an audio file and upload it on many podcast channels such as Spotify. Include the story behind this song because people love stories.
---
Wrap Up On How To Make Soundproof Booth
In conclusion, now we have understood how to build an amazing soundproof booth. That provides a better recording quality. All the DIY ideas work very well and you can use them all.
But do not execute before any solid plan to make your booth in reality.
I suggest you start your career with a permanent soundproof booth. Because it will give more flexibility and quality or recording.
Modular and portable is good for only travel purposes but you will not have your recording quality as good as permanent.
If you found this article helpful, then you can share it with your friends and family members. Or if you have any questions related to this article then comment down below.