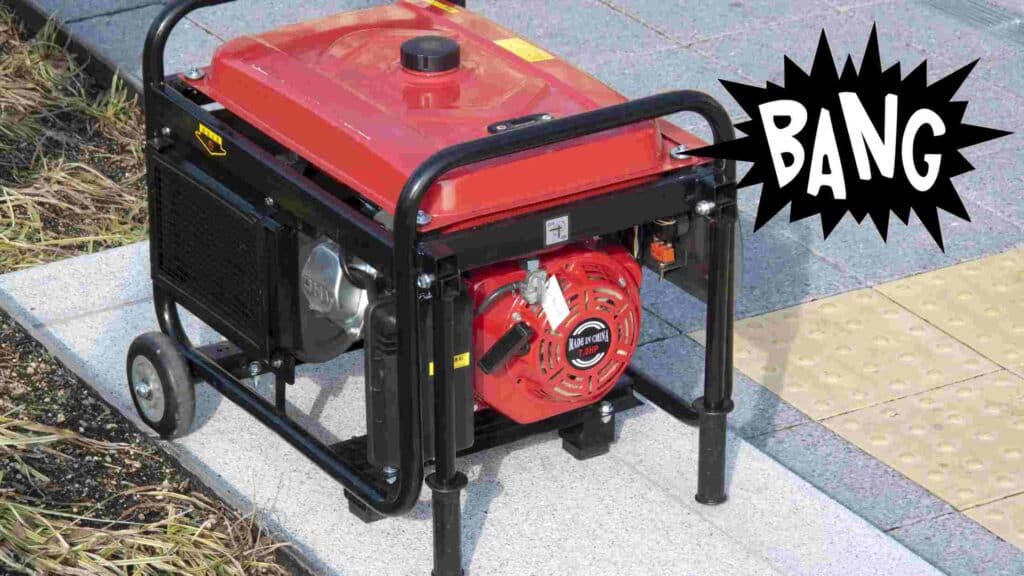 Generators are amazing to charge anything from small to large appliances. But people don't like generators because of their high-level noise.
I know that the generator quiet box is a good idea but this will add more weight and I don't like to carry it in my car when going on camping. But the generators are necessary in case of your battery failure.
Well if you are struggling with finding the best portable generator then we already prepared the best generators for camping.
Luckily, I found these best ways on how to reduce generator noise by 80 to 90%, so I decided to share it with you.
Because of some reasons, I think a generator is better than batteries but if you don't want to disturb your camper's enjoyment then you have to reduce the noise as much as possible. Check the best practice below!.
Follow these tricks, I am 100% sure you will find your generator doesn't generate noise and you can enjoy camping with your friends and family.
Note: Some of the ideas that I have used and some of not but I researched all of these ideas and I am 100% sure that all the ideas work very well.
---
10 Best Ways How To Reduce Generator Noise
If you are planning to go camping or you are working on a project in the garage or doing something else then you probably have to use generators or air compressors etc.
If you don't use it and go with electricity then this will cost you more instead of a generator. You can't pay your electricity bills.
1. Use Rubber Mat To Reduce Generator Noise
The simplest way to reduce the sound of the generator is to use a fluffy, fire-resistant, and heavy-duty rubber mat. Because lots of the sound of the generator comes from the vibration.
However, a mat does not reduce the noise directly but it can decrease the vibration of the generator, and the fluffy gap between the generator and surface helps the generator to generate no vibration. 
In the meantime, you will see your generator does not generate so much vibration that will disturb you when camping or working.
I will recommend you to check the heavy-duty equipment mat 30GS that is made in the U.S.A and created by SuperMats. 
I am using it right now and very happy with it. It really works well!. Don't believe me check on Amazon.com
Last updated on 2023-10-02/Affiliate Links/ Images from Amazon
---
2. Use The Rubber Sheet For Generator Noise Reduction
A rubber sheet is an excellent idea to reduce the noise of the generator. Cover the generator from all around, and you will feel that your generator does not generate so much noise.
You can do your work properly and spend some time with your family. As you know rubber is perfect for noise reduction</b>. However, you have to make some extra effort into it.
I bet you!. If you are using second-generation generators (Inverter generators) probably can't hear any voice.
The inner surface of the rubber sheets is rough and the outer surface is flat, due to this noise slowly moving out through sheets, which reduces the noise as usual.
The 6X6 rubber sheet by MATNIKS is the best choice for generator noise reduction that Amazon recommends. You can check it.
Last updated on 2023-10-02/Affiliate Links/ Images from Amazon
---
3. Connect Muffler To Make a Generator Quiet
Adding a muffler with the generator is a great idea because a muffler can reduce the noise of any type of vehicle like a motorcycle.
If you use it then you will feel the silence around you. Usually, mufflers have 2 holes first one on top, and the second one is on the bottom.
But if you need to reduce more than you can add an extra hole in it so you do not feel any noise. A custom muffler is very great for the generator.
You have to select which muffler is best for your need because each muffler reduces the sound but a different way. This is the most important for soundproofing to generator noise.
I am using Briggs & Stratton 299477S muffler right now and I am very happy with its work. This is the super quiet generator muffler. You can check it on Amazon.com
Last updated on 2023-10-02/Affiliate Links/ Images from Amazon
---
4. Change The Position Vertically Of the Exhaust Pipe To Reduce Generator Noise
Usually, every exhaust pipe connects horizontally with the generator. This can help you to carry it from one place to another.
But if you change the position of this exhaust pipe from horizontally to vertically you will feel that the sound level comes down.
The main reason to change to the position is that when pipe in on the horizontal position the sound directly comes to you that's why you feel more sound.
But when changing the position vertically the sound is not directly coming to you. This way you will feel silent without so much noise.
Many people are trying this and I am also doing the same to get rid of the noise. Literally, I don't like so much noise.
That's why I research the best ways how to reduce generator noise for you and me. You will not be disappointed.
---
5. Use Generator Quiet Box To Make Your Generator Quiet As Cricket
Have you seen big size generators always used in the big steel boxes? Why are these boxes used? These boxes are handy because all the sound of generators comes lower when going out of this box.
The main reason is to use this quiet box that this box reduces the sound level to some extent. This sound deflector is very useful and also called a generator baffle box and generator noise reduction box.
If you want to reduce the noise of your generator then you can make this generator quiet box because this is not available on Amazon.com.
I am also using this box but I have purchased from a store because I don't know how to make it. You can also do the same.
Usually, This quiet box is made of wood, but if you want to use steel then you can do it. But I recommend using wood instead of steel.
---
6. Maintain Distance Between You and Generator To Make A Generator Quieter
If you maintain a distance between you and the generator you probably heard a low volume. This way you can do your work and enjoy yourself with your family camping.
If you ask me how to quiet a generator for camping then I suggest you try this method you will see good results. This idea can't reduce so much noise but a little bit 10 to 15 DBS but this is good.
Most importantly, make sure you have a long extension cord and find a good spot 70 to 100 away because this will help to create a silence around you.
But don't use any broken cord because this is very dangerous if you are going camping for work at home. You have to use a heavy-duty long and new cord that is good for you.
If you don't have any long extension cord then I recommend you try the 16/3 Vinyl Outdoor Extension Cord created by Amazon.com
Last updated on 2023-10-02/Affiliate Links/ Images from Amazon
---
7. Use A Bucket Of Water To Make A Generator Quiet For Camping
To make a generator quieter just attach the pipe with your generator and dip the bottom of the pipe into the water. This way you can reduce so much noise.
Because water defers the noise level by 50 to 70%. In your school time have you tried to reduce noise by doing this? If No, Why?
I have tried this in my school so I use this idea to make my generator quiet. You can also try the same. This works as a water muffler for the generator.
However, I know that generators generate so much noise that's why these are not our first choice for charging our appliance like mobile or laptop. But if you try this I am 100% sure you are disappointed.
As well as make sure your pipe is in good condition and strong to bear the pressure of the noise level.
If you don't have then try this potable water, non-barrier, 100 Feet pipe by Supply Giant. This is very strong and good for this work.
"The fun part: If you try this trick your generator makes a funny noise like a fart."
Last updated on 2023-10-02/Affiliate Links/ Images from Amazon
---
8. Replace Your Old Generator With The New Ultra Quiet Inverter Generators
If you are using a first-generation generator then you are doing wrong with nature and with yourself just change it with the new nature-friendly ultra-quiet inverter generator.
That gives more power in less fuel and also does not generate so much noise. Time has now changed. Everybody is now using second-generation generators called inverter generators.
In addition, these second-generation generators are totally changed from their older versions. You will get flexibility, lightweight, more fuel options, ultra-quiet, and more.
As well as the size also differs by 50 to 60%, now the inverter generators are very small for your comfort.
And this car and RV ready inverter generators are very travel-friendly and you can easily carry on camping. Most importantly I think these generators are good from batteries.
However, If you need to decrease more noise then you can try all the things with this inverter generator and this will make your inverter generator super quiet.
---
9.  Try Generator Noise Reduction Barrier To Reduce The Noise Level
This is a very great idea to use the generator noise reduction barrier between you and your noisy generator. I am also using this trick and 100% working.
For the noise reduction barrier, you can use your camping tent or an empty room. So the noise does not directly come to you. This way you will not hear any creepy noise.
Moreover, This trick may not work at home because probably everybody doesn't have any empty room. But if you have a storeroom then you can use this trick because no one lives in the storeroom. Am I right ha!?
Most Importantly, This trick always works on camping. You can use anything to use as a barrier, a tree, or other things. This noise reduction enclosure works very well with your generator.
I recommend you to use 12 Pack- Acoustic Panels Foam Wedges barrier by Foamily to reduce the sound level.
Last updated on 2023-10-02/Affiliate Links/ Images from Amazon
---
10 . Use Generator Muffler Silencer To Create Silence Around You
This extension can decrease the noise by 50 to 60% and is part of the muffler. Moreover, If you feel the noise is not as low as you wanted then you can try a silencer with your muffler to make things quieter.
In addition, a silencer also helps you to increase power stability but the downside is its shape looks very odd. However, this extension easily connects with your muffler.
And you can easily carry it with you. Just attach it with your muffler and enjoy the silence. The more advantage of this silencer is that your generator becomes nature friendly and noise friendly.
This is very easy to connect the silencer with you muffler although if you don't use a muffler without a silencer you probably don't feel any big change 
After using this trick you will feel your generator does not generator noise. 
You can try this acoustic silencer high-efficiency G3/4 for ABM/AL and AM multi-stage generators by Vacuforce. This is an amazing silencer with more noise reduction capability.
No products found.
So these are some of my own tested best ways how to reduce generator noise that you can try. All these tricks come in the generator soundproofing materials that you can easily try.
---
Why Your Generator is Too Noisy?
There are so many things to determine why your generator generates so much noise like its built-in materials or other things that you are wrongly using with your generator.
Probably its built-in materials are interconnected with others like the more power you want then the more noise you have to face.
I recommend you use an under 4000W generator or low because on this power you don't feel so much noise.
Moreover, If you are using an inverter generator that's great because it generates a very lower volume, and fuel and power efficiency are great.
But if you want only the first-generation generator then first, check its padding because some of the manufacturers are providing rubber padding to reduce sound but some of not.
Most importantly, some of the brands are providing Eco mode in their generator to run smoothly and quietly. If you start this eco mode then the speed of the engine automatically adjusts their fuel consumption.
And lower the power consumption than lower the noise volume. This is great ha!. In addition, fuel types also play a role in noise level like a diesel power generator probably much louder than a gas power generator.
---
Wrap Up On The Best Ways How To Reduce Generator Noise
In conclusion, we can say that these all ways are awesome and you can try one or every way to get success to reduce noise as you want.
And these are very important for soundproofing generator noise . You can decrease almost 70 to 80% noise with these tricks.
Moreover, the water trick is amazing, how can I say this? because I have tried this, and this works as a super quiet generator muffler so you don't have to use any other muffler.
You can try this trick with your regular generator and also with your inverter generator. But the inverter generator works well when you use these tricks with it.
Some of the noise reduction products are available on Amazon.com and some of them are not like the generator quiet box is not available on Amazon.com then you have to make it by yourself.
Tell me your opinion on how to reduce generator noise or if I forgot to add any useful trick then comment down below. This will be appreciable. 
---
Frequently Asked Questions
So these are some of the questions that people usually want to know about the generator noise.
Q1. How to make a generator quiet for camping?
Ans: You can try all these ways to make your generator good for camping. I suggest you try the generator noise reduction box as a priority.
Q2. How long does it take for a generator to turn on?
Ans: It depends on your generator or inverter generator manufacture structure but it usually takes 10 to 20 seconds to get started.
Q3. Where do you place a generator?
Ans: You can place it anywhere but it is good if you use a soft surface to place your generator because a soft surface prevents the vibration or your generator. Moreover, You can use a rubber mat.
Q4.  Which generator is good for home use?
Ans: Every inverter generator is good for home use but I recommend you to read this blog post on a portable generator to understand very well. 
Q5. How Noisy is a generator?
Ans: The regular once produces between 60 to 90 DBS and the latest inverter generator produces only 50 to 70 DBS noise. That you can easily control in these ways.