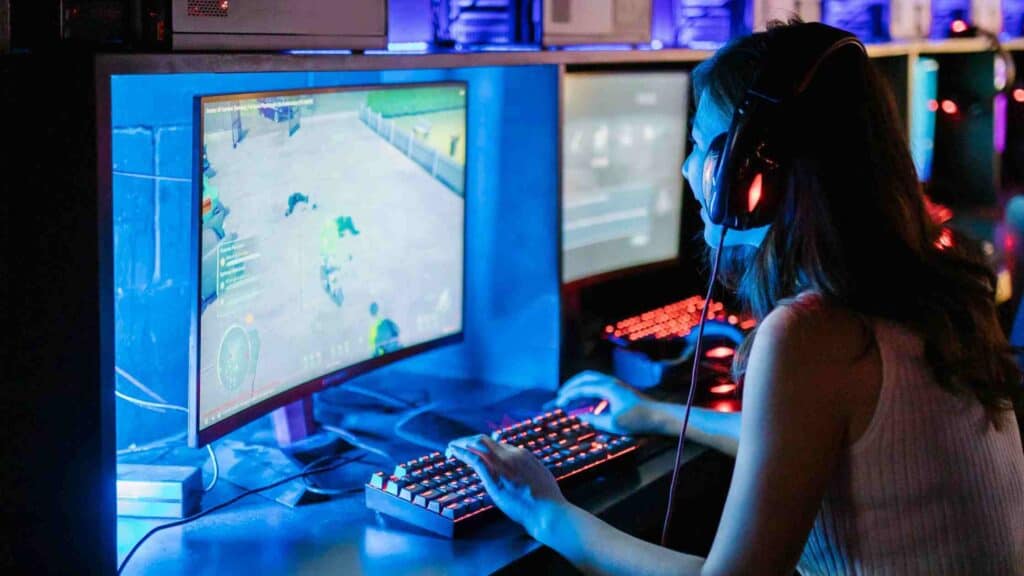 ---
A good gaming headset is not the only piece of equipment you need to create an optimal gaming setup. In order to fully immerse yourself in the game and block out any external distractions, you need a good pair of noise-canceling headphones.
According to the report of The NPD Group, a market research company, 19 percent of console gamers and 14 percent of PC gamers say they use noise-canceling headphones while playing. 
Not because they look cool (although they do), but because it helps them concentrate on the game and enjoy the experience more.
However, with so many different models and brands on the market, it can be hard to know which noise-canceling headphones are right for you. 
To help you out, we've put together a list of the 7 best noise cancelling headphones for gaming, based on our own personal experience and extensive research. Also, we have covered a buying guide at the start of this blog. 
So that you can understand what factors to look for while purchasing a gaming headphone with active noise cancellation. So, without further ado, let's get started!
---
Buying Guide Best Budget Noise Cancelling Gaming Headset
Noise-canceling gaming headsets are not a new concept, however, they have only recently become popular. But they can be very useful, especially if you live in a loud environment or have roommates. So here are a few things you need to keep in mind before buying one:
Level of Noise Cancellation: Some headsets only reduce background noise, while others completely eliminate it. If you want complete isolation, then go for the latter. However, keep in mind that they will also be more expensive.
Sound Quality: While playing the game, you want to be able to hear all the sounds clearly, from the footsteps of your enemies to the music in the background. So make sure that the headset you choose has good sound quality.
Comfort: Gaming sessions can sometimes last for hours, and you don't want to be uncomfortable the entire time. Look for a headset that is lightweight and has soft, cushioned ear cups.
Battery Life: If the headset is wireless, it should last for at least a few hours on a single charge. Otherwise, you'll just end up with a dead headset in the middle of your game.
Now that you know what to look for so every time you see the best noise-canceling headphones for gaming don't forget to check these factors.
---
7 Best Noise Cancelling Headphones For Gaming: Which One You Choose?
Whether you are working from home, going for a workout, or playing games if you want to enjoy the experience then blocking out distractions is very important. That's why we have listed the 7 best noise-canceling headphones for gaming that will create a better environment for you to play in.
---
1. G06 Wireless Gaming Headset with Microphone for Playstation By NUBWO
As an avid gamer knows, having the right headset can make all the difference when it comes to gaming. Not only does it allow you to communicate with other players, but it also allows you to hear the game itself more clearly. 
The NUBWO G06 Wireless Gaming Headset is a great option for gamers who are looking for a high-quality headset that won't break the bank. 
The headset features a 2.4GHz wireless connection for Playstation consoles, as well as a Bluetooth mode for Switch and a wired mode for controllers. 
In addition, the headset comes with a detachable microphone, so you can use it for chatting with friends or recording your gameplay. Best of all, the NUBWO G06 is comfortable to wear, even during long gaming sessions. 
Whether you're a casual gamer or a hardcore pro, the NUBWO G06 Wireless Gaming Headset is a great choice.
Pros
It is available in 3 colors that can represent yourself as a gamer.
It takes only 4 hours to be fully charged and can last 30 to 47 hours continuously.
It provides impressive 3D sound quality that will increase your gaming experience.
Cons
It takes around 15 to 20 seconds to power on and connects to a device.
Sale
Last updated on 2023-12-01/Affiliate Links/ Images from Amazon
---
2. Upgraded Noise Cancelling Gaming Headset With RGB LED Lights By Ajsaki
The Ajsaki Gaming Headset is the perfect way to enjoy your favorite games without being interrupted by outside noise. The headset features noise-canceling technology that blocks out distractions, allowing you to focus on the game. 
The50mm magnetic neodymium driver provides clear sound, while the noise isolation ensures that you won't be disturbed by outside noise. The headset also features a 3.5mm jack that is compatible with most devices, making it easy to use with your favorite gaming console or computer. 
The comfortable ear cups and adjustable headband ensure that you can wear the headset for hours without discomfort. The RGB LED lights to add a stylish touch to the headset, making it an excellent choice for any gamer.
Pros
It comes with universal compatibility that can easily connect with any device.
Its ergonomic design can fit with your head and provide better comfort.
 Its inline control feature allows you to pick any call without wearing off the headphone.
Cons
If you want the lights to work then you need to USB plugged into something.
Last updated on 2023-12-01/Affiliate Links/ Images from Amazon
---
3. Ultimate Gaming Headset With Retractable Noise Cancelling Mic By Razer
The Razer Kraken Ultimate gaming headset has everything you need for a fully immersive gaming experience. The THX 7.1 spatial surround sound produces lifelike audio, while the Chroma RGB lighting creates a dynamic and customizable lighting experience. 
The retractable active noise-canceling mic ensures clear communication with your team, and the aluminum and steel frame provides durability and stability. Razer Chroma lighting is fully customizable and syncs with popular games, Philips Hue, and gear from 30+ partners. 
With 16.8 million colors, you can create a dynamic and immersive lighting experience. Also, the 50mm neodymium drivers provide a wide frequency response for rich, detailed sound. 
But that's not all, the Kraken Ultimate also comes with a USB audio controller for easy access to volume control and mic mute.
Pros
You will get a custom tune driver that can be used to get accurate audio.
It will provide you with a convenient dashboard that provides an impressive experience.
It constructs with aluminum and steel so you will get a better build quality.
Cons
It is a bit expensive because the competitors are providing better price options.
Sale
Last updated on 2023-12-01/Affiliate Links/ Images from Amazon
---
4. Over The Ear 360 Spatial Wireless Noise Canceling Gaming Headset By Sony
The Sony-IN ZONE H9 Wireless Noise Canceling Gaming Headset is designed to provide a superior gaming experience. The headset features personalized 360 Spatial Sound for Gaming, which provides precise rival detection. Also, it has Dual Sensor Noise Canceling Technology. 
That helps to cancel surrounding noise while the Ambient Sound Mode keeps you aware of vital sounds around you. 
The headset offers up to 32 hours of continuous gameplay from a single charge, making it perfect for long gaming sessions.
The soft headband cushion and synthetic leather ear pads provide optimal comfort, and the Discord-certified, clear communications via a flexible flip-up boom microphone with a mute function guarantee that you can communicate effectively with your teammates. 
Finally, the headset also features wireless connectivity and low delay for a lag-free gaming experience.
Pros
It provides a 360 spital sound experience that provides precise rival detection.
You will get 7.1ch surround sound that helps you to better virtualize your game.
With 10 minutes of mini charge, you will get one hour of playtime.
Cons
You may get some problems with its PC and Playstation EQ settings, they are different.
Last updated on 2023-12-01/Affiliate Links/ Images from Amazon
---
5. Wired Noise Cancelling Gaming Headset For Xbox, PC, & PS By NUBWO
NUBWO Gaming headsets provide an immersive gaming audio experience. Dual 50mm speaker drivers are engineered to produce a detailed, balanced soundscape with ultra-low distortion for your games, music, movies, and more. 
The noise-canceling mic captures the user's voice yet eliminates unwanted background noise. The in-line Audio control makes it possible to conveniently adjust the volume and mute the microphone without having to go into extra settings. 
The soft leatherette ear cups and ergonomically padded headband allow for long gaming sessions without fatigue. Whether you're a gamer, musician, or just enjoy listening to music, these headphones provide an immersive experience that will help you get lost in your favorite activity.
Pros
You will get a flexible microphone that can be adjusted according to your need.
Its humanized design can work better while playing adventure games.
Its unidirectional noise canceling enables a perfect angle to get a clear voice.
Cons
Its microphone can't hold its position which might be a problem for you.
Last updated on 2023-12-01/Affiliate Links/ Images from Amazon
---
6. Foldable Gaming Headset With Detachable Memory Foam By SENZER
The SENZER SG500 surround sound pro gaming headset is the perfect accessory for any gamer. The headphones are lightweight and comfortable, with a flexible design that allows for easy storage.
The detachable earpads make it easy to clean the headphones, and the noise-canceling microphone ensures clear communication with teammates. 
It has a 3.5mm jack, and it's compatible with most modern devices with a 3.5mm jack, such as the PlayStation 4 (the older version requires an adaptor), Xbox One, Apple Mac, Laptop, PC & Mobile. 
There are no drivers or downloads to install; simply Plug & Play for easy setup on the go or as a present, knowing that it will fit a wide range of devices. 
The 8-hour battery life means that you can game for hours without having to worry about recharging, and the convenient foldable design makes transportation a breeze.
Pros
It's 3.5mm jack provides multi-platform compatibility with any driver.
You will get a microphone switch with the volume control button.
It has detachable pads that you can use to clean the whole surface.
Cons
The build quality is cheap and it may be damaged due to some accidental falls.
Last updated on 2023-12-01/Affiliate Links/ Images from Amazon
---
7. Pro Surround Sound Gaming Headset With Noise Canceling Mic By GIZORI
Gizori Gaming Headset is one of the best gaming headsets in the market. It gives you 7.1 surround sound stereo which creates an immersive gaming experience.
The noise-canceling microphone ensures that your voice is clear and audible to your teammates. 
Additionally, the LED light on the headset can be turned on or off according to your preference. The Gizori Gaming Headset is also compatible with Xbox Series X|S, PS4, PS5, and PC.
It comes in red color with a beautiful design. Also, it has a volume control dial which is very convenient to use. 
Moreover, it is very comfortable to wear for long hours of gaming sessions. Although it is a bit pricey, it is definitely worth the investment. If you are looking for a great gaming headset, then Gizori Gaming Headset is the perfect choice for you.
Pros
The earmuffs are very soft and sleek so you will get a better gaming experience.
It has 16.8 million color combinations that will glow when you start playing.
It is made with durable premium material that supports you as long as possible.
Cons
The microphone is not as much better as it should be for a gamer to talk while playing.
Last updated on 2023-12-01/Affiliate Links/ Images from Amazon
---
Wrap Up On Best Noise Cancelling Gaming Headset For PC
The best noise cancelling headphones for gaming can help improve your gaming experience by blocking out distractions and allowing you to focus on the game. 
If you are looking for a great pair of headphones to take your gaming to the next level, check out our list of the 7 best noise cancelling headphones for gaming. 
So, these are the best noise cancelling headphones for gaming that you can buy right now. If you are looking for a great gaming experience with no distractions and want to completely immerse yourself in your games, then any of these headsets will do the job nicely. 
We hope this guide has helped you find the perfect pair of headphones for your needs and that you have a lot of fun gaming in peace and quiet!
---
FAQ: 7 Best Noise Cancelling Gaming Headphones With Microphone
There are many questions from people related to Noise Canceling Gaming Headphones with Microphone. Here I am giving answers to some important questions.
Q1. Do all gaming headphones have noise cancellation?
Ans: No, not all gaming headphones have noise cancellation. Some gaming headphones come with noise isolation features that help to block out external noise, but they don't have the active noise cancellation technology that is found in some high-end headphones.
Q2. Would you recommend using noise cancelling headphones while gaming to other gamers? 
Ans: Some gamers might find that using noise cancelling headphones helps them focus more on their game and Block out distractions. Other gamers may prefer not to use them so they can hear things going on around them, like people talking or background music.
Q3. How does noise cancelling technology improve your gaming experience?
Ans: Noise cancelling technology works by using microphones to pick up on low-frequency sounds and then emitting a sound wave that cancels out the noise. This allows you to hear your game audio more clearly and without distractions.