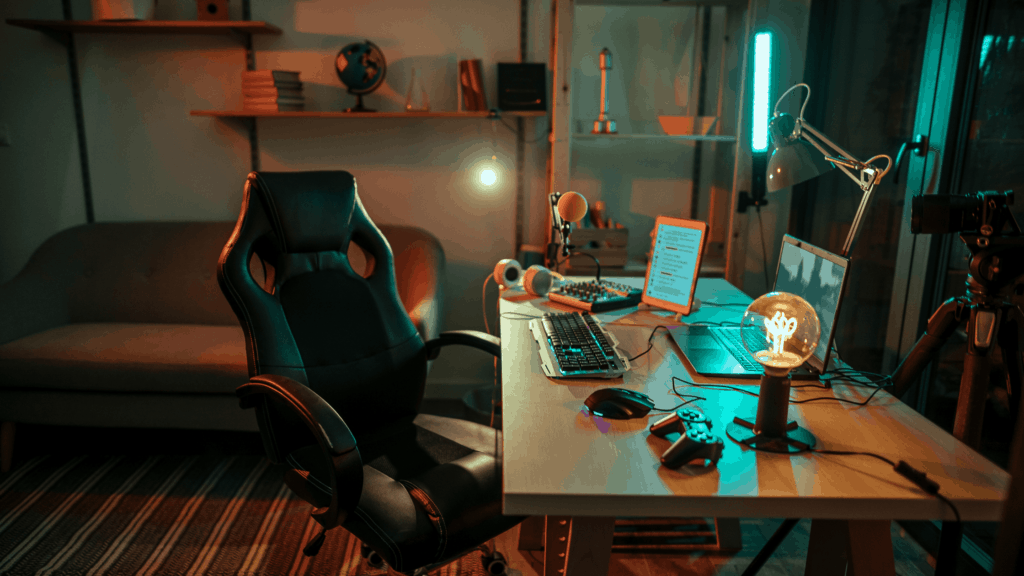 ---
Converting a simple room to a soundproof gaming room helps you to play your game without disturbing anyone else and you as well.
But all the available information related to this makes you confused. What to do and what not? What soundproof materials are useful and what not?
But Literally, this is not so hard to do because I have already consulted with many top games such as Mark Fishbach and Tyler Belvins, and more.
And surprisingly I have found that this will not take too much time, effort, and money.
Only if you have chosen the best soundproofing material to make a better gaming room.
Because I know you can't install everything in your gaming room and it also takes lots of initial investment.
That's why I have written these 5 ways to soundproof a gaming room to understand what soundproofing materials you can use to build an affordable gaming room.
I have included only major things that are really necessary such as a soundproofing blanket, acoustic panels, drywall, and more.
So this is going to be very informative and interesting so read carefully.
So let's start.
---
How To Soundproof A Gaming Room: Quiet, Effective, & Affordable
The way of becoming a successful gamer is very difficult because you need to become an expert in gaming.
That's why you need to take more practice without disturbing anyone else. So you can build a soundproof gaming room by following these methods that I have given below.
1. Soundproofing Your Gaming Room Walls
There is a little bit of confusion while making your gaming room walls soundproof.
Should I need to rebuild my walls or not? I have found that many people are asking this question. Are you one of them then you don't need to do this.
This is not necessary because it needs more investment. Let's understand what you can do.
Acoustic Panels
Installing the acoustic panels can be a clever idea because they will easily set on the walls and start absorbing the noise coming from outside and producing inside.
This will also soften the echoes and dampen all the noise bouncing from the inside walls.
Usually, acoustic panels are made especially for the music room but you can also use them in your gaming room.
You don't need to cover your gaming room completely from acoustic panels; this usually takes more money and I know you don't have a large budget for this.
All you need to just install them near to your gaming setup and especially at the backside of your speakers. So that they will absorb the noise directly from the speakers.
But do you know which type of acoustic foam panels is the best? Around 20 to 30 types of acoustic panels are listed on different websites.
That usually takes your lots of time to choose. That's why I have suggested the 3 best soundproof foam panels that you can use for your gaming room.
Last updated on 2023-10-03/Affiliate Links/ Images from Amazon
---
Fiberglass Insulation
While you are living in a quickly changing weather place that needs more attention and effort.
But installing fiberglass insulation will work well and protect you and your house from it. You don't need to take any tension about what's going on outside.
I know rebuilding a room is a little bit of difficult work and you don't have investment for this.
But if you can, this will save lots of electricity bills that usually go up while playing on your gaming computer. Do you know how?
According to the US Department Of Energy, around 48% of electric consumption is used for heating and cooling purposes in every US homeowner.
But they can drop it down by up to 20% by insulating their house from any type of insulation whether it is fiberglass or spray insulation.
Now, do you understand why I am suggesting installing fiberglass insulation and what benefit you will get from it?
You just simply remove the old drywall and install fiberglass insulation then cover it. That's all
---
2. Work On Your Gaming Room Ceiling
If someone's floor is your ceiling then every footstep disturbs your focus while playing your favorite game and recording your gaming video for YouTube.
Hence it is quite a difficult surface to deal with because you can't install fiberglass insulation on it. So let's understand what things you can apply to your ceiling.
Install Soundproof Drywall
Installing the drywall needs more effort and time for better insulation. That helps you block the upper noise coming from every footstep.
But while installing it you need to be careful what you are installing.
I mean there are two types of drywall available in the market. The first one also called standard drywall is very thin and made with a thick sheet of paper that usually can't eliminate the most amount of noise.
On the other hand, the second one also called soundproof drywall comes in a thicker size and more effective quality.
That can easily block the noise from above the floor. All you need is to just carefully install it on the ceiling by making a perfect plan that includes everything.
That you can be going to use in this process.
Use Insulation
Heaving a children's room right above your gaming room will affect your focus and you nearly can't play your game.
Even if you have installed drywall this will not be going to work because this is better for moderate noise not for too much noise.
That's why installing the insulation on your ceiling will help you to reduce the impact of noise.
I know you can't use fiberglass insulation on it but there is another one that you can. Spray foam is best for this because it can easily fit in any cavity whether you have small or large.
Usually, it will expend 30 to 60 times from its actual size so that it will create a fluffy surface that will easily absorb the noise.
First, you need to install some pieces of wood for dividing the ceiling into many cavities.
Then apply spray foam into the cavity and then cover them with drywall or any other plywood by pulling screws and screw gun.
---
3. Make Your Gaming Room Door Soundproof
A complete seal room will help you focus on your game, whether it is the ceiling, floor, walls, etc.
Because the door also becomes the major noise source when it will close and open or noise leakage between its frame and underneath, So it needs to be blocked.
Soundproof Blanket
When it comes to sound dampening or reading, building a soundproof gaming room usually requires more investment on your ceiling, walls, floor, and door as well.
But without soundproofing the door you can't block the noise completely outside. Because every door has multiple leakages where noise can travel through you need to sell all of them.
Although a soundproof blanket will not block the noise completely because it can only absorb the noise and not bounce back to the surface.
But don't worry after understanding the type of fabric you want in it. Then you can easily define how well a soundproof blanket is going to be.
The better the fabric, the better it provides soundproofing. 
After selecting the blanket then you need to cover the door completely. Make sure none of the gaps left between the door and its frame.
So that you can maximize its potential. I have given the 3 best soundproof blankets for this work. You can choose from them. 
Last updated on 2023-10-03/Affiliate Links/ Images from Amazon
---
Door Draft
How many times a day does your door open and close? Do you have children in your house? If yes then you probably irritate by its noise.
On average around 150 times doors close and open in a single month. But this number goes up if you have a naughty child in your house.
That always feel happy playing with the door.
So if you haven't installed a door draft, this will damage your sidewalls and your playing time. The Main door draft comes in two types, hard and soft.
Usually, I recommend going with the soft one because it provides better soundproofing instead of a tough one. You just need to install it underneath your door. 
That's why when anyone opens and closes the door it will reduce the impact noise. So that you will not be disturb at all. But this majorly depends on what material it has.
That's if you don't have much time to research then I have provided the 3 best for you to choose from.
Last updated on 2023-10-03/Affiliate Links/ Images from Amazon
---
4. Soundproof Your Gaming Room Floor
Living in a joint family may give you more insights into what you need to do to fix the noise inside your gaming room.
But this will also increase the impact of noise and as a result, you can't focus on your game. That's why you need to soundproof your room floor too.
Heavy Rugs
Building a soundproof room is not easy work to do. You need to try different things with it to maximize the soundproofing in your room.
And rugs are also a part of this soundproofing. If you have used all the ways above and you don't get the best result then you need to replace your floor rugs. 
What type of rugs do you have? Science already proves that adding the mass on the floor decreases the impact of noise.
So while installing the rugs you need to make sure it needs to be heavy. So that you can also decrease the noise with every movement on the floor.
All you need just to remove the old rugs and reinstall the new ones. 
Soundproof Tiles
While having a large budget is not compulsory but you need to define how much you can invest in your soundproofing gaming room.
Because this will give you a clear idea which ways are useful for you and which one is not.
Because usually installing the rugs needs more initial investment, time, and effort.
I know many people don't have so if you are one of them then you need to also skip this step.
Because this will also need some extra investment. Usually, soundproofing panels and tiles come at a high price but after installing them in your gaming room you will notice a big change in noise. 
You just need to install all the tiles carefully so that you can maximize your result. I have added the best soundproof tiles that you can check out.
Last updated on 2023-10-03/Affiliate Links/ Images from Amazon
---
5. Make Your Gaming Computer Soundproof
While living in an apartment heaving only a small space with no extra separate room will usually disturb you and your family members.
That's why you can also soundproof your gaming computer by applying any of these methods.
Silent Keyboard
Whether you are working or playing on your computer both are different terms.
So playing the game on your ordinary keyboard will usually not provide better soundproofing and experience as well.
Generally, soundproof gaming keyboards have different quiet mechanisms such as mechanical and membrane keys.
That will improve the gaming response speed and also a very quiet one.
I am also using a gaming keyboard, not for gaming but working while writing content for you.
Because It also needs more speed and quietness so that I can work for a long time. 
But what are the essential features you need to check in your keyboard? There are available lots of silent keyboards in the market but all are not the best ones.
I have listed 3 so that you don't need to do more research for it.
Also if you want deeper information then you can learn from the best silent keyword for gaming because I have already written an amazing post about it. 
Last updated on 2023-10-03/Affiliate Links/ Images from Amazon
---
Quiet Mouse
While living in a small space you can't install soundproof materials so how can you make a soundproof room.
You can't, that's why instead of making your room soundproof you can also make your gaming setup soundproof.
This is very simple, you just need to install some soundproof gaming products and a quiet mouse is one of them.
Suppose if your sibling is preparing for his/her upcoming examination then a small ticking noise disturbs his/her focus.
That's why you need to install a quiet mouse and keyboard as I have explained earlier.
This is not so hard to do; you just need to research the most soundproof gaming mouse. Or you can check out right below. 
Also, I have already written an informative post about the best quiet gaming mouse.
That will give you more information about it. How you can be benefited from it and how to use it. 
Last updated on 2023-10-03/Affiliate Links/ Images from Amazon
---
Wrap Up On How To Soundproof Gaming Room
According to the CRM Organization, working and playing in silence improve efficiency and performance.
Because you don't have any extra burden of stress and mental disturbance. 
So restructuring an ordinary room into a soundproofing room can be very useful for you whether you are going to use it for gaming or not.
All you need is to just understand all the above ways and choose the best one that is useful for you.
While consulting with many gamers I noticed that starts with the simple way. That does not include too many things because this gives more space for playing.
So I suggest not using every soundproofing material in your room. Because although these are the best to reduce most of the noise but will not give you complete silence at all.  
---
FAQ: How To Soundproof A Gaming Room
As you know building a soundproof gaming room is very difficult. Because you need to check if any noise is coming inside the room after installing the soundproof materials.
That's why many people just like you face problems. I have tried to give appropriate answers to them so that you can solve your quarry. 
Thanks for reading if you find this article useful then you can share it with the needy person. So they can also build their amazing soundproof gaming room.