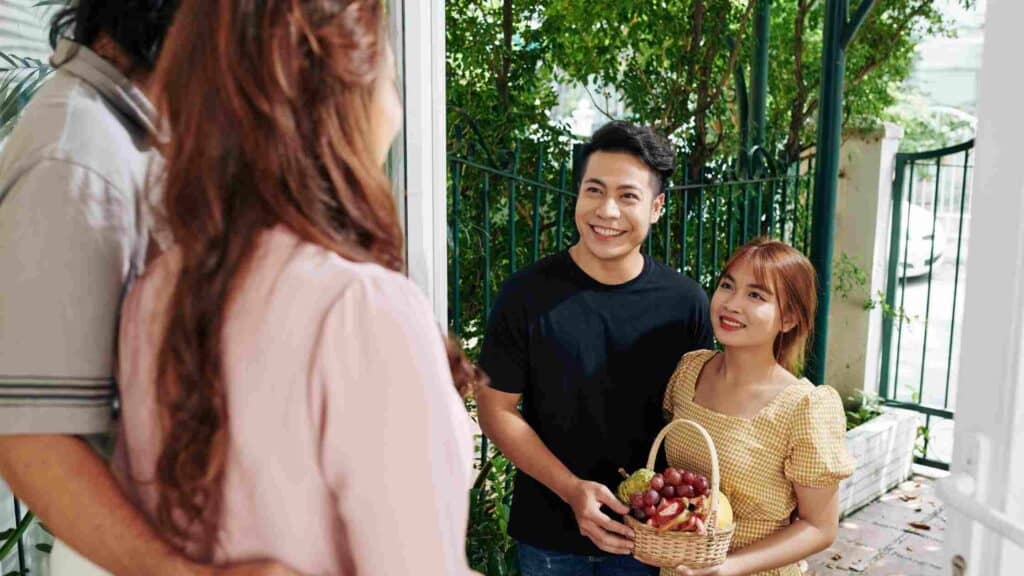 ---
Good neighbours are the people we love to interact with and share our good or bad things. It always makes you feel happy and comfortable living with them. Therefore, this usually creates a positive environment in society.
According to the reports of mercurynews.com, being trustworthy and quiet is the most important quality for being someone's a good neighbour. Also, females over the age of 35 years are considered more trustworthy.
A neighbour may be disturbed by your behaviour which may raise problems for them. Due to this, there might not be a good understanding and let them in the issue. Therefore, to solve this problem, one must know what are the responsibilities of a good neighbour.
If there might be a serious problem, then your neighbour might file a complaint against you which may create trouble for you. This way it may create conflict between you and your neighbour.
In this article, we have covered all the important information that will help you to be a good neighbour. So, you need to read this article to know much about the topic which will help you to be a good neighbour.
---
What Makes It Important We Should Love Our Neighbours
It is important to love each other to be a good human. This helps to become comfortable with each other. Also, a good relationship with your neighbour will make a happy and safe place to live together in society.
During some situations if it happens. It seems impossible to reach as your relatives may be staying far away and fail to come urgently if you need them for any problem. So, your neighbours are also the first helping hand in all kinds of emergencies.
Loving our neighbours can have a positive effect on one's well-being. This way, one needs to participate well and be always attached to them. Therefore, this will make your bonding strong and they will like to stay with you over time.
---
What Are The Responsibilities Of A Good Neighbour: 10 Ways To Be A Good Neighbour
To be a good neighbour, you need to have various qualities. You need to follow as told in this article to develop good neighbour qualities. Here, we have shared 8 ways by which you can know what are the responsibilities of a good neighbour.
1. Be Always Kind And Sympathetic
A good neighbour must be kind and sympathetic towards their neighbour. Your neighbour might come to you when they are dealing with a problem. In this situation, it's your responsibility to provide a useful solution.
You should also never be involved in mischievous activities or making fun of your neighbour. Don't try to judge them by clothes as your neighbour might not be so rich to wear fashionable trends.
During any emergencies, you should be always available and should be approachable. More importantly, a good neighbour should understand all these issues and always be ready for quicker activities to help them.
---
2. Tolerant And Patient In Your Attitude
A good neighbour needs to be tolerant in his attitude. If any of his neighbours indulges in any annoying or disturbing activities, he should demonstrate tolerance and patience. Also, ask them not to do those things in a gentle, unoffending way.
Dealing with any problem in calm and safely is a good way to talk to your neighbour. On the other side, if you feel frustrated by your neighbour then take a deep breath which releases stress and controls your mind.
If something you don't like about your neighbour, then discuss it with them and solve the problem. Forgiving their mistakes is the best thing for a tolerant mind. Having this quality will help in developing a balance and help to build a successful community.
---
3. Not To Be Self Centred Or Selfish
A good neighbour is not expected to be unselfish as no one doesn't like a selfish person. Also, at first, you need to reach out to talk to them or say "hello" when you see them outside.
A balance of everything is important in our life. So, you must understand how much you should value others. But, never end with such people who have always been there for you in need.
Never ignore your neighbour when you meet them outside. If you are too selfish, then it may hurt someone. This will also lose loved ones and no one will be interested in you. Therefore, your neighbour may end up talking to you over time.
---
4. Must Be A Caring Person Who Cares
A good neighbour should be both caring and loveable. He must not only love others but should also have such admirable qualities so that everybody loves him. Caring for them is part of being a neighbour and it needs to be done.
There may be a situation if your neighbour is going out of town. Then you have to look after their home carefully and safeguard their home. Therefore, you should not damage anything kept at your neighbour's home.
Ask your neighbour about their health if you find they are not well. This will make them think that our neighbour cares about us. In turn, your neighbours may reciprocate your kindness in many ways.
---
5. Be like A Good Friends With Each Other
A good neighbour should be like a good friend who should always share the joys and sorrows of other neighbours. You should stand by them in their need and never try to hurt them with your words.
If you are new, you must introduce yourself well with a smile. On the other side, if someone shifted as your neighbour. Then you should behave well or ask for any help if they want anything from you..
If possible, you must exchange your numbers with them if they don't have any problem with you. This will help in communicating during urgent purposes if your neighbour is not at home.
---
6. Mention Proper Sanitation And Hygiene
A clean place makes a good place free from any kind of dust or waste particles. Also, you need to clean the path where you live and don't store useless garbage.
There may be a shared space where you need to work equally. Also, you should never forget to put your trash out in the garbage during the day. This will make sure that no bad smell comes from your home.
Keeping your home clean will make a good image in front of your neighbour as they might visit your house. Before, you must mention Proper sanitation and hygiene of your place.
---
7. Not To Disturb With Undesirable Noise
Many times your noise may be a disturbance to your neighbour and you need to adjust your music level accordingly with time. A medium type of noise is acceptable but high noise may be a problem for the people who are aged.
Some common sounds coming from TVs, dogs barking, car alarms, slamming doors, mixer grinder etc are quite tolerable. You should be in a limitation as your neighbour children's may be doing studies which may disturb them.
On the other side, you must cooperate well with your neighbour if they ask to reduce noise. If possible, you can soundproof your room to avoid much noise coming from your home.
---
8. Not Damaging Their Property
The most important thing is not to damage or destroy your neighbour's property. This can become a dispute between you and your neighbour. Therefore, you should take the responsibility to respect other property.
Keep your plants fixed at your place so as not hanging around their space. You need to know your space and area of boundaries. Also, never try to take the space which is your neighbour.
Unfortunately, If any damage happens by mistake. You must try to resolve the problem immediately with your neighbour. This will help far help for a better solution.
---
9. Park Vehicles At Right Place 
Many times you drive your vehicles and forget to place them in the proper place. This may become a bad habit. So, you must park your vehicles at the right place where you used to be and also make sure your parking areas are also clean.
Due to wrong parking or block due to vehicles. It may create an irregularity in causing others difficulty in parking. So, you must park well at the place that your landlord provided you.
This will reduce the parking problem between you and your neighbour. Therefore, proper parking is the best responsibility to build a good relationship with your neighbour.
---
10. Always Invite During A Celebration
There are celebrations organised on various festivals, birthdays or during any type of good news. Therefore, on a certain type of occasion, you must invite your neighbour to enjoy celebrating together.
This makes you know about your neighbour and you all enjoy with each other. You must also give them a gift if it's your neighbour's birthday is there. Therefore, also wish them in any type of festival.
Never be shy to invite them to any kind of celebration. It's good thinking you invited them and it's up to them if they come or not. Also, you must give your neighbours notice before any celebration or parties.
---
When Do Neighbours Become Too Friendly With Each Other
It's been too long since you and your neighbours are too friendly with each other. They have always been supportive and helpful to you whenever you have some problems.
It's good if they are friendly but not good if they are over-friendly. If you are doing something or focusing on your work. Then, It may be irritating if they visit your home many times a day.
If you notice that they are too over-friendly, be polite and behave calmly. Make yourself busy with your work most importantly. This can help you with the over-friendly neighbour.
---
What Makes The Addition In The Value Of A Good neighbour
Being a good neighbour helps in adding value to your life, security, property, neighbourhood and many things. The more you get to know each other will make the safer place you'll be to live with them. Therefore, there should always be your involvement to reach out to your neighbours during any meeting.
Good neighbours make a place where you live together in harmony. They are also a part of socialization which is the process by which we interact with other people. Always welcome your neighbour when they visit your home.
Also, be aware of what is happening in your cities, neighbourhood and country. Also, let your neighbour know what is happening and always be informed about what is happening around you. These all things add value in the addition of a good neighbour.
---
Wrap Up On What Are The Responsibilities Of A Good Neighbour
Neighbours are the people who live near us. So, you must take the important responsibilities for being a good neighbour. Here, we have shared how to be a good neighbour. So, you should read them and apply them in your life.
Neighbours are the ones who can urgently sort out the problems. So, you must understand your responsibility. Therefore, Spending a good time with neighbours makes a good relationship with them and builds trust over time.
Accept their religious activities as a neighbour. As a neighbour, be always loyal and not cheat anybody. Also, Try to get introduced to all the family members of your neighbour. This will get to know much more about them.
We hope this article has helped you to know what are the responsibilities of a good neighbour. If you have any questions, then can below in the comment section and don't forget to visit our website regularly.
---
FAQ: What Are The Responsibilities Of A Good Neighbour
After reading this article, you might have some questions in mind. For this reason, they try to search online for their answer. Therefore, we have selected the important questions and answered them all in this FAQ Section.
Q1. What can be called as a healthy neighbourhood?
Ans: Healthy neighbourhood means the quality aspects which help to build a well-established place to enjoy living in a healthy environment. Therefore, This help to build a good environment where everyone feels happy and connected with each other.
Q2. How can I easily impress my neighbour?
Ans: A clean home with things in a proper place attracts and impresses your neighbour. It's your personality that attracts anyone by which they get impressed. Therefore, always have a good conversation with them whenever you meet with your neighbour.
Q3. How should one behave with their neighbour?
Ans: One should always behave well with their neighbour. Things you should keep in mind while behaving with your neighbours such as being calm, friendly, mindful, polite and disciplined. Therefore, listen to them and avoid any activity which can harm them.