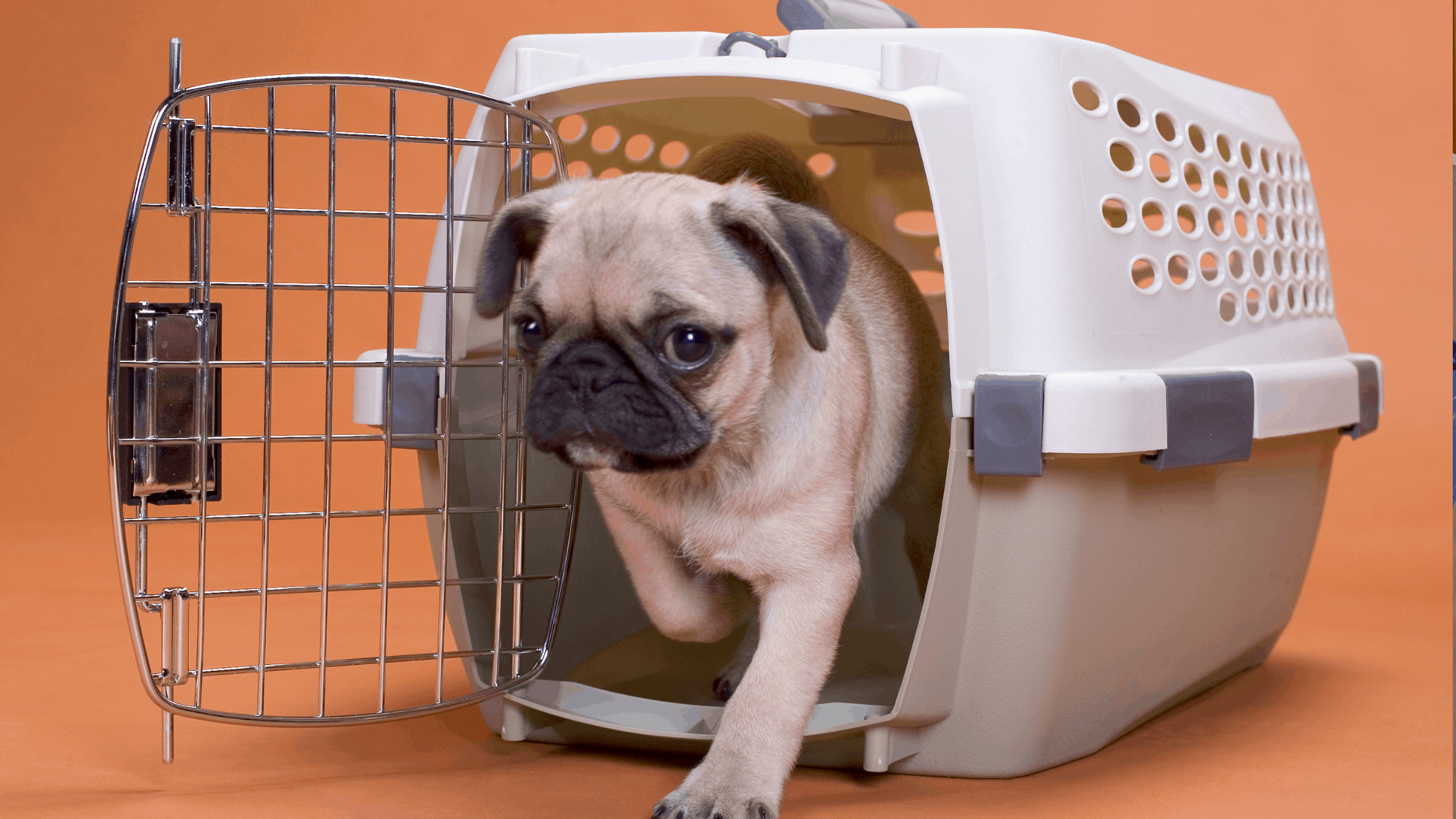 ---
Being a dog lover, this is very important to make your dog happy. Because they are your friends and family members but they will go crazy when they start barking again and again.
Usually, you can bear it but your neighbors can't tolerate that irritating noise, well a couple of neighbors also use a silent dog whistle to stop barking
According to financeonline.com, 90+ million dogs are owned by 70 million US houses. Huge number!!!. That's why I think you are not the only one; some of the other majority also face this same situation.
So soundproofing your dog crate is really a great thing to get rid of all irritating things. But DIY tips of soundproof dog crate really a great option for your dog or need another option?
Yes, it is a better option because I have researched more than 42% of dog owners use soundproof dog crates so why can't you.
But wait do you know how to make a soundproof dog crate properly?
Do you know what is the reason, why your dog barks every time? If no, then I highly recommend you to read this whole guide.
That will let you understand an ideology about your dog and how you can make things silent.
So are you ready to make your dog's crate quieter? if yes, then let's go.
First, you need to understand what a soundproof dog crate is so that you can use acoustical things properly.
---
What Is Soundproof Dog Crate
In short, a soundproof dog crate is a simple but effective crate that has amazing soundproofing properties to block your dog's barking noise.
A soundproof crate is not available on Amazon but the soundproofing materials are available that help you to build a soundproof dog crate. So that you and your dog both can feel good.
Keep in mind that this dog crate only will help you to reduce the noise barking level of your dog, But this will not provide your complete silence.
If you want complete silence then you need to go with those soundproof dog crates that are specially made to block the barking noise of dogs.
The type of dog crate doesn't matter if you use these acoustical materials. Then it will definitely eliminate the echo and reduce the noise and your neighbors will not knock on your door.
But if you want to stop your dog bark then you need to take some extra effort into it.
Do you want to know those efforts or tips?
Ok then let's understand the tips first so that you can minimize your dog's barking noise.
---
4 Tips How To Stop Barking Your Dog
Do you know why your dog barks again and again? Is your dog needing anything or there is another reason behind it? How can you stop your dog's barking?
Are you finding answers to these questions? Then your answers are below. Read it and make your dog happier.
#1: Feel Safe To Your Dog
In 60% of cases, people find that dogs usually bark when they feel unsafe or frighten. If you find that your dog is also feeling unsafe and frightened then what you will do?
In my opinion, if your dog is also facing this then you need to feel your dog safe by playing with, some relaxing music, and spending some close time.
Try to make your dog happy and then your dog will usually stop barking. Then you can finish your work easily.
---
#2: Don't Make Very Strong Relationship
I know what I said, and this is 100% right if you make a very strong relationship with your dog. Then if you go somewhere outside your dog usually starts barking.
I have found this in my dog also so now I am maintaining some gaps. 
This is very good for both your dog and you as well. So you can check this after going outside whether your dog is barking or not. If yes then your dog is emotionally attached to you.
So if you want your dog to not bark again and again. Then you need to make your heart strong and maintain some gaps. After some time you will definitely see positive results but this process takes some time.
---
#3: Try To Make Dog Exhaust
I think this is an amazing way to stop barking your dog. You can play with your dog as much as possible in a day so your dog's energy will dropdown.
But if you don't have much time then you can go walk with your dog every evening.
In this way also your dog's energy will drop down and will sleep early. But I know you can't do this every day so I think this is not a viable way to stop barking your dog.
---
#4: Find Someone To Play With Your Dog
If you are an office person and you can't stay home to play with your dog then you can find some. That can easily stay at your home and play with your dog.
I think a dog sitter is the best person for this if you know any dog sitter then call him/her. But keep in mind this will charge more. Do you know the best part?
A dog sitter will do 2 major jobs for you; first, he/she will play with your puppy, and second, he/she guards your house against thieves. If you are single then this is the best choice.
Are the tips finished? Yes, unfortunately, but I have more ideas on this but I can't cover the whole in this article. I will write a separate article on it.
Ok, What's next? So after using this your dog is still barking then I suggest you use the soundproof dog crate to reduce the noise level.
---
How To Soundproof Dog Crate: 4 Amazing Methods
If you want complete silence in your house then you can use both at the same time.
So you have understood the tips to stop barking your dog. Now you need to understand how you can make your dog crate soundproof? Do you want to know? Yes, then read below.
1. Use Soundproof Dog Crate Blanket 
This is the basic but effective method to use a moving blanket to cover your dog crate.
I have seen many dog owners like to use moving blankets because this will change the dog's behavior right away.
If you want then you can also use a specially made soundproof dog cage cover that will really work well. But when deciding the best moving blanket you need to check some important points.
So that your soundproof dog crate works well with thunderstorms and fireworks because it will cover the cage.
It should be made with breathable material.
Check after using this will not make the temperature very hot.
The soundproof blanket should be machine washable.
There should not be a complete blackout in the crate.
Last updated on 2023-06-01/Affiliate Links/ Images from Amazon
---
2. Use Sound Absorption Sheet At The Bottom
A sound absorption sheet is another better way to make things quieter. This will help you eliminate noise and echo inside the crate and reduce the noise level.
Do you know the best thing a sound absorption sheet will come in low cost? So if your budget is not so high then I recommend you to choose this sheet. Just you need to use this sound absorption sheet at the bottom inside your dog crate.
But first, you need to check which things you should notice in the sound absorption sheet.
It should be inexpensive.
Easily fit and remove when needed.
Can absorb the mid and high range of frequency
Last updated on 2023-06-01/Affiliate Links/ Images from Amazon
---
3. Soundproof  Your Wall Or Room
Is this a joke? No, a soundproof room also plays a very important role to block noise inside. If you do not stop barking and your neighbor really is a witch!!!.
Then you need to sound your room's wall, ceiling, or even floor. This process needs money but not too much. You can use acoustic panels on your walls and ceiling and for a floor, a soundproof carpet is a good choice.
Do you know how you can use those soundproofing materials? No, Then you need to visit this link where I have already written an informative article. You can use and apply in the house as well.
Last updated on 2023-06-01/Affiliate Links/ Images from Amazon
---
4. Use White Noise Machine
Now, this is the last way to soundproof your dog crate. So the best thing is you can use a white noise machine that provides relaxing soothing sounds.
A white noise machine has several soothing sounds that work well for humans and the dog as well. When your dog starts barking then make it on. 
Literally, in 10 minutes, your dog will sleep because in some ways dogs have human behavior. I have already written an article on this topic you can visit and understand deeper.
But if you are in a hurry then you can go with this Portable hush white noise machine by Marpac. That will provide 3 soothing sound waves that's why I think this is the best way to a soundproof dog crate.
Last updated on 2023-06-01/Affiliate Links/ Images from Amazon
You have built the best soundproof dog crate now you can relax. But what you will do if you have a kennel for your dog. How can you soundproof it?
Are you thinking of using the above one? Yes, you can but you need some extra soundproofing material in your dog kennel. Do you want to know what those materials are? If yes, then let's go and read below.
---
How To Soundproof Dog Kennel
So if you are required to soundproof your dog kennel. Then you can use some appropriate methods above and combine them with the below methods for proper soundproofing.
If you ask me which one is the best dog crate vs dog kennel then my answer is dog kennel is best.
Because it is much solid and has some natural soundproofing properties. If you have a dog kennel and you are planning to buy then you should check it out below.
1. Seal The Gaps In The Dog Kennel
This is the first and very important thing that you should do before installing anything. Because after it again removing all the acoustical material will definitely decrease the soundproofing capacity.
You need to seal every gap inside your dog's kennel. So that it will become perfect for the next step. Should I use a normal sealant to fill in the gaps? No, a normal sealant will not work well.
You need to use a soundproof sealant that is specially made for soundproofing. Well, have already prepared a list of best acoustic sealant visit through the link.
Because I have already found the best one for this work. Just you need to pull it off and fill in the crack and gaps and in just 24 hours it will dry then you can start the next step.
Last updated on 2023-06-01/Affiliate Links/ Images from Amazon
---
2. Use Acoustic Panels Inside The Kennel
Acoustical panels can be easily used inside the kennel. That reduces the impact of your dog barking noise and provides you better insulation on the walls.
If you are using a kennel for your dog then you need to use it and you can choose any of them. Because soundproofing panels come in a wide range that you can select according to your need.
When deciding on these panels keep in mind to check some crucial points inside them.
It should be absorbed in a mid and high range of frequency
It should fit inside the kennel easily.
Should be made from Eco-friendly material.
Check the STC value.
If you want my suggestion then you can go with this best quality soundproofing panel by Troystudio that plays an important role.
Last updated on 2023-06-01/Affiliate Links/ Images from Amazon
---
3. Use Acoustic Tiles Inside The Kannel
If you are making everything good and strong then acoustical tiles also come in this list. That increases the soundproofing capacity of the kennel.
You can use these tiles at the bottom inside the kennel so when your dog barks then the impact of noise doesn't affect much. 
Generally, these tiles are made from recycled soundproofing materials that come in many designs and colors. That converts the experiment pleasant and significantly reduces the noise.
If you are ready to use these acoustic tiles then you can select this Studiofoam soundproofing padding by DEKIRU. This is the best one and I am also using it right now if you want then you can also do the same.
Last updated on 2023-06-01/Affiliate Links/ Images from Amazon
---
Wrap Up On How To Soundproof Dog Crate
If you are living in an apartment then this is necessary to make your dog stop barking again and again. Otherwise, your neighbors will definitely complain about yours.
That's why I have shared some authentic tips and methods that you can easily use and make dogs happy and silent.
Do you know the difficult part? You have to check why your dog is barking, if your dog feels loneliness, fear, or has some other problem.
When you find the main source of this problem then you can use any method according to your need.
But I suggest you, use some combination because 1 tip or 1 method will not work well. But if you have many then it will definitely play a very important role.
Most importantly you can't find the problem behind it then, in general, you can go with a white noise machine. That does not directly reduce the noise but this will make your dog calm so that your dog will not bark.
I was facing this situation when my puppy QQ started barking when I was not at home. My neighbors started complaining that's why I make my dog crate soundproof.
I have used more than 3 tips and all the soundproofing methods. Literally, after 3 months I notice that the puppy stops barking. Also, I find the noise reduction materials work very well.
That's why I am recommending you try this.
---
FAQ: How To Soundproof Dog Crate
I have seen lots of dog owners facing some problems related to their soundproof dog crate. That's why they have asked many questions on different online platforms.
Have you also a question related to this article? If yes, ask in the comment section. I will try to give an answer as soon as possible.
Q1. Can neighbors complain about your dog barking?
Ans: Yes, definitely your neighbors can complain about your dog's barking. Because they deserve their privacy and silence and your dog is breaking their legs.
Thus you may face some issues if you are not able to control your dog. That's why I am saying you to start utilizing the above ways which will help you to control your dog.
Do you love your dog? Then you might understand your dog/s feelings; you need to identify them first and try to remove them.
---
Q2. How do you train your puppy to enter the crate?
Ans: First, you need to give an order to your dog such as "enter" or "go in the crate" to encourage your puppy.
You need to treat your puppy as a child this will make the process much easier.
When your dog enters inside the crate then you should give a treat and sit quietly beside your puppy for at least 5 min. Then after you can go and complete your daily task. Your work has been done.
---
Q3. How much is the cost to soundproof your dog crate?
Ans: This usually depends on how many soundproofing materials you want to use to make as much as soundproof your dog's crate.
But in general, if you use every soundproofing material in your dog's crate then you will be charged from $500 to $700.
But don't worry this is an estimated budget because I have also used a soundproof crate for my little puppy QQ. I have paid around $350 because I used all the items. You can also do the same.
Thanks for reading this article. If you find this soundproofing information on a dog's crate useful then you can share it with your friends.
Stay Safe!!!.