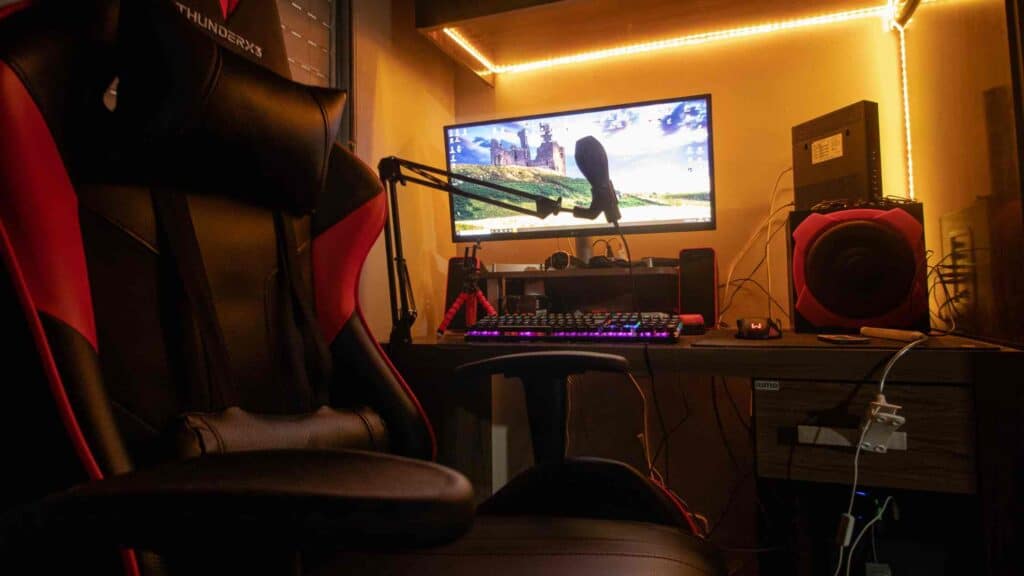 ---
Noise reduction for gaming has various essential advantages. A soundproof gaming room will reduce the noise transfer from all your favorite games so that others can live a quiet and peaceful life. 
And there are several ways to prevent sound from leaking out of your gaming room by using soundproofing materials and your neighbors also would not start complaining about the noise. 
You can start your soundproofing process with these 8 simple and effective methods, and you would find that the room will start sounding better than ever.
---
8 Simple Ways To Soundproof Your Gaming Room: Improve Your Gaming Experience
There are various methods available to soundproof gaming room. However, this process may seem difficult at first, but it is not that hard once you properly understand all these steps. Here we have listed out the 8 steps to make the soundproofing process of your gaming room a little bit easier.
1. Measure The Gaming Room Dimensions
Before you buy those required soundproofing items, you should first do the basic things. Because there are several steps that you can take before making a single purchase. 
The first and most important step that we should do whenever we start to soundproof a gaming room is to measure the room dimensions. Because we must know our room first before we start our soundproofing process. Then you can proceed with your plan. 
And the more density and mass you can add to a room, the better it will be soundproofed. Because you should look for ways how you can minimize the surface area of hard surfaces such as floors, windows, and walls in your room.
There are some items you might already have that can help you to soundproof your room for gaming, such as heavy pillows, blankets, thick curtains, rugs, and carpets. 
So, whether you want to soundproof gaming room for yourself or your kids, we have given you some of the best ideas to make it happen. Now, it is time to take the soundproofing of your gaming room to the next level.
---
2. Soundproofing The Door
You should start your soundproofing process with the door. You might not know that doors generally have a gap from the floor to the door itself and it allows all that sound to go in and out of the room. 
And there are several soundproofing options for doors and one of the most widely used options is Acoustidoor. The Acoustidoor is actually a retractable sound-blocking panel that hangs over your door frame. 
Its retractable industrial design would help you to retract the panel whenever you want to go in and out of the door. And if you want the sound to stay inside, then you can also just lower that panel to make sure that your neighbors will not hear any sound from your room. 
The best thing about this is that not only this panel blocks sound from going out through your door, but it also absorbs sound to reduce echo to provide better acoustics.
However, if you want a more convenient and easy option, then you can consider whether strippings. 
Because weather strippings are really easy to install around your door, and also you don't have to see them all the time. Door sweeps and perimeter seals are also two excellent options to close that one-inch gap. 
Last updated on 2023-10-03/Affiliate Links/ Images from Amazon
---
3. Using Some Pillows To Reduce Noise
The gaming room is definitely not your sleeping area, but keeping pillows around your room can help you to reduce noise. Because hard surfaces are generally known for their sound-reflecting abilities. 
That is why when you go to a closed room with just walls and no furniture, you would notice echoes bouncing around the room. 
And if you don't have those body pillows, you can also consider buying a large floor pillow. Because not only they can be used as comfortable seating, but they are also excellent sound-absorbent materials. 
Windows can be another major source of noise for your gaming rooms, which can be particularly problematic in locations with noise-sensitive neighbors.
And if you are looking for an option to soundproof a window, then soundproofing curtains are by far the most effective option. 
Because most people have curtains installed anyway, so using something thicker and able to control sound is not going to be any problem. 
And there are so many different color choices available for curtains that people will find exactly what they need to fit in with the rest of the look in the room. 
---
4. Use Carpets As Sound Absorbent Materials
Carpets sometimes stay on our floors for a long time without even a single wash. However, you might not know that carpets are good sound-absorbent materials. 
Due to their soft and varied structure, they can absorb a considerable span of frequencies and they also have the ability to absorb up to 70% of airborne sound. That is why carpets are affordable and aesthetically pleasing soundproofing options. 
And the best type of carpets that you can use for sound absorption is wool because they contain different lengths and widths of fibers that are not too clustered, nor they are too far apart. 
Also, hardwood floors might look nice, but they are definitely not good from a soundproofing perspective. 
That is why a rug or carpet is particularly important to install. A rug is definitely much easier to throw on the ground, but a carpet can be a more long-term solution that will provide better full coverage. 
And if there are rooms below or above your gaming room, then they would definitely be affected by the noise. So, these simple solutions such as laying heavy carpets or rugs on the floor can help. 
---
5. Use Sound-Absorbing Blankets For Your Walls And Windows
If you want to have a great acoustic experience in your gaming room, then you should definitely consider sound-absorbing blankets. 
Because sound-absorbing blankets or sound blankets are widely renowned for their excellent sound-absorbing abilities and they can absorb up to 80% of all airborne sound. And due to their acoustic ability, sound-absorbing blankets are still used in studios.
And they are also easy to install and extremely cheap in comparison to the performance they offer. Also, they can be installed on your walls, windows, and even on your ceilings and are really useful in the soundproofing process of a gaming room. 
You can always use nails to stick the blankets to your walls, however, you can also choose to tape or glue them if you want less of a commitment on these sound blankets. 
Also, there is another method which is to install curtain rods so that you can easily hang your sound blankets just like curtains on a wall. 
And if you don't want to buy acoustic curtains, then you can also use these sound blankets as curtains over your windows, because windows are not good at soundproofing and they let sound in through the air gaps.
---
6. Adding Acoustic Foams To Your Walls
So, if you have already soundproofed your door and windows but loud noises are still seeping out, then it is time to focus your attention on your walls. Because thin walls generally offer little to no noise reduction. 
However, you would find that wall soundproofing is really effective and easy, even if you have never done it before. That is why if you want to completely soundproof your gaming room, then you should buy acoustic foams. 
Its material composition is made of not only sound-absorbent material but also these amazing foams have designs that are also engineering wonders that can absorb specific frequencies of sound. 
Those small cells within these acoustic foams can trap sound energy, so whenever they hit the cells, they bounce again and again until they lose energy. Also, these foams are very light, really easy to install, and very effective.
As acoustic foams are so popular these days, various companies are doing whatever they can to make it look like it is just part of your room in general. Also, acoustic foams are beneficial for many different uses. 
The gaming room can also become a place to practice a musical instrument, work on singing, or even have a peaceful place to focus on anything. And other people in the gaming rooms will also love how everything sounds.
Last updated on 2023-10-03/Affiliate Links/ Images from Amazon
---
7. Soundproof Your Gaming Equipment
Now as you have learned how to soundproof your gaming room, you should not forget that the gaming equipment can be a little bit louder than you would ideally expect and it does not enhance the gaming experience. 
That is why you should also know how to quiet your gaming equipment to ensure that your gaming equipment will not produce a loud noise. 
If you own a desktop computer, then you would definitely know that sometimes those fans can run really fast and produce annoying noise. However, you can silence your fans by installing quiet fan cases. 
It would ensure that the cases that encapsulate your fans are not making your fans run faster. After using this, you can see the results of how quiet your fans will turn out to be.
Also, there are many other methods to silence your computer, particularly using quiet computer cases. These cases can reduce the overall ambient noises made by the machine. You can even replace other components, such as HDDs. 
HDDs or hard disk drives have moving components, thus they can produce noise and they are also slower. So, you can switch to faster SSDs that can reduce all that noise, however, they are more expensive. 
---
8. Use A Proper Gaming Headset 
If all of these things are really difficult for you, then there is an alternative way to soundproof your gaming room and that is pretty much easier overall. 
And one way to really reduce the sound coming from your gaming room is to completely eliminate the gaming sound in the room. 
That is where a proper Gaming Headset can help you to keep things as silent as possible for everyone else, however, they are a little bit expensive. 
But Gaming headsets are extremely comfortable and they also provide you with plenty of other features. And you should look for a headset that is going to be comfortable for long periods of time, then you can set the levels according to your personal preference. 
And they are also available in various price ranges. Also, there are noise-canceling options, so the player does not have to deal with a lot of surrounding noise.  
However, the disadvantage is that it would not be a very pleasant experience for anyone else who might be in your gaming room. 
Also, if you want to use your gaming room for other entertainment purposes such as watching TV or a movie, then everyone wearing headsets might not be the most comfortable thing. 
Sale
EPOS I Sennheiser GAME ONE Gaming Headset, Open Acoustic, Noise-canceling mic, Flip-To-Mute, XXL plush velvet ear pads, compatible with PC, Mac, Xbox One, PS4, Nintendo Switch, and Smartphone - Black.
Signature Sound Dynamics -Engineered For Incredibly Natural...
Noise-Canceling Microphone - The Flexible Boom Arm Easily...
Open Acoustics - The Classic High-End Open Acoustic Gaming...
Last updated on 2023-10-03/Affiliate Links/ Images from Amazon
---
Wrap Up On Soundproof Gaming Room
Generally, most people either love playing video games or can't stand the constant noise that comes with it. 
So, it is always best to invest a little bit of money and soundproof that area, so that it will be more enjoyable for the gamer. Also, everyone else can live more peacefully in the house. 
And it does not take a huge amount of effort to do these things correctly and most people become really pleased with the results. 
Also, as time goes on, you can add more soundproofing material when needed, so not everything needs to be done at once.
We hope that our detailed article has helped you to get enough information about how to soundproof gaming room effectively. If you have any more suggestions regarding this process, please let us know in the comments below. 
---
FAQ: Soundproof Gaming Room
A lot of gamers want to soundproof their gaming room, but they don't know the right process to do it. To clear some of their doubts, here we have given brief answers to a few of the most frequently asked questions on this topic.
Q1. Can You 100% Soundproof A Room?
Ans: It is definitely possible to completely soundproof a room, however, you would need to address the source of the sound, its entry point, and also its reflection points. And depending on those different factors, you might need to use acoustic panels, acoustic foam, curtains, or window treatments to block the incoming noise.
Q2. Is Soundproofing Worth The Money?
Ans: Soundproofing is an excellent and effective solution if you are experiencing unwanted noise from your noisy neighbors. And this unwanted noise could be coming from anywhere- through your walls, floors, or ceilings.
Q3. How Expensive Is It To Soundproof A Room?
Ans: The average cost to soundproof a room is around $1,650, however, the actual costs depend on the size of your room. Average material costs generally range from $170 to $250, but tools and labor usually make up most of the bill.